Vettel survives Bottas collision as Hamilton extends championship lead
Lewis Hamilton won the Hungarian Grand Prix for the sixth time, but Valtteri Bottas could not prevent Sebastian Vettel from finishing second.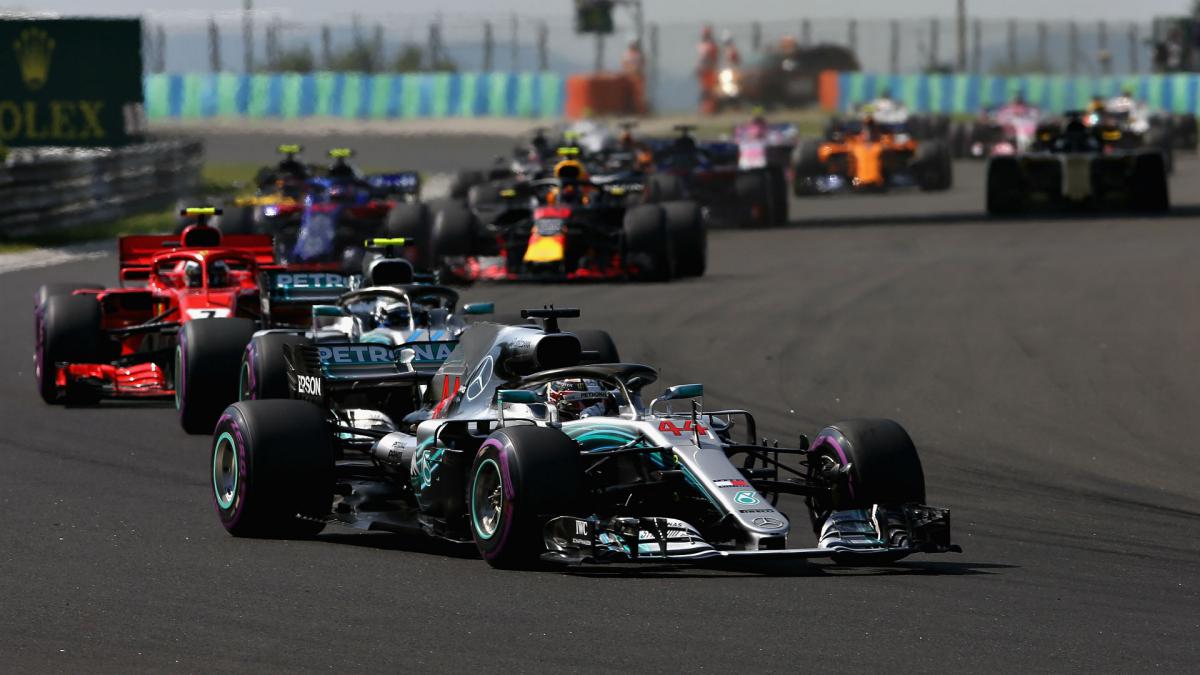 Sebastian Vettel survived a collision with Valtteri Bottas to snatch second place at the Hungarian Grand Prix, but Lewis Hamilton's victory extended his lead in the drivers' standings to 24 points. The Ferrari driver slipped from first to third due to a poorly executed pit stop, but he made contact with Bottas at turn two with five laps remaining in an incident that was noted by race stewards and saw the Mercedes driver slip behind Kimi Raikkonen.
Hamilton makes it six
Bottas had already done enough to keep Vettel, who crashed out from first at last weekend's German Grand Prix, away from Hamilton, as the defending champion matched his haul of six triumphs in Canada and the United States to deal another blow to the German's championship hopes.
Wet conditions in qualifying gave teams a free pick of tyres to start the race, with Hamilton starting on supersofts and Vettel on the harder compound. Mercedes kept the front row locked out in the early stages, but Vettel assumed the lead when Hamilton dived into the pits after 25 laps. The German built a handsome advantage but was slowed down by backmarkers as his first stint came to an end, and issues with changing his front-left tyre saw him return to the track behind Hamilton and Bottas.
Vettel controversially got past Bottas to take second ahead of Raikkonen, with race officials deciding to take no further action, before Mercedes' number two made contact with the impressive Daniel Ricciardo and finished fifth. But Hamilton faced no such difficulties as he cruised to his fifth win of the season and second in succession.
Bonus for Hamilton, blow for Bottas
Hamilton was expecting to face a significant challenge from Ferrari in Hungary, so extending his lead at the end of the first half of the campaign provided him with a serious boost.
"We came here knowing Ferrari would be really quick this weekend so to come out with these points, we'll definitely take it as a bonus," Hamilton said afterwards. "I'm really happy with how strong it's come the last couple of races. We've got to come strong in the next half."
Bottas had acted as the perfect wingman for Hamilton for much of the race, but he refused to ease off under pressure from Vettel and he was at fault for his coming together with Ricciardo three laps later, leaving him without a podium spot.
Ferrari comes a cropper

Vettel's advantage over Bottas at one point stood at 25 seconds, enough of a window to get out in front of the Finn on a new set of tyres.
The German was kept out as long as possible but encountered a stretch of traffic, Carlos Sainz Jr the main culprit as he continued racing past multiple blue flags, that prompted him to say over team radio: "I need your help now, I need flags."
His lead was cut by roughly five seconds when he finally entered the pit lane after 39 laps, and that combined with a clumsy stop ended his chances of challenging for the win.
Potty mouth Max

Qualifying was disappointing for Red Bull and there was more frustration just six laps into Sunday's race. Verstappen worked his way up to sixth before reporting a loss of power, which team principal Christian Horner told Sky Sports was down to an issue with the MGU-K.
The Dutchman was nowhere near as measured in his reaction, saying over team radio: "What a f****** joke, all the f******* time with this s***, honestly!"
There was a silver-lining for the Austrian team, though, as Ricciardo finished fourth despite failing to make it out of Q2 on Saturday and consequently starting from 12th.
Force India fustration
In the week Force India entered administration with debts reportedly amounting to £159million, there was more disappointment on the track. Both of their drivers failed to make it out of Q1 for the first time since the 2015 Spanish Grand Prix and they never looked like challenging for points. Esteban Ocon came 13th, one place ahead of Sergio Perez.

IN THE POINTS
1. Lewis Hamilton (Mercedes)
2. Sebastian Vettel (Ferrari) +17.123
3. Kimi Raikkonen (Ferrari) +20.101
4. Daniel Ricciardo (Red Bull) +46.419
5. Valtteri Bottas (Mercedes) +50.000
6. Pierre Gasly (Toro Rosso) +73.273
7. Kevin Magnussen (Haas) +1 lap
8. Fernando Alonso (McLaren) +1 lap
9. Carlos Sainz Jr (Renault) +1 lap
10. Romain Grosjean (Haas) +1 lap
DRIVER STANDINGS
1. Lewis Hamilton (Mercedes) 213
2. Sebastian Vettel (Ferrari) 189 (-24)
3. Kimi Raikkonen (Ferrari) 146 (-67)
4. Valtteri Bottas (Mercedes) 132 (-81)
5. Daniel Ricciardo (Red Bull) 118 (-95)
CONSTRUCTOR STANDINGS
1. Mercedes 345
2. Ferrari 335 (-10)
3. Red Bull 223 (-122)
4. Renault 82 (-263)
5. Haas 66 (-279)
NEXT UP
Holiday time! There are four weeks until the next F1 race at the iconic Spa-Francorchamps. The drivers will have a chance to recharge their batteries before pushing on in the second half of the season.