Real Madrid round-up: Carvajal, Lewandowski, Miami, Ramos...
Your daily digest of bite-size news from the Real Madrid camp, as the team prepare for their first game under Julen Lopetegui against Manchester United on Tuesday night.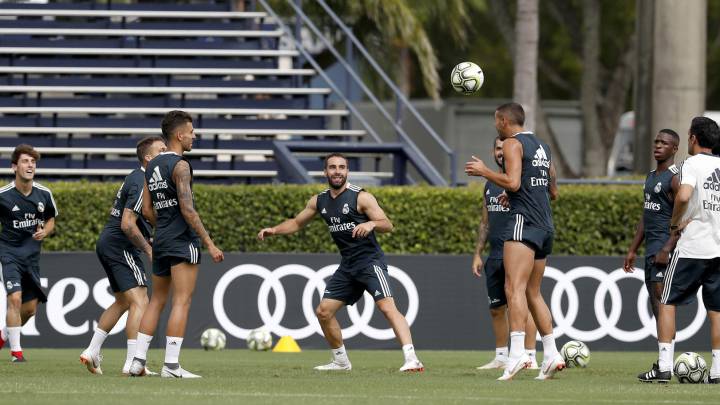 Carvajal full of praise for Lopetegui
Dani Carvajal gave an interview to El Salvadorean sports daily El Gráfico while holidaying in the country, and was full of praise for the new coach: "I've always liked his methods a lot. I share his ways, and he always gets the best out of each player," said the Spanish international.
Lewandowki asks to leave Bayern
According to Sky Germany, the polish striker has asked Bayern Munich to let him go. But the German club do no want to let him leave. Real Madrid has always been a dream move for Lewandowski, but new coach Niko Kovac was quite frank about the situation. "It's true that Robert toys with going elsewhere. Only [he has] one thing he likes, the other is what we like to do," he said.
Storm cuts training short
A heavy storm forced Lopetegui to cut short the squad's first training session in Miami. The players had only been training for 30 minutes when torrential rain forced them to continue the session in the gym. Later on, once the storm had passed, Lopetegui organised a 60-minute training match, in which the trio of Bale, Benzema and Vinicius made up the front line of the team of the supposed starters for Tuesday's clash against Manchester United.
Mourinho wanted Bale and Ronaldo
Following Manchester United's embarassing 4-1 defeat to rivals Liverpoool, Jose Mourinho lamented his club's transfer business, stating that he had given the board a list of five names but the club has yet to sign any of his targets. The United boss admitted that Bale and Ronaldo were two of the players on his list. But with Bale set to play a leadership role in Lopetegui's team, a return to England, at least for this season, is looking increasingly unlikely.
Sergio Ramos to join up with squad on Tuesday
Enjoying some captain's privelages, Sergio Ramos was given a few extra days holidays than the rest of the squad and yesterday published some photos of himself on a fishing trip. The Spanish defender has been recently enjoying his holidays in the US with fiancee Pilar Rubio, and is due to meet up with the squad on Tuesday.