North Korean cross border for joint Asian Games training
Last month, the two Koreas agreed to field joint teams in canoeing, rowing and women's basketball for the upcoming Asian Games.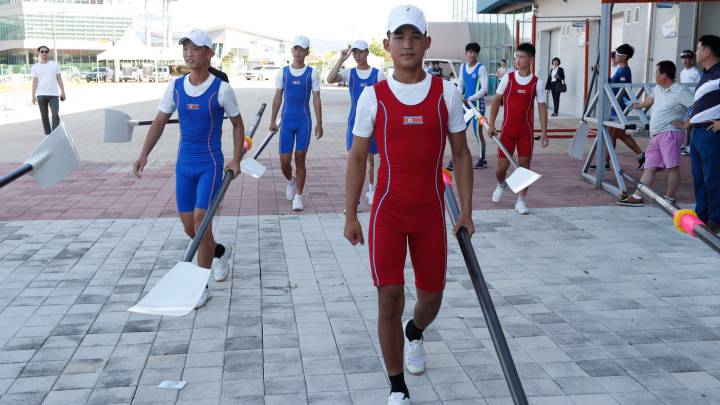 North Korean athletes arrived in the South on Sunday for training ahead of next month's Asian Games, making this the latest effort of a cross-border sports diplomacy. The two Koreas will compete in unified teams in canoeing, rowing and women's basketball across six separate events at the 2019 Asian Games in Indonesia, which will be held form 18 August to 2 September. This is the first time North and South Korea have formed unified teams to compete at the Asian Games.
North Korea and South Korea will form combined teams at the Asian Games in August and march under one flag, as they did at the Winter Olympics. pic.twitter.com/niyIHyUDlq

— AJ+ (@ajplus) 18 June 2018
North Korea arrive
A 34-member delegation including three female basketball players and their coach, 18 canoeists and eight rowers, landed at Incheon International Airport at around 3:30 p.m. on Sunday (29 July).
Dressed in matching light blue outfits and wearing a badge featuring North Korean leader Kim Jong-un and late leader Kim Jong-il, the delegation left the airport without answering questions from reporters. Their exact schedule is yet to be confirmed, but it is expected that the North's athletes will join their Southern teammates for training over the ongoing week.
"We all have high expectations," Cho Hyun-sik, the joint team's support director, was cited as saying by Korea JoongAng Daily. 'The downside is that the training period is short, but we hope to maximize our synergy.'
Recent Korean sports ties
The compliance to field joint teams for the Asian Games follows an agreement between North Korean leader Kim Jong-un and the South's president Moon Jae-in at their summit in April.
Earlier this month, the two nations played four basketball games at the Ryugyong Jong Ju Yong Gymnasium in Pyongyang. First, mixed games were played, with participants from both countries combined in two teams – Team Peace and Team Prosperity - before South and North teams faced each other, with the South beating the North 81-74 in the women's game, and the North defeating the South 82-70 in the men's encounter.
For the Pyeongchang Winter Olympics opening ceremony on 9 February, North and South Korea marched together under a unified flag, and a joint team was formed for the women's hockey event.
The division of the Korean Peninsula occurred after World War II, with the United States and the Soviet Union occupying the two parts of the country. North and South Korea remain technically at war after the 1950-53 Korean War ended in a truce rather than a peace treaty. Military tension remains a fundamental obstacle to the improvement of Korean relations.