REAL MADRID
The guidelines for Lopetegui's "reinvention" of Real Madrid
To replace the output of Cristiano Ronaldo, Lopetegui has started to build a new Real Madrid with the pillars being high pressing and the importance of the collective.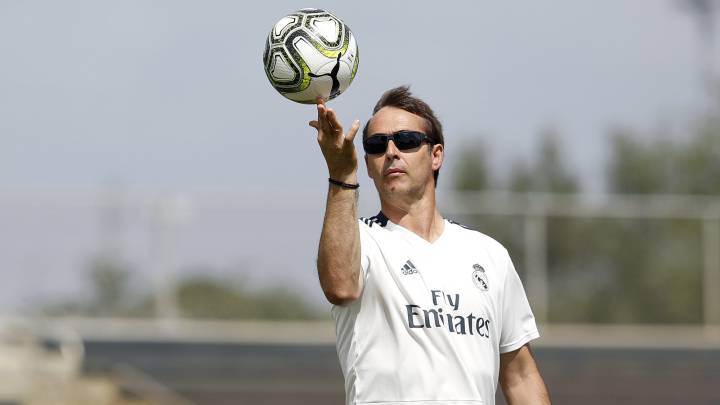 "It is a challenge to reinvent this team without Cristiano," said Julen Lopetegui in his from press conference as the manager of Real Madrid. The Portuguese striker left for Juventus and took almost 50 goals a year with him. Since then, los Blancos have failed to sign a replacement for the departed talisman and have fumbled their way through a list of potential signings. Lopetegui is tasked with designing a plan to lessen the blow of Ronaldo's exit and while the path might be bumpy and a little unclear, here is a look at the roadmap to take Real Madrid into a post-Cristiano era.
The collective over everything else
Gareth Bale will be granted the prominence he has always wanted but for Real Madrid, they will try to push the feeling that the collective will prevail. "We want to reinforce the word 'team'," said Lopetegui at his first press conference in Miami. In that way, one the basic concepts have been settled upon, they will look to set pieces, a factor where team coordination is essential. As seen in the World Cup, the importance of set-pieces is growing and they take time. This has also been a recurring problem for Real Madrid in recent years.
Taking a step forward
Lopetegui says it is an exciting challenge to replace Ronaldo and while his goal tally was incredible, he absorbed a lot of the play around him. Now, the onus will fall on Bale, but he will require more goals from the rest too. Lopetegui and the club think Asensio could step into the breach. He has scored 21 goals in two seasons with consistent game-time and has scored once every 227 minutes. With continuity and more space, he can improve markedly on this return. Vinicius (the Brazilian scored once every 224 minutes with Flamengo) can also chip in and Dani Ceballos too, who is a very good finisher.
Under Zidane, Isco never really found his feet, but Lopetegui will look to make Isco comfortable from the start. He is a personal favourite of the Basque manager and he has called him with every national team he has managed and Isco has been a key figure in all of those teams despite the rollercoaster of minutes and consistency he has lived through in Madrid. If Lopetegui opts to keep the 4-3-3, Casemiro will be the anchor just like he was at Porto and Kroos and Modric will be beside him. It will be up to Isco then to supple the other two chosen beside him in attack.
Shield the defence: concede less goals is a priority
Last year, Real Madrid leaked too many goals in the league. The conceded 15 more than Barcelona and 22 more than Atlético, which is something unthinkable for Lopetegui. He is not known for being a defensive coach but it's something that concerns him and something he needs a solution for. At Porto and with Spain, his sides conceded less than a goal per game. He needs Sergio Ramos back at full tilt and Raphael Varane, who is still on holiday after his World Cup triumph, urgently.
A chance for the kids
Ceballos, Marcos Llorente and Borja Mayoral all have another chance this year and Lopetegui plans to give them every opportunity to succeed. He wants to design his own second team, which Zidane could not manage last season after several attempts. Lopetegui wants them to feel important and the club is behind him on this issue. They feel it is better to rely on young talent than fixes in the trasfer market.
High pressing football
If the team gets it, it could be one of the most important changes. He started to show signs of his plan against Manchester United. It requires not just planning on the training ground and in theory, it demands sacrifice particularly from Karim Benzema and Bale, which is something the Welshman has been less than consistent with.