REAL MADRID
Marcelo joins up with Casemiro as the pair kickstart their preseason
Real Madrid almost have their full squad back training with Marcelo and Casemiro's inclusion but still wait on Raphael Varane, Luka Modric and Mateo Kovacic.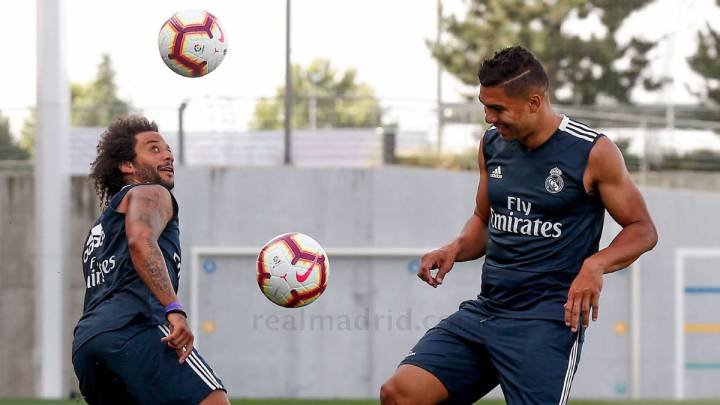 Marcelo, who was with Brazil in Russia this summer, joined his compatriot Casemiro in Valdebebas on Saturday to get his preseason started. Casemiro arrived on Friday to start his training while Marcelo took an extra day to ease himself into the season. Albert Celadés was also present at the Ciudad Deportiva in the suburbs of Madrid after it was announced his would join Julen Lopetegui's staff.
With the first team in the US preparing for their game against Juventus on Saturday night, Casemiro and Marcelo trained together and now Real Madrid await the World Cup finalists in Mateo Kovacic, Luka Modric and Raphael Varane. They are due back on Sunday.
Marcelo worked out under the watchful eye of Javier Mallo and with Celadés keeping tabs too. "After a brief warm-up, both Casemiro and Marcelo did speed exercises with high intensity and work with the ball before finishing with a continuous run," the club reported on their website.
Both players will continue to work on Monday where the World Cup finalists will join them as they wait for the return of the team from the US. They will play Roma on August 8 at MetLife Stadium in New Jersey before returning home to start preparation for the European Super Cup.