Real Madrid round-up: Juve, Courtois, Kovacic, Modric, Theo...
Our daily roundup of news surrounding the team as they prepare to take on Atlético in the European Supercup on August 15.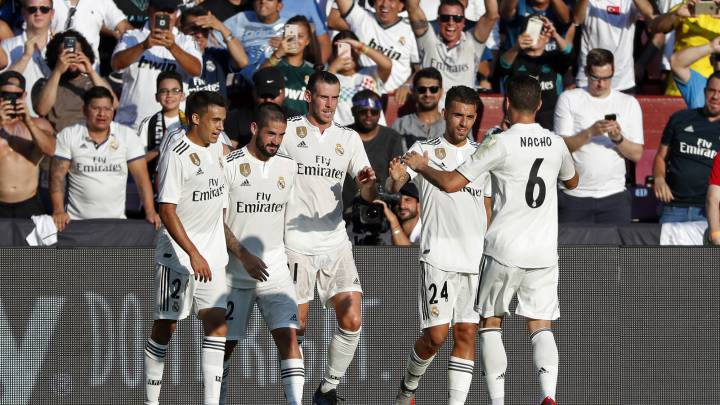 Asensio bags two against Juventus
Asensio came back with a bang in the win against Juventus last night, scoring two goals in 12 minutes in the opening quarter of the second half. Gareth Bale scored the first after 39 minutes - a beautifully struck left-footed volley from distance that sailed into the top corner, which drew the game level after Dani Caravajal's own goal. The game finished 3-1, and in the post-macth conference, coach Julen Lopetegui did not rule out the option of having Asensio play as a false nine next season.
Chelsea holding Courtois back
Thibault Courtois' agent, Christophe Henrotay, has spoken with The Sun and said that the Belgian goalkeeper has he wants to go to Madrid, but the London club are trying to keep him at Stamford Bridge. "I have been reading everywhere that Chelsea are saying it is up to Thibaut, but he has made it clear to the club that the best option for him is to move to Madrid,"said Henrotay.
Kovacic back training today
Croatian international Theo Kovacic reported back for training at Valdebebas tomorrow. The midfielder has publically spoken of a possible exit from Madrid and may still have a move away in mind, but the club has said that he is not for sale. Kovacic will be joined by compatriot Luka Modric on Wednesday, who has been recently linked with Inter. The two players return later than the rest of the squad after having reached the World Cup final.
Fulham reportedly want Theo
Theo Hernandez is set to leave the club on a one-year loan spell once the squad returns from the US. And reports in the British media claim that Fulham are keen to sign the French international. Although it is understood that a deal with Real Sociedad is on the verge of being closed, which will see him in playing his football in San Sebastian next season.
Brazilian pair back at Valdebebas
Marcelo, who was with Brazil in Russia this summer, joined his compatriot Casemiro in Valdebebas on Saturday to get his preseason started.Casemiro arrived on Friday to start his training while Marcelo took an extra day to ease himself into the season. Albert Celadés was also present at the Ciudad Deportiva in the suburbs of Madrid after it was announced his would join Julen Lopetegui's staff.