Simeone happy with Atlético's final friendly of the summer
Atleti were beaten 0-1 by Inter but El Cholo said the game was more about building up rhythm than gaining a result: "We have new players who need to adapt".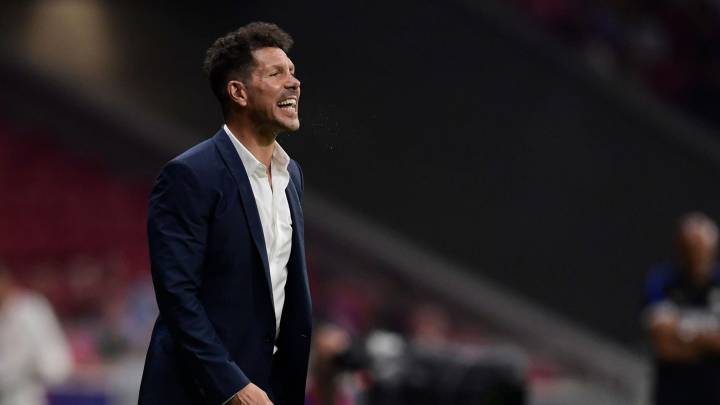 Diego Simeone focused on the positive aspects of last night's friendly defeat to Inter Milan at the Wanda Metropolitano in the International Champions Cup - Atlético's last outing of the summer and a good dress rehearsal for Wednesday's UEFA Super Cup run-in with Real Madrid.
Game served several purposes: "It helped us in our preparation, to give playing time to those who haven't featured very much. A match like this is the best possible preparation for Wednesday's game".
Collective spirit
Is the Atlético squad now complete? "We have a new-look squad, with new players who are going to need time to settle in and adapt. We have also lost players who were references within the side which means that now others have to step forward and fill in so that we have a squad which is as strong as it can be. I don't believe in talking about names, I believe in forging a good, strong squad - it's the players who can adapt well to the group which makes a good squad".
Lucas and Griezmann: "Both of them did really well. Lucas showed more intensity to his game. Antoine tried to read the game to create chances on goal. It was an interesting game for us to take notes of a few areas in which we can improve - particularly our pressing. We could have seen a lot more goals than we did".
Courtois, ex-atlético becomes a madridista
Courtois: "I have absolutely nothing to add about a lad who played for us and did well when he was with us. He's free to think what he wants and in life you have to respect everyone. We're not here to judge anyone. We have great memories of him and that will not change".
Lemar: "He's generated the kind of situations which the team needed. He's looking lively, explosive and he has a great vision of the game. He'll need some time to fully settle in but he's a player which the team needs".
Pablo Aimar and Lionel Scaloni named interim coaches with Argentina: "I haven't got very much to say about it - only to wish the two of them the best of luck. They know the national team well".