Spanish Super Cup 2018: Barcelona 2-1 Sevilla match report
Barcelona had to come back from a goal down to win the Spanish Super Cup in Tangier on Sunday night with goals from Pique and Dembele in either half.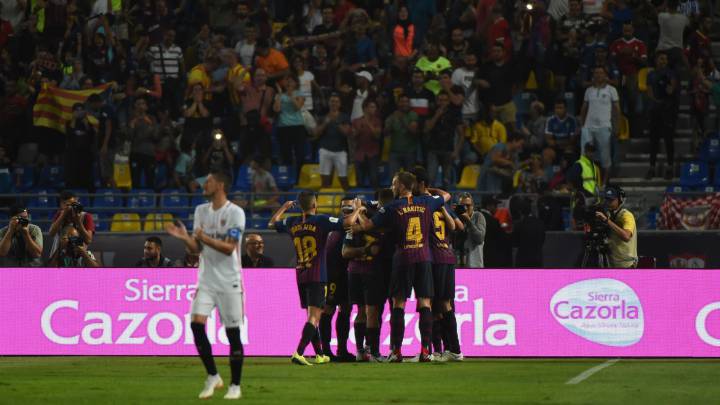 Sevilla 1-2 Barcelona: match report
It was the first Super Cup on foreign soil but it was an all too familiar result for Barcelona against Sevilla. They have beaten their opponents in Tangier 10 times in a row now and three times in the Spanish Super Cup in three attempts.
There was no place in the starting eleven for new midfielder Arturo Vidal but Ousmane Dembele started in what looked like a vote of confidence from the coach, Ernesto Valverde, with rumours swirling about the World Cup winner's future.
Sevilla had their new keeper Thomas Vaclik starting for his debut along with Sergi Gomez and no place for Aleix Vidal or newest addition, Andre Silva, who did make the bench despite just signing on Saturday night.
Sevilla, starting a new era under Pablo Machín, were off the mark first with a goal from Pablo Sarabia. He slotted home after Sevilla cut through Barcelona with relative ease. It would take a few looks on VAR before the ref was convinced but he gave the okay and Sevilla lead after nine minutes.
Their lead was abolished after 42 minutes when Gerard Pique turned a Lionel Messi free-kick home that ricocheted off the post and fell kindly to the defender. With just three minutes to go in the half, Barcelona were level.
After wreslting complete control of the game off Machín's side late on in that first half, Barcelona started the second half in the same manner. They had their reward for their dominance after 78 minutes when Ousmane Dembele smashed home a shot off the crossbar that would prove to be the winner.
The two sides were tiring at that point in the mid-summer Tangier heat and with little running in their legs as of yet this season. It looked like the game was headed for penalties when Aleix Vidal, who came on as a second half substitute, was pulled down by Ter Stegen in injury time.
Wissam Ben Yedder took the spot kick and saw it saved by the German as he rectified his clumsy collision with his former teammate.
And after that, there would be no time for late drama as Lionel Messi made his way up the steps as Barcelona's official captain for the first time and collected the trophy on behalf of his teammates. Valverde will be happy with that fact, but both he and Machin will have seen plenty to work on with LaLiga just around the corner.
Sevilla vs Barcelona live online: as it happened
90'+3'   GAME OVER! Barcelona win the Spanish Super Cup.
90'+3' Aleix Vidal shops Coutinho down on the break. Yellow card and much deserved.
90'+2'   No late drama.
90'+1' That's a very bad penalty.
90' Ben Yedder to take. It's saved. Handy save for Ter Stegen.
87'   Penalty. Ter Stegen takes Aleix Vidal out of it as he ran for the ball.
86' Dembele replaced by Arturo Vidal.
86'   Suarez with the ball into Coutinho and Coutinho is fouled but he is offside.
85'   Arturo Vidal coming on for. 
84'   Vaclik gathers after another attack by Barcelona. Sevilla back on the move.
81'   Vazquez with the foul on Dembele at the back post.
80'   Sevilla coming out of their shell now. 
78' HOLY MOLY! Dembele absolutely buries it. He drives a shot in off the crossbar. That was coming.
76'   Double save by Vaclik. Suarez first and then from Messi with his feet.
76'   Messi with a shot. He gets it from Dembele but the shot is blocked. Barcelona certainly looking more likely.
75'   Shot from Navas after a nice little one-two. He drives his shot into Ter Stegen's chest. 
73'   Barcelona with all the ball now. 
73'   Sevilla not as sharp in attack as they were. 
72'   Dembele wins a corner for Barcelona.
71' Sarabia coming on for Aleix Vidal.
70'   Goal kick. Suarez has a word with the linesman. Pique and himself were in the vicinty and collided. Vaclik out to punch it against his head.
70'   Dembele is fouled by Roque Mesa. Late slide and clipped his ankle.
69'  Vazquez shoots and that's just wide. Really nice effort with his left foot. 
66'   They keep attacking and Messi crosses is. Vaclik gathers.
66'   Suarez with a little ball into the box after recieving it from Semedo. Coutinho is close to it but can't reach it. Good from Barcelona.
66'   Sarabia hauled down by Coutinho.
65'   Two tired looking teams out there now. Theheat in Tangier mixed with the lack of football they've played not helping.
64'   Slide on Rakitic and he is taken down by Andre Silva.
63'   Messi plays it into the path of Dembele and he strikes. Vaclik saves. Better from Barcelona.
61'   Mudo Vazquez with the glancing header and it bounces off the top of the post.
60'   Messi's free is saved by Vaclik. Seivlla attack and win a corner. 
60' Andre Silva comes on for Muriel.
59'   Messi hauled down and that's a free just outside the box.
58'   Movement on Sevilla's bench.
58'   Ball down the channel to Messi but that's no use to him as it's too far out of his reach.
57'   Cross comes in to Muriel and he is onside. He can't control it properly and he eventually hits the side netting.
55'   Banega fouled.
54'   Semedo injured as his calf and ankle are caught by Escudero. Looks like he'll be okay thouhgh.
53' Coutinho on for Arthur. Massive applause for the man coming on. 
53'   Ball into the box and Pique and Ter Stegen collide.
52'   Barcelona not giving Sevilla a kick in the opening minute of this half.
51'   Luis Suarez with the little clipped ball but Vaclik off his line again to save.
50'   Ball in over the top to the speedy Dembele. Vaclik is out of his goal and saves.
49'   Sevilla win it back for about three seconds but lose out again.
47'   Barcelona with all the ball to start.
46'   We are back underway for the second half! 
Rakitic comes on for Rafinha.
Ivan Rakitic is coming on for Barcelona. He is just reciveing his last orders by Valverde.
45'+1'   And that'll do it. Referee blows his whistle for the end of the first 45. Really good game!
45'+1'   Just one minute of added time. 
45'+1'   Luis Suarez with a foul on Roque Mesa. Ball in by Busquets but the attack comes to an end with the foul. 
45'   He strikes and Kjaer puts it out for a corner. 
45'   Messi on a mission here in the last couple of minutes. 
43'   What a run by Muriel. He poked it to Sarabia and he hits it with his left. Saved! And then there is a handball by Sevilla. Free to Barca. 
42'   We have VAR. Has to be a goal though as Pique was well onside.
42' Vaclik's first free-kick from Messi. It's saved but hits the post and then comes out to Pique, who was onside! GOAL!
40'   Really unlucky from Banega. Messi lobs a ball over the top and it's headed out to Arthur. He takes a lovely touch and Banega had hit the ground already. He takes him out of it and Barcelona have a free in Messi territory.
40'   Arthur sprays it out to Jordi Alba and back again as they look for a way through.
39'   Luis Suarez is onside. He drives a shot wide. Lovely chance and nice shot but it's just the wrong side of the post. Well onside and Barcelona continue to attack Sevilla's defence.
38'   Slightly shaky from Sevilla now. A couple of fluffed clearances before eventually getting it away. Barca turning the screw though.
37'   Kjaer with a headed clearance from the corner. He recalibrates his head and sends it in the right direction this time! Barcelona come straight back at them.
36'   Kjaer with a headed clearance that goes behind him for a corner.
35'   Escudero pulls Semedo back and it's a free. No card though even though Semedo looked to be away on the counter. 
35'   Sevilla look really sharp. Another attack and Pique clears. 
34'   Busquets with a cross as Messi was slinking in behind. Can't make it to him.
33'   Dembele up the other end. He crosses and it's headed out.
32'   Navas links up with Sarabia and he lays it outside. Cross comes in and it's just over the head of Muriel.
31'   Barcelona with more possession now. No way through yet though.
30'   Lenglet with a foul on Muriel as he wraps his arm around him and pulls him down.
29'   Dembele versus Navas down the wing. Pure speed but Navas' positioning sees him steal a march. Dembele comes back for more and Sevilla clear.
27'   Lenglet arrives and gets a header on it against his former side. Not a bad effort at all and he made good contact but it's over.
27'   Dembele fouled and Barca have a chance to whip on into the box. Messi will take it. Too awkward an angle to shoot.
23'   Luis Suarez with a shot now and it's straight to Vaclik. Easy for the keeper.
22'   Jesus Navas takes a ball down on the right hand side. Sevilla improving in this game.
20'   Ball over the top looking for Semedo. No use though as it's too heavy.
19'   Another break by Sevilla but Sarabia's touch lets him down. Barcelona back on the attack.
18'   Messi with a trademark run across the box looking for a shot on his left. Ball to Alba and Vackik saves again.
17'   Ball into Luis Suarez. He cuts back on his right and it's too heavy a touch. Cleared by Sevilla. Barcelona picking up the intensity now in attack. Sevilla looking good on the break though so it's just what they wants maybe.
16'   Busquets with a tackle on Muriel as he breaks and that's a yellow card for Busquets despite his pleas. Sevilla looking sharp on the counter.
15'   Worked short and Messi gets it. He brings it inside and shoots. Vaclik saves and Sevilla clear. 
15'   Dembele plays it through to Jordi Alba and he wins a corner.
13'   Arthur gets pushed in the back and wins a free. 
11'   Kjaer slides in as Semedo crosses. Barcelona want a penalty and the referee says absolutely no chance. He's right too.
9' I recant! It is a goal as VAR is looked at then it is decided that it is a goal. Looks very much the right decision.
9'   But wait. He's offside. Muriel pokes the ball to him and he slots him very nicely. But VAR is called.
9' Sarabia with the goal. 
8'   Looks very much like a 5-2-3 from Sevilla in defence but also like a 5-4-1 at times too. Definitely five at the back!
6'   Luis Suarez gets a kick on the ankle from Sarabia. Nice move from the Uruguayan to break free. 
5'   Cross arrives in and Muriel tries to take it down. He is offside. I think. Hard to tell what is actually happening but he didn't control it anyway.
4'   Offside is called.
4'   Jordi Alba free down the left. No offside, as we have VAR. He crosses and it's out for a corner. Kjaer complains and VAR is implemented.
3'   Quite a cynical foul on Busquets by Muriel. That was after a lovely little dragback that caught out the entire city of Sevilla. 
2'   Muriel with a run down the right and with no options ahead of him. He wins a throw.
1'   Dembele is starting on the left-hand side. 
1'   Barcelona starting as they mean to go on. They're in possession and probing.
1'   We are underway in Tangier. 
    Aleix Vidal also has to suffice for a spot on the bench against his former club. 
    Big chance for Dembele tonight. A message from Valverde too. The French attacker didn't enjoy his best first season at the club and needs to start this one well. A big vote of confidence by starting him tonight.
    Barcelona fans in the stands unveil their flags. First time the Super Cup has been held on foreign soil.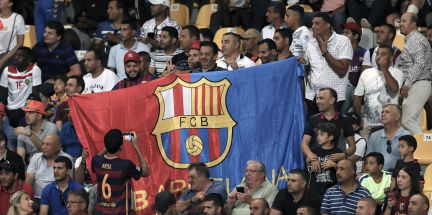 A very warm 25 degrees in Tangier tonight.
    They have played two Super Cups against each other (10-11, 16-17) and Barcelona have won both.
    Hasn't been a 0-0 draw between Sevilla and Barcelona since 2011-12. They have played 18 games since then.
    Andre Silva just signed with Sevilla yesterday but obviously impressed in his early fitness tests. He is on the bench tonight. Only two of Sevilla's summer signings start tonight though with Thomas Vaclik starting in goal and Sergio Gomez at centre-half. N'Zonzi doesn't even make the bench as he has asked to leave the club.
    It seems as though the electricity problem in Tangier Stadium has been solved. A reminder that state company in charge of paying the bill failed to do so and Amendis, the electricity company, cut off their supply. But it seems the problem has been fixed.
  Wherever you happen to be on this Sunday evening (even if you're outside trying to catch the Perseid meteor shower) you can stay up to date with our handy how and where to watch guide, or follow all the action right here of course.
There's also been a bit of a brouhaha about selection rules being relaxed for tonight's game. Sevilla have threatened to file a complaint over ineligible players if Barça field more than three non-EU passport holders in Tangiers, in line with the RFEF's decision to waive the usual regulation.
Leo Messi, the competition's top scorer with 13 goals in 17 appearances, will captain Barça this evening for the first time since assuming the role on a permanent basis after the departure of Andrés Iniesta.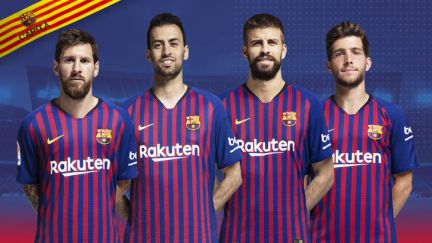 This year's competition will for the first time be a one-off affair instead of two legs and it has not been without its controversy, not least because the RFEF took the decision to classify the contest as a friendly.
Barcelona have made a bit of a habit of appearing in the Super Cup in recent years and are going for their 13th title this evening. Sevilla have won the competition just once, in 2007, and it would be a flying start to Pablo Machín's tenure if the former Girona boss can guide his side to victory tonight.
Hello and welcome to AS English's live coverage of the 2018 Spanish Supercup between Sevilla and Barcelona, which will take place at the Stade Ibn Batouta in Tangiers.
Sevilla vs Barcelona live online: match preview
Barcelona will aim to claw another title back from Real Madrid when they take on Sevilla in the Spanish Super Cup in Tangiers on Sunday evening in the first-ever edition of the competition to be played in a single game at a neutral venue, the Stade Ibn Batouta.
Ernesto Valverde's side completed the domestic double last season, regaining the Liga title after Real's success the previous season and going on to hammer Sevilla 5-0 in the Copa del Rey final at the Metropolitano.
But despite their glut of trophies over the last decade, Barça have been caught out in the traditional curtain raiser twice in the last three years, losing 5-1 to Athletic over two legs in 2015 and Real last summer by the same scoreline.
For new Sevilla boss Pablo Machín, making the step up to the Liga elite after his eye-catching stewardship of Girona, avoiding a repeat of the Copa final will be foremost in his mind. The last time the two sides met in the Super Cup was in 2016, with Barça completing a 5-0 rout.
While Sevilla are seeking a first Super Cup triumph since their only victory in the competition in 2007, Barça will make it 13 titles if they emerge as winners in Morocco: no side has won more than the Camp Nou outfit and after a pre-season tour of the US that reaped a draw and two defeats, Valverde will be keen to ensure his side start off on the right foot.
Sevilla
A much-changed Sevilla side will step on to the turf at the Stade Ibn Batouta under the tutelage of a new manager who faces the task of restoring the club's fortunes after a rollercoaster 2017-18 campaign that witnessed three changes of coach with current sporting director Joaquín Caparrós stepping in towards the end of the season to prevent missing out on a European berth.
Sevilla sneaked into seventh ahead of Getafe to ensure a place in the Europa League qualifying rounds and that has at least handed Machín a chance to dip his toe into competitive water ahead of Sunday's game.
Újpest were seen off comfortably in the second qualifying round but the Sevilla boss will have half an eye on the return leg away against Zalgiris Vilnius next week with his side holding a slender 1-0 advantage over the Lithuanian side. Defeat in the Super Cup will be no disaster – even less so after the RFEF took the contentious decision to classify the game as a friendly – but failure to guide Sevilla into the playoff round of the Europa League certainly will be.
The Sánchez Pizjuán board were quietly efficient in the transfer market, reacting to the departures of Clément Lenglen and Joaquín Correa by adding a blend of youth and experience. Ibrahim Amadou may get a chance to stake his claim to Steven N'Zonzi's position in Tangiers with the France international having made it clear he intends to leave but it may be too early for travelling fans to get a first glimpse of André Silva after the Milan striker joined on loan on Saturday.
Aleix Vidal may get a chance to run out against his former side after re-joining Sevilla from Barcelona with Lenglet potentially lining up on the opposing side after his switch to Camp Nou.
Barcelona
Valverde's first season in Catalonia was more than satisfactory even if regaining the domestic ascendancy was soured a little by Roma's extraordinary comeback in the quarter-finals of the Champions League.
That will be the veteran schemer's main priority this season, whatever the party line that emits from the Camp Nou press room. And the Barça boss' paymasters have not been shy about providing him with a squad to battle on three fronts.
After last summer's splash on Ousmane Dembélé was topped up with a huge outlay on Philippe Coutinho in January, Barça could have been forgiven for avoiding further open-wallet surgery during this window.
Instead, 125 million euros has been lavished on Arthur, Malcom, Lenglet and Arturo Vidal, handing Valverde arguably the finest-stocked midfield in world football. The legacy of Andrés Iniesta will be difficult to replace but along with loan returnee Rafinha the Barça coach will have more strings to his tactical bow than any of his peers in LaLiga. Such is Barça's wealth of talent across the front two lines that a loan move for Dembélé, who cost the club almost the same amount when he joined from Dortmund, has been mooted.
But as in every season since he emerged from the youth ranks, so much of Barça's ambition will rest firmly on the shoulders of Leo Messi, recently installed as captain.
The Argentinean will overtake Iniesta as the most successful player in the club's history with a win in Tangiers and as the competition's all-time top scorer with 13 in 17 appearances Sevilla can expect to have their hands full. If Messi could pick an opponent to face every week the Andalusian side would top the list; he has banged in 31 goals in 33 games against Machín's side, more than any other opponent in Spain or Europe.