REAL MADRID
Marcos Alonso linked with Real Madrid move
The Daily Star report that Alonso is seen as a back-up to Marcelo, who currently has no competition at left-back after Theo Hernandez' departure on loan.
The first murmurs of possible arrivals at Real Madrid have surfaced after their loss to Atlético Madrid in the Super Cup on Wednesday in Tallinn. According to the Daily Star, los Blancos are looking to reinforce their defence, and left-back in particular, and will look to Chelsea's Marcos Alonso.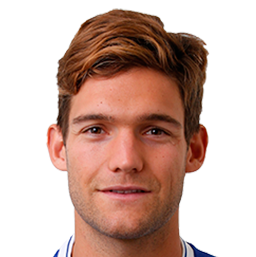 It's not the first time Real Madrid have been linked with the defender. After the exit of Theo Hernandez to Real Sociedad on loan, it seems Lopetegui does need another option to apply pressure to Marcelo in that position.
Lopetegui knows the defender well from his time with Real Madrid's underage sides. His ability to play at centre-half will help given the manager's request to bring in a defender and a striker. Relations are good between Chelsea and Real Madrid at present too with the arrival of Thibaut Courtois and the loaning of Mateo Kovacic the other way.