Valverde: "Messi starting out on the wing is an option for us"
Barcelona coach Ernesto Valverde told reporters after the 3-0 win over Boca Juniors that Rafinha may well stay at the club: "We're very happy with him".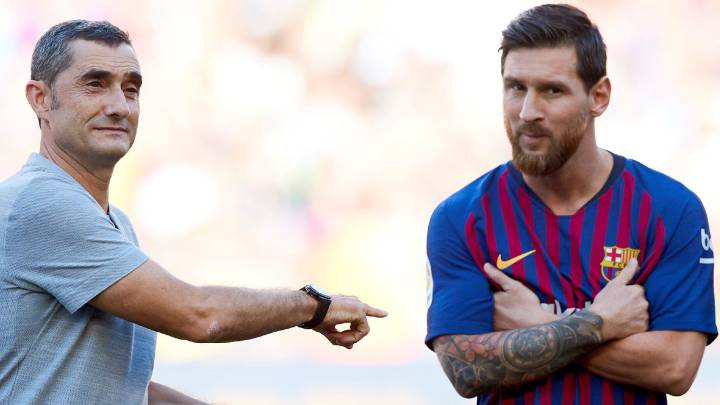 Ernesto Valverde spoke to the media following Barcelona's comfortable 3-0 Trofeo Joan Gamper win over Boca Juniors on Wednesday in the squad's official presentation at Camp Nou and the final friendly of the pre-season.
What conclusions have you drawn from the pre-season?
It's been quite an atypical pre-season for us. Half of the players we took to the States for the US Tour were from the B team but I was very happy with how the team performed. We're close to the start of LaLiga. The other day in the Super Cup, you could tell that the team hasn't been regularly active at certain points in the game. Today's game was different. LaLiga starts in three days' time. We won and the team looked good. Now we are ready and looking forward for the new season to start.
Switching positions
Could Messi be used out on the right wing again during the new season?
It's possible. We know his tendency to be drawn to where the ball is. Whether Messi plays out wide or through the middle, it's always an advantage for us. That's how we've started ahead of the new season, we'll see how he gets on.
Who do you see playing in the No.5 role - Rakitic or Arthur?
Rakitic played in that position last season and did so to a high level. Arthur is another option for us - as is Sergi Roberto. These are the alternatives which could provide solutions in certain, determined moments of our games.
Valverde on Barcelona's new signings
Where do you prefer Malcom to play, on the right or the left?
In his last club, he played on the right which is an advantage for him because it means he can get into shooting positions. He has the ability to play on the left too. The wingers on both sides can find their place where they feel most comfortable. Maybe Malcom too.
What did you think of Arturo Vidal's first minutes with the team?
All of the players are hoping to secure a starting place in the team. He's been out of action for while following his injury and he's building back his form and finding his place. We hope he'll continue to help us.
And Luis Suárez?
He's fine. Let's not forget he's only just back with us. He struggled at first and received some criticism. Once he gets started he doesn't stop. He'll keep plugging away.
Rafinha has been looking really good over the summer. Do you think he'll stay?
Until 31 August, we'll see what happens. But basically, we're very happy with him.
Keeping Messi happy
[Boca Juniors coach] Barros Schelotto says what Messi needs is peace and quiet. What do you think he needs?
Like everyone else, Messi needs to feel comfortable, be involved in the game, score and set up goals. I think that's practically what every player needs. But it's true that there is a lot of commotion around Leo just for who he is - both here and in Argentina. What we have to do is create an environment for him in which he feels happy out on the pitch.