LALIGA
Five storylines to keep an eye on in LaLiga this weekend
From Thibaut Courtois versus Keylor Navas to Rúben Semedo and Theo Hernández' fresh starts up north, here's what you need to keep an eye out for in LaLiga in week 1.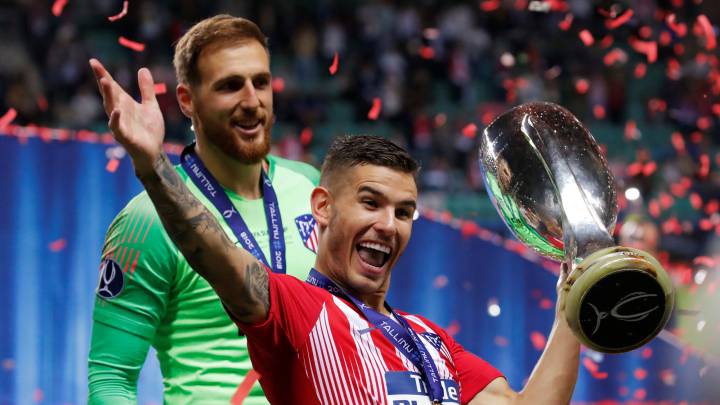 Fresh start for Theo Hernández with Real Sociedad
The flying left-back admits he didn't show his best version at Real Madrid where he spent last year. A loan deal at Alavés two years ago, which flagged him as a Real Madrid prospect in the first place, is where he got his break. Another loan deal with La Real with a tactically astute manager in Asier Garitano at a club where full-backs have traditionally been used to their full extent should do wonders for the defender. He wants to grow as a person and a player and this weekend versus Villarreal will be the first chance for the younger Hernández brother to show off his newly-matured version of himself. Watch this space.
Rúben Semedo potentially making his debut for Huesca
Speaking about improving as a person, Rúben Semedo has been given a second chance at newly-promoted Huesca side, who have never been in the Primera before and after he was released from prison. He was arrested and accused of a litany of charges last season including illegally carrying a firearm, kidnapping and attempted murder. This is the last chance saloon for the defender and it will be interested to keep an eye on whether he has earned Leo Franco's trust to the point where he starts as an anchor in the side's backline.
Real Betis could be on the brink of a historic season
They awed everyone who watched last season. Under Quique Setién, Real Betis were incredibly exciting last season and no teams aside from Real Madrid and Barcelona saw more goals during the league with the verdiblancos seeing an average of 3.1 goals per game over 38 games. Setien has been given plenty of leeway in the transfer market and he has signed Takeshi Inui, Sergio Canales, William Carvalho and Sidnei. Without trying to be hyperbolic, we could very well be on the brink of seeing a historic season from the historic club.
Valencia's attack versus Atlético's defence
Atlético Madrid are making no secret of their ambition this season. If the 120 million euros plus they spent on players this summer didn't convince you of that, their comments after the European Super Cup will ensure you get the hint with Griezmann and Enrique Cerezo saying that a Champions League final is the goal and titles will be chased.
Valencia have bolstered their attack with the signings of former Atlético striker, Kevin Gameiro and Michy Bathshuayi on loand from Chelsea. Add those two tricky attackers to 120-million-euro rated Rodrigo and breakout candidate, Santi Mina, and we could be in for a belter on Monday night at Mestalla. It's Simeone's defence versus Marcelino's newly-formed attack and something has to give.
Real Madrid's goalkeeping situation
For years, Florentino Pérez has talked about about buy a new goalkeeper. Eventually, this summer, he came good on the promise and signed Thibaut Courtois. The problem is that Real Madrid already have a starter in Keylor Navas, who helped the side to three Champions League in a row in recent years and a LaLiga title also. He didn't cover himself in glory in Tallinn, however, with Atlético scoring four goals with five shots.
Julen Lopetegui's stint at the club started with a loss to Atlético Madrid with a trophy on the line and he surely doesn't want to upset the applecart too much. It will be interesting to see who he picks for Sunday night against Getafe and it could be just the start of a saga between the sticks at the Santiago Bernabéu this season.