Barcelona 3-0 Alavés LaLiga gameweek 1: match report
Messi opened his account with two and Coutinho started the season well too as Barcelona beat Alavés with three second half goals at the Camp Nou.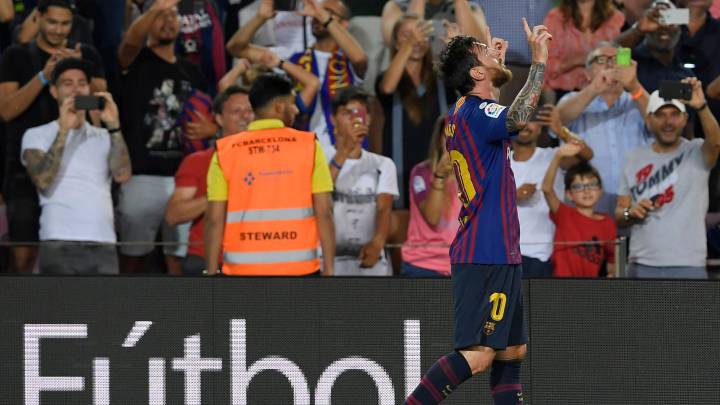 Barcelona 2-0 Alavés: match report
Barcelona were treated to a guard of honour as the reigning LaLiga champions ahead of their opening fixture against Alavés at the Camp Nou on Saturday night. What came after was far from a victory parade, however, as the visitors frustrated them deep into the second half when Lionel Messi eventually broke the deadlock.
Ernesto Valverde started Sergi Roberto in midfield and left Malcom, Arturo Vidal and Arthur on the bench along with Clement Lenglet and Phillippe Coutinho as he selected a more safe and less creative eleven to start their campaign.
It was all too stagnant from the home side however, as they were too easily repelled by Alavés. Fernando Pacheco brought his A game and Luis Suarez didn't. Messi tried and Dembele looked sharp on occasion but they were left empty-handed after 45 minutes.
After that first half of frustration, which included Messi hitting the underside of the crossbar, Valverde acted.
He took off Nelson Semedo, replaced him with Coutinho and sent Roberto to right-back in the hope the Brazilian had the match to light a fire under his midfield and attack.
The inspiration did come in the second half and it was from a more familiar source than Coutinho -- although there would be time for him to weave his magic later in the half.
Lionel Messi slotted a free-kick that he won under Alaves' wall to give Barcelona a deserved lead after 64 minutes. They all jumped to prevent it from going into the top corner, which they managed, but instead it rolled into the bottom one as Pacheco looked on.
Messi hit the bar shortly after and while Alavés did have a couple of quarter chances, Barcelona were liberated after the Messi goal. Coutinho cut inside after 83 minutes and scored a trademark strike as he buried it beyond Pacheco, who had no chance.
The Argentine made it 3-0 with the last kick of the game when he took down a long ball into the box and rolled it past Pacheco to cap another man of the match performance as he made the almost impossible look like the most natural thing in the world.
Barcelona were comfortable throughout even though there were moments when the goal felt like it would never came. They were flat at times and were fluid at others, underperforming and winning with ease all at once. The guard of honour was a nice touch from Alavés but they'll have to improve massively if they want another one at the start of next season.
Barcelona vs Alavés live online: live updates
90'+2' GAME OVER! What a way to start the league for Messi and Barcelona as he finished with a double.
90'+2' WOW! Messi makes it 3-0. Messi takes it down and just rolls it into the bottom corner. That is just magic.
88'   Barcelona continue to attack but Alaves reject them again. Messi shot and Pacheco saves as it rebounds to a teammate. Alaves gets it away.
85' Busquets off for Arturo Vidal. He gets a massive cheer at the Camp Nou.
83' Coutinho with a trademark strike. Cuts in on his right. Buries it. Pacheco had no chance. 2-0 and no way back for Alaves now.
81'   Alaves have an attack. Barcelona get men back though. In the end, Ibai Gomez sends it high and wide as he looks for a teammate on the left. Poor. 
79'   A chance for Alaves but it's just wide. They are at least having a go now and haven't been far off.
77' Dembele off for Arthur.
75'   Seconds later and Roberto sets Messi up but he's offside.
74'   Roberto back to Ter Stegen and he shows off how comfortable he is on the ball again.
71'   Suarez through and Pacheco saves.
71'   Alaves attack with Burgui but Umtiti sees that out for a goalkick.
68' Borja Baston and Adrian Marin on for Torres and Jony. Sobrino off for Burgui too.
69'   Dembele nearly breaks through. He has the ball stolen off his toe as he had to beat one defender too many on his way to goal. 
66'   Messi really in the mood now. He gets the ball from Suarez, nearly slips and the recovers, and then he curls one onto the post. What an effort. Brilliant.
64'   Barcelona's 6,000th goal in LaLiga.
64' Messi slides it underneath the wall. Barcelona break the deadlock. 
63'   Messi fouled by Duarte as he jumps in on the Argentine. Really dangerous position now.
60'   Ball over the top to Messi. Really nice too but it bounces slightly awkwardly and he can't do anything with it. Really unlucky for Messi as Pacheco closed him down completely.
58'   Luis Suarez has a chance to send Dembele free. Really weak pass though.
56'   Alba shot. Blocked for another corner. 
54'   Sobrino with a ball through to Jony and Ter Stegen with the neatest little flick over him. Calmest man in Barcelona.
52'   Wakaso with an effort. It's blocked and Alaves keep it before losing it to Rakitic, who is fouled. 
51'   Suarez ball to Messi but that is a poor pass. Messi has no chance of getting to that.
50'   Messi and co. break. Cross comes in but it's just too high for Coutinho. Barcelona keep attacking though.
49'   Ibai Gomez breaks clear now and he has nobody in support. He just kicks it into the corner. What a waste. That's defeatist football.
48'   Roberto to the near post and Suarez can't get there as Alaves clear with the ball and then lose it. Jordi Alba comes inside from the left and Pacheco saves again. This time it's at his feet and he blocks it out.
46'   Messi into Suarez' path but he can't make it again. The Uruguayan not looking his sharpest early on in the season!
46'   Busquets has his ankle clipped but the referee plays advantage.
46'   We are back underway for the second half.
  It's not Sergi Roberto. It's Semedo. Coutinho replaces the right-back and Sergi Roberto goes there instead.
    Unclear as to who he comes on for. Sergi Roberto nowhere to be seen so could be him.
    Coutinho is indeed coming on as he makes his way to the tunnel to meet his teammates who are ready to go onto the field.
45'   That's it. Half-time. Barcelona are really flat but have had way better chances and probably should have the lead. 
44'   Semedo gets into it with Duarte and he's fouled. Advantage is played though. Jordi Alba sends it in from the left and Dembele hits it as he's falling backwards. It's wide from an awkward shot. 
41'   Another chance. Another corner for Barcelona. Maripan puts it out behind after Suarez' sees his effort shoot into the area. He lobbed it over Pacheco but was just a kick up into the air.
41'   Alaves with a rare attack. Sobrino with the chance and he kind of crosses and kind of shoots and it ends up going very wide.
39'   They retreat though and recover their defensive position. 
39'   Messi puts Dembele through and he hits it almost straight at Pacheco. Alaves scramble away. Game is a little too open for Alaves liking now. 
38'   What a free-kick. Absolutely brilliant. He rattles the underside of the crossbar with Pacheco stretching. It comes out to Pique and he headers over.
36'   Another foul. Messi fouled again as Many Garcia comes across after Duarte failed to hit him late. Out on the left and not the most ideal angle but Messi has form with free kicks! 
35'   Corner makes its way to Messi way out on the other side. He crosses and it's almost perfect but Rakitic heads just wide.
35'   Barcelona look like they're getting close. Busquets to Alba out on the left and he squares. Cleared for a corner. 
32'   Another chance. Dembele to Suarez but they can't convert. 
31'   Another half chance for Barcelona as Dembele drives a shot wide. Tough angle with a defender in his face. 
30'   Alaves clear after winning the ball but no use. Barcelona back on the ball. All very flat at the Camp Nou.
28'   Free for Alaves on the left. Way out and the delivery isn't good enough to even give themselves a chance. And Barcelona break with a two on one. Dembele with a pass to Messi but it's cut out expertly. Alaves defender had fallen but got a foot to it. That was a sure goal for Barcelona if they broke free.
26'   Busquets chances a ball in to Semedo, who has made a nice run but that's way too tight a space. Ball cleared by Barcelona back on it again. Going to be a long 65 minutes for Alaves at this rate.
24'   Semedo looks to make a move. He loses it as Alaves break. Pique slides in and puts it out for a throw. 
23'  Mesis inside to Dembele but pass is off target.
22'   Barcelona still looking for a way through. 
20'   Messi turns Duarte and he's fouled. Free for Barcelona as they look to continue to dominate. They have to be very careful of Alaves' counter too though.
18'   Sergi Roberto with a really nice run down the right. He cuts inside and plays it across the box. Great block in the end from Laguardia. Corner for Barcelona that Alaves have to deal with. It's worked short to Messi and he pops it inside to Dembele. Cross comes in and Suarez gets it. He curls it over.
17'   Another cross as Alaves go up the other end. Jony with the cross. Sobrino headers an awkward one down into the ground and wide.
16'   Dembele cuts inside and looks for a shooting chance. He can't get an effort away but pokes it in Messi's direction. It's too far away from him though. Messi strikes in the end when it bounces back out to him and he curls it in Pacheco with his left foot.
15'   Corner comes in and catching practice in the end for Ter Stegen. He starts a counter.
14'   Pique puts it out for a corner. Nice ball into the danger zone. Alaves sitting very deep but looking lively on the counter.
13'   Messi looking to get in behind. Duarte heads back to Pacheco.
11'   Ball over the top from Messi as Suarez recovers. He is onside and that is an incredible ball. He can't control it though.
11'   Alaves looking somewhat sharp on the break. No chances yet. Cross comes in and it's blocked by Umtiti. Barcelona break now as Suarez is thrown on the ground.Barcelona back in possession. 
9' Late and dangerous challenge for Daniel Torres. He slides in on Busquets and gets booked for it.
9'   Messi makes a move inside the box. He loses it and Alaves break. It's slowed right down and they have to go backwards.
7'   Barcelona remain comfortable. Alaves in a 4-4-2 and defending deep.
6'   Ball in from Rakitic and Duarte clears. It's straight back with Barcelona and Messi. He whips one to Alba and he shoots on the volley. Into the side netting.
4'   Another ball into the box and Luis Suarez is boxed out and can't get to it dangerous though. That comes just after Jony strikes from the left for Alaves and Ter Stegen gets down well to save.
3'   First proper attack though and Lionel Messi is through on goal. He lets it bounce, catching the defender out, who is understandably afraid of his life, and he strikes just wide.
3'   Barcelona absolutely bossing possession to start here. 
1'   We are underway at the Camp Nou!
    Alaves making their way out to give Barcelona a guard of honour. They're wearing their new away jerseys. White with a green sleeve.
    Barcelona have scored 5,999 goals throughout their LaLiga history. Can Luis Suarez make it 6,000 on his 200th appearance for the club. He also made his 100th appearance against Alaves too.
    Lionel Messi has played against Alaves six times in his career and scored six goals. He has only won on five of those occasions though with the loss coming two years ago under Luis Enrique when Alaves won 1-2 at the Camp Nou.
    Rafinha is another player on the bench. He has been reportedly assured that there is a future for him at Barcelona despite there being doubts recently.
    Barcelona have won 25 league titles and will be looking it a 26 this year. Here is five things they have to do in order to achieve that 26th title.
    PSG president Al Khelaifi and Bartomeu met in Madrid today. Was Rabiot discussion on the table? 

    Alaves XI: Pacheco, Duarte, Maripan, Laguardia, Aguirregabiria, Garcia, Wakaso, Torres, Jony, Ibai Gomez, Sorbino.
    Coutinho doesn't start and Valverde doesn't start any of his summer signings either. Dembele gets the nod ahead of Malcom too.
    Barcelona XI: Ter Stegen, Semedo, Pique, Umtiti, Alba, Busquets, Rakitic, Sergi Roberto, Dembele, Messi, Suarez.
Hello and welcome to our live coverage of Barcelona versus Alaves as the reigning league champions face Abelardo's side, who battled relegation last year and might end up doing the same this season. Kick-off from the Camp Nou is at 22:15 CEST.
Barcelona vs Alavés live online: match preview
Barcelona start the defence of their league title on Saturday night with a game against Alavés, who are the last visiting team to win at the Camp Nou as Ernesto Valverde pointed out in his press conference ahead of the game. The game kicks off at 22:15 CEST from Barcelona with plenty of intrigue in both dugouts. Barcelona have signed plenty of creative players this summer and Abelardo Fernández is embarking on his first full season at the helm for Alavés.
There has been plenty of turnover at the Camp Nou this summer with Andrés Iniesta, Paulinho, Lucas Digne, Aleix Vidal, Yerry Mina and André Gomes all leaving for pastures anew from Merseyside to China. Meanwhile, they have been replaced by the likes of Clement Lenglet, Malcom, Arthur and Arturo Vidal, who are all in the matchday squad for Alavés' visit. Denis Suárez, Carles Aleña and Sergi Samper are all out of the matchday squad but manager Ernesto Valverde has a full complement of players to tackle their first hurdle in LaLiga.
Alavés lost Munir to Barcelona in the summer as his loan ended with the club from Vitoria. John Guidetti made his loan move from Celta Vigo permanent in the summer and they also signed tricky winger, Patrick Twumasi, from Astana. Munir is out of Barcelona's squad as his old side visit. Alavés might end up fighting relegation this year and travelling to Barcelona is not an easy start but they might fancy their hopes of catching the reigning league champions on the hop. They've done it before.