Real Madrid round-up: Coentrao; number '7', Modric, Odriozola's horse
In todays roundup: Coentrao search party cancelled, AS' number '7' survey, Kaka on the Ballon d'Or, Vallejo on the mend and Odriozola in winning form.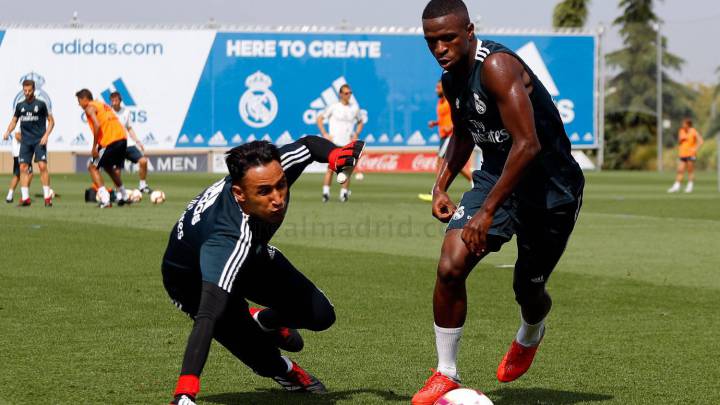 Mystery solved: Coentrao shows up
We were beginning to worry about Fabio Coentrao… The Portuguese player had not been seen around Valdebebas, even though he had been due to return after a loan spell at Sporting Lisbon to see out the last year of his Madrid contract. But there had been no reported sightings of him in Portugal and his social media had remained inactive for more than 62 days. That was until yesterday…
In response to an AS article on Wednesday questioning his whereabouts, Coentrao took to Twitter just hours later to post pictures of him training at Valdebebas with fitness coach Javier Mallo. And he even took the chance to have a little dig at the press, who were, it has to be said, left with a little egg on their face… AS included.
Majority of fans would give Asensio the '7' shirt
Since Cristiano Ronaldo's exit in July, there is yet to be a player assigned as number '7'. And rumours on the street are that Madrid are waiting to see what happens with Kylian Mbappe before designating a new owner of the coveted jersey.
But in an online survey conducted by AS, 53 percent of respondents chose Marco Asensio (who wore '20' against Getafe) as the rightful heir to the '7' shirt. Just under a third of respondents would give the jersey to a hypothetical new signing (such as Mbappé), while 17 percent chose Brazilian starlet Vinicius, who somewhat dropped off the map since the end of the preseason. But for now, it remains to be seen who will inherit the '7' that has graced the backs of legends such as Ronaldo, Raul, Juanito and Butragueño (see our gallery 'Real Madrid's legendary No.7s here).
While we're talkin about Asensio, check out his absolute peach of a goal in training yesterday… my word…
Modric, Kaka's choice for the Ballon d'Or
Ex-Madrid star, Kaka gave his opinion on Modric and the Ballon d'Or in an interview with Italy's La Gazetta dello Sport. "He has had some impressive results. He's a guy that creates the show and commands the game," said the Brazil legend.
Fortunately for Real Madrid fans, after all the speculation linking him with a move to Inter Milan, Modric will continue to create the show at the Bernabeu and not the San Siro.
The most searched-for team on Google
There have been a lot of reports recently on the impact that Ronaldo has had on Juventus' social media channels, which has been nothing less than enormous. But Madrid remain the most searched-for team on Google in four continents (Europe, Asia, Africa, and America), according to figures released by company.
The figures have been released not long after Juventus and Italy goalkeeping legend Dino Zoff stated that "Juventus are better than Real Madrid" this season, in an interview on Italian radio. Real Madrid fans would probably say that Juventus have a lot of catching up to do yet, both online and on the pitch.
Jesús Vallejo continues his recovery
Real Madrid have posted footage of Vallejo as he continues his recovery in Valdebebas. The defender picked up another thigh muscle injury at training during the US preseason tour, which should keep him out for another two to four weeks, but AS awaits more updates from the club on that.
Odriozola in winning form, despite injury
Meanwhile, Alvaro Odriozola, who is also on the recovery after an injury sustained in the US, took some time out from training to watch one of his prized racehorses in winning form. The former Real Sociedad player has an equestrian passion and is the owner of two racehorses named Guitar and Royaume ('Kingdom').
Madrid fans will hope the horse-loving defender can help his team beat Barcelona to the post in LaLiga this season.