Manzano: "Simeone is exactly the same as a coach as he was as a player"
El Cholo took the reins from Gregorio Manzano in December 2011 and completely changed Atlético's fortunes. "Diego Costa fell injured on the day we were going to sell him!"
Gregorio Manzano made way for Diego Simeone at Atlético in December 2011 and the Rojiblancos have not looked back since. Diario AS chatted to the 62-year-old about the club's transformation under El Cholo, whose team take on another of Manzano's former clubs tomorrow, Rayo Vallecano.
An Atlético vs Rayo is always a special game...
Both are clubs where I spent happy moments of my career. I was at Rayo first; it was one of the best experiences I've had as coach for the difficulty of not having been able to start the season with the team (Andoni Goikoetxea was sacked in Week 4). We ended the first round of games with 13 points. But to everyone's amazement, our form in the second half of the season would have put us in the Champions League places. Along with Real Madrid, Barça and Valencia, we were the team who gained the most points after Christmas and that took from being bottom of the table to finishing 11th.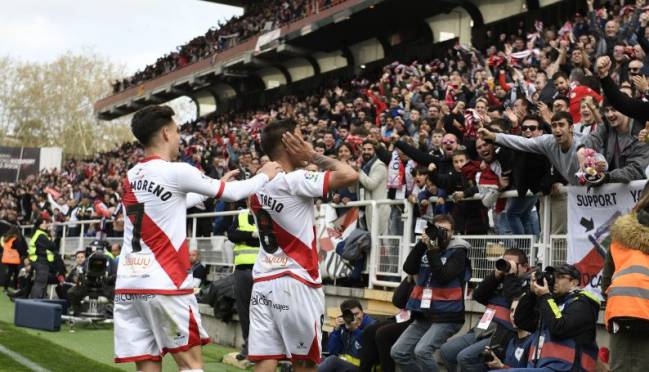 Rewind to October 2001
What are your memories of taking on the Rayo job?
My first game was in Week 6, the team had just one point, we were playing against Osasuna we let in the earliest goal scored in the league... [Mariano] Armentano on 10 seconds. The newspapers said that I didn't even have time to sit down in the dug-out. There were other things - nicer moments like when we went on a run of five straight wins. We made sure we were safe from relegation in Las Palmas with three games left to play. That was the best moment of all with the team playing brilliantly.
What are your memories of your two spells at Atlético?
I had the honour of being the coach when Atleti celebrated their centenary. We just missed out on qualifying for the UEFA Cup - Sevilla beat us to sixth place on goal difference but we entered the Intertoto. I was there during other historic moments - such as when Jesús Gil passed away. I didn't end my second spell; I was only there for half a season until El Cholo arrived. It was me who had to remodel the squad who didn't make the grade under me but triumphed later with Simeone. At that time we brought in Courtois, Falcao, Miranda, Gabi... I didn't manage to get positive results - especially away from home and there were a lot of doubts, but by the end of the season under Simeone, Atlético were one of the best teams in Spain and in Europe.
A lot of the players who were in that team are still at the club...
Juanfran, Filipe, Godín, Koke... and Diego Costa! He had an offer from Turkey but picked up an injury in the Europa League Play-off against Vitória de Guimarães - one day before he was due to sign for another club! So he ended up staying, he recovered and went out on loan to Rayo, where he did well. And after that he just took off.
Atlético's meteoric rise
Who do you think is responsible for the golden age Atleti are in?
It's a collective thing. The main protagonists are the players. And behind them they have a coach, Simeone whose leadership is quite clear to see. And also how the club have handled things on the sporting side and ensured Atleti have grown economically - which can be seen in the new stadium, the Wanda Metropolitano and signings like Thomas Lemar.
How do you see the immediate future for Atlético and Rayo?
Rayo will be battling to avoid the drop and I really hope they achieve that. Atleti showed what they are capable of in the European Super Cup and they will be in the fight to win the league and I'm sure they'll continue to surprise us in Europe. I'd love to see them lift their first Champions League.
Model players, excellent coaches
You coached both Simeone and Míchel. What were they like as players?
El Cholo was exactly the same as he is now: he was one of the high-ranking members of the team, a good reader of the game, a big personality who could understand and relay orders from the coach. His arrival has transformed Atleti. Míchel is a club player through and through, a really nice person and an even better footballer. Technically, he was exquisite, with a superb left foot. He was very disciplined and as far as the rest of the players were concerned, he was the example to follow. Rayo is his lifelong club and he got them promoted back to the top flight not long after starting his coaching career. Both of them have realized their dreams and I wish them the very best.