Vettel closes gap after Alonso crash in Belgium
A huge crash involving Fernando Alonso will take the headlines, but Sebastian Vettel closed the gap on Lewis Hamilton at the Belgian GP.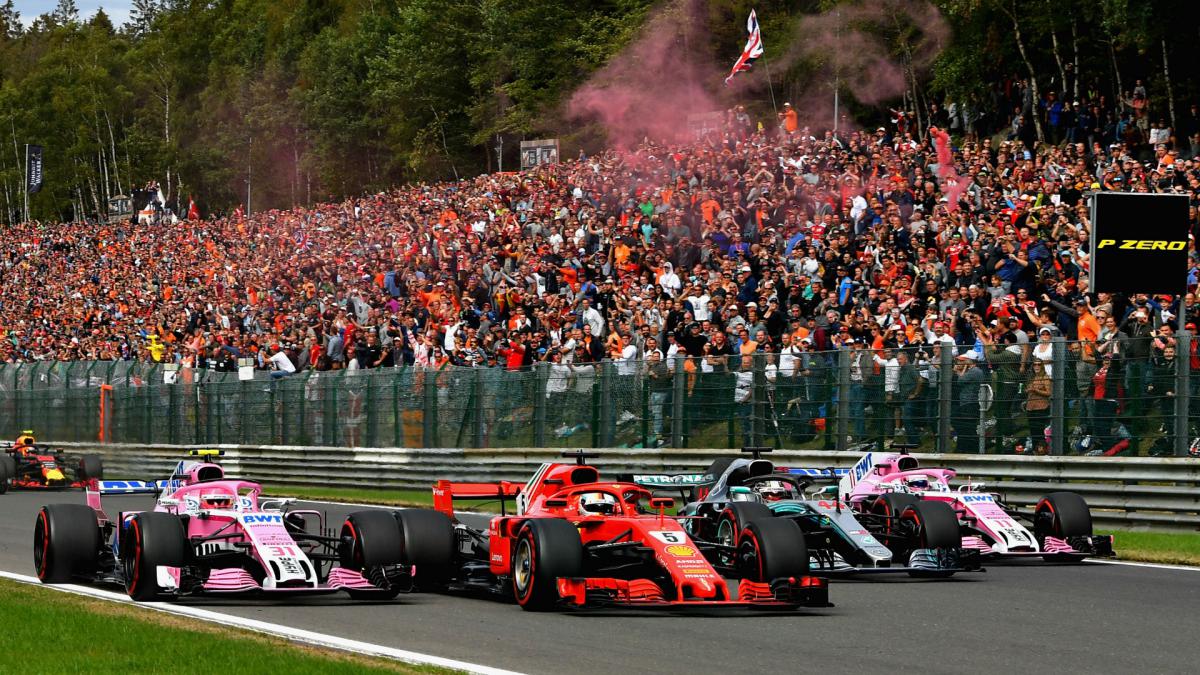 Sebastian Vettel closed the gap on championship leader Lewis Hamilton to 17 points with victory in a Belgian Grand Prix that will be remembered for a huge first-lap crash.
Alonso crash
Fernando Alonso took flight after being shunted from behind by the Renault of Nico Hulkenberg, who completely locked up heading into Turn 1. The Spaniard's McLaren made contact with the Halo of Charles Leclerc's Sauber in an incident that forced the retirement of all three, while Kimi Raikkonen and Daniel Ricciardo also sustained damage that ultimately ended their races.
With the drama unfolding behind him, Vettel made his move on Hamilton to claim a lead he did not relinquish for the remainder of the grand prix.
Max Verstappen drove well to finish third for Red Bull, but one of the drives of the day came from Valtteri Bottas, who - after starting down in 17th due to a grid penalty - recovered from front-wing damage sustained on the opening lap to finish fourth.
Sergio Perez, meanwhile, completed a promising weekend for the reborn Racing Point Force India team by crossing the line in fifth, ahead of team-mate Esteban Ocon.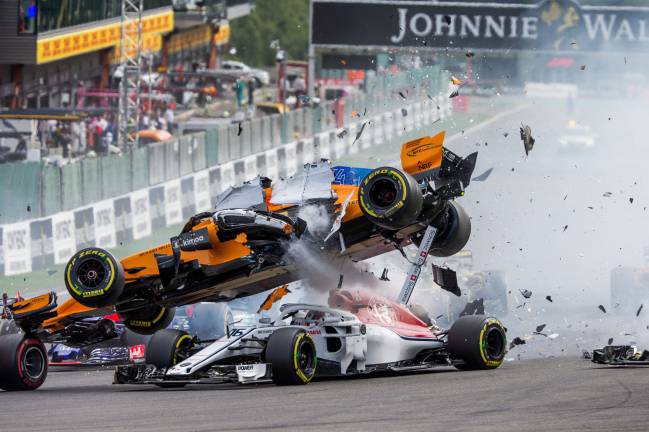 ECHOES OF 2012
Red Bull boss Christian Horner accused Alonso of causing chaos "wherever he's gone" this week, but the McLaren driver could hardly be blamed for the dramatic opening to Sunday's grand prix, which brought back memories of the 2012 race.
Alonso was an innocent passenger in that crash, too, which was triggered by a Lotus Renault – a previous guise of the current Renault outfit.
On that occasion, Romain Grosjean squeezed Lewis Hamilton against the wall, with the resulting collision sending the Frenchman spinning over Alonso's Ferrari.
This time it was Alonso turning through the air, and Leclerc will have been thankful for the introduction of the Halo as one of the Spaniard's wheels made contact with the cockpit protection device brought in for 2018.
In the Halo's first major real-world test, Leclerc walked away unharmed from an incident that could otherwise have caused serious injury.
VETTEL MAKES HIS MOVE AMID THE CARNAGE
Perhaps oblivious to the drama that was unfolding behind them, the attention of Hamilton and Vettel was on the fight for the lead.
Hamilton got away well from pole but, with Eau Rouge successfully negotiated for the first time in the race, Vettel found a way around the outside of the Briton onto the Kemmel Straight.
The battle briefly became a four-way tussle involving the two Racing Point Force Indias, who had impressively qualified third and fourth following a mid-season break of great uncertainty, but Vettel made it stick and began to build a cushion over second-placed Hamilton.
Mercedes blinked first when it came to pit stops and brought Hamilton in after 22 laps, sending him back out in third.
Ferrari responded immediately and managed to get Vettel back into the race ahead of Verstappen and Hamilton. While Hamilton quickly overtook Verstappen, he did not have the pace to reel in his championship rival.
VERSTAPPEN MAKES THE BEST OF HOME GRAND PRIX
There was no lack of support for Verstappen in the land of his birth, with thousands of Dutch fans – decked out in orange – lining the circuit.
After a disappointing qualifying session, the Red Bull driver gave them plenty to cheer.
Verstappen had never previously completed a lap in the top four at Spa, but he was first to make his move after the safety car came in following the first-lap incident, overtaking Ocon to go fourth.
Perez soon followed, putting Verstappen into clean air to chase down Vettel and Hamilton.
Clearly wanting more and with time running out, wet-weather specialist Verstappen asked his team: "Any chance of rain, maybe?"
IN THE POINTS
1. Sebastian Vettel (Ferrari)
2. Lewis Hamilton (Mercedes) +11.061
3. Max Verstappen (Red Bull) +31.372
4. Valtteri Bottas (Mercedes) +66.373
5. Sergio Perez (Racing Point Force India) +72.210
6. Esteban Ocon (Racing Point Force India) +80.822
7. Romain Grosjean (Haas) +86.364
8. Kevin Magnussen (Haas) +89.048
9. Pierre Gasly (Toro Rosso) +105.948
10. Marcus Ericsson (Sauber) +1 lap
DRIVER STANDINGS
1. Lewis Hamilton (Mercedes) 231
2. Sebastian Vettel (Ferrari) 214 (-17)
3. Kimi Raikkonen (Ferrari) 146 (-85)
4. Valtteri Bottas (Mercedes) 144 (-87)
5. Max Verstappen (Red Bull) 120 (-111)
CONSTRUCTOR STANDINGS
1. Mercedes 375
2. Ferrari 360 (-15)
3. Red Bull 238 (-137)
4. Renault 82 (-293)
5. Haas 76 (-299)
NEXT UP
After their mid-season break, there is now no let-up for the drivers as they head to Italy for the next round at Monza next weekend.