Real Madrid round-up: Vinícius, Courtois, Bale, Girona, Coentrao
Sunday's Real Madrid news: The Brazilian's debut for Castilla, Courtois' debut, Bale's time, a sticky Girona fixture and Coentrao's future at the club.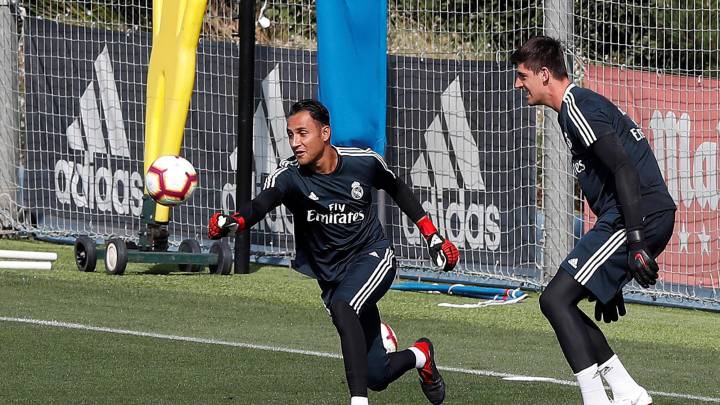 Vinícius makes his debut for Castilla
Vinícius Junior made his debut for Real Madrid Castilla against Las Palmas Atlético on Sunday to become the most expensive player ever in Spain's Segunda B. Real coach Julen Lopetegui had given some indication about the Brazilian striker's role and future at the club, and the part he might play, in his pre-match press conference: "He's part of our squad. When he joins up with us he will have chances to play, and when he doesn't he will play for Castilla".
Courtois set to make debut against Girona
Real Madrid's new signing Thibaut Courtois is finally due to get the nod between the sticks on Sunday evening as Los Blancos travel up to Girona. The move to make Courtois the outright number 1 will require a bold decision from Lopetegui, but questions are already being asked about the logic of bringing the Belgian keeper to the club if he is going to be rotated and spend part of the season warming the bench.
Many corners see the former Chelsea and Atlético keeper as one of the best around, but the decision to make him a nailed-on starter in all competitions is made more difficult by Keylor Navas' consistent, and at times brilliant performances, particularly given that he has been part of a side which won an unprecedented three Champions League titles in a row.
Bale's best season in a white jersey?
As Gareth Bale steps out of the long shadow of Cristiano Ronaldo, and with the departure of Zidane, many believe the Welshman's time to shine has come. With no clear star-studded signings on the horizon, Bale is now the centrepiece of the Real attack, and was on target, as well as impressing with his all-round performance and contribution, in Madrid's opening-day win against Getafe. All eyes will be on Bale to see if he can continue to stay fit and sharp and find the net consistently.
Nothing to worry about or a hoodoo in the making?
"Together we can do it again" is the chorus sung by Girona in a motivational video which laims to set the tone for Madrid's visit on Sunday evening. Girona giant-killed Madrid in the corresponding fixture last season, winning 2-1 in Montilivi in October, and although both squads and duguouts differ – most notably the absence Machín and Zidane and, of course, Cristiano Ronaldo - Lopetegui will be keen to break any form bogey fixture taking shape.
Coentrao surplus to requirements
In Saturday's press conference ahead of the Girona game, Lopetegui gave some updates on the Madrid squad, particularly Vinícius and Luca Zidane getting some game-time for Castilla. The Madrid boss also confirmed that left-back Reguilón would be a first-team squad player: "Reguilón is going to be in the first-team squad. He's a player we really like and are excited about", which is further proof that Coentrao no longer has a future at the club, not to mention that fact that is now training alone. Madrid have also asked Jorge Mendes to find the player a new club before the transfer window closes on Friday.