Madrid arrive well warned
Julen Lopetegui arrives in Montilivi clear in the knowledge that the equivalent fixture last season was a point for Zidane's team from which much negativity grew.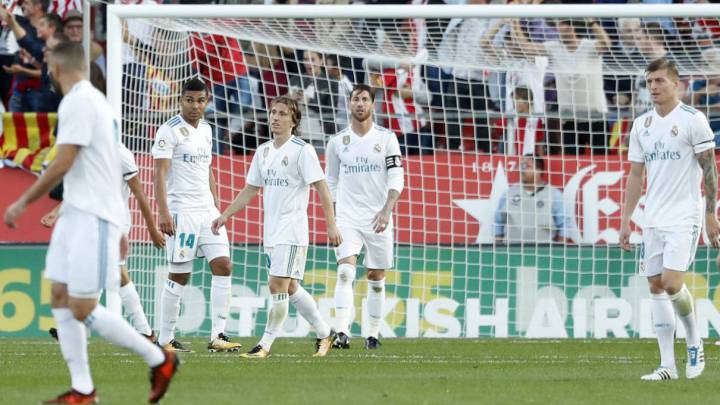 Real Madrid return to Estadi Montilivi on Sunday night, the scene of what could be described as Los Blancos' Waterloo last season. Then-manager Zidane was unable to decipher the system he was up against with three centre halves and two overlapping wing-backs. Zidane has gone, as has Machin, now with Sevilla, but the memory will remain. Madrid took an early lead through Isco but two goals just before the hour mark (Stuani and Portu) meant the three points would stay at home. When they arrived there were already doubts about a potential crisis at the club and as they lost even more ground in the race for LaLiga, the negativity grew.
Girona not to be taken lightly
Before their first official visit to Girona in October 2017, which proved costly, Madrid had already tripped up three times in the league, with two draws and one defeat in just nine matches. This stumble in Montilivi, despite their being a long way to go in the campaign, was the one that effectively killed any belief in Zidane being in a position to fight for the title. Barça were eight points ahead and sitting pretty.
Lopetegui to make an impression
This painful memory, together with the statistic that in only four of the last ten seasons have Real Madrid ended Gameweek 2 with a full six points, gives clear warning that Lopetegui needs his players to step up to the challenge. With serious pressure on his shoulders from the off, he wants to avoid any disconnect from the club's expectations that would shine the spotlight even brighter on him. The league target is clear and the opening day victory against Getafe a marker that needs to be built upon.
LaLiga Santander
*Update 24 de agosto de 2018



LaLiga Santander
*Update 24 de agosto de 2018