Real Madrid round-up: Mariano, Lopetegui, Keylor, Xabi...
In today's roundup: Mariano returns to Madrid; empty squad numbers; Lopetegui's birthday; Keylor and Costa Rica; and Xabi Alonso's new coaching role.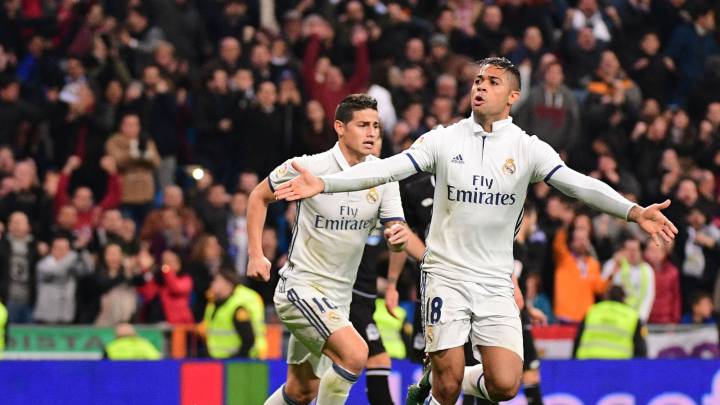 Mariano set to return to Madrid
"Mariano told us many times that he only wants to play for Sevilla," said Sevilla president José Castro yesterday. And while he has said he is not mad at Madrid for snapping up the Lyon player from under his nose, something tells us that Florentino Perez will not be on his Christmas card list this year.
Just when it looked like Mariano's move to the Andalusian capital was almost set in stone, Madrid will exercise their right to buy back the player they sold to Lyon in 2016 for €8 million.
With 21 goals in 44 games for the French club last season, the 25-year-old offers Lopetegui an alternative to Karim Benzema in the number '9' role, one of the positions he has most wanted to strengthen. It is understood Madrid will pay €23 million for the player, meaning the overall cost will be €15 million when the €8 million they earned from his sale to Lyon is deducted.
Four squad numbers left to be filled
After all this summer's transfer activity, Madrid now have four squad numbers left to be filled – the biggest one, of course, being the famous number '7' shirt worn by Cristiano Ronaldo since 2010.
Also without an owner is number '15' (which belonged to Theo Hernandez, who has been loaned out to Real Sociedad), number '16' (which was worn by Kovacic until his loan move to Chelsea a few weeks ago), and the number '23' shirt, to which no player was assigned last season.
Lopetegui turns 52
Julen Lopetegui celebrated his 52nd birthday on Tuesday and what a year it has been for the Basque coach.
When he turned 51 last August, he probably could not have imagined what would unfold over the following 12 months: that Zidane would resign just after winning his third Champions League title as coach, freeing up the Madrid job; that Florentino Perez would ask him to take over for Zidane when he was being completely overlooked by the media; and that he would be sacked as Spain's head coach by the Spanish Federation just three days before the World Cup for announcing that he had accepted Perez's offer. (Although, it seems that now there are no hard feelings on the part of the Spanish FA, who took to Twitter yesterday to congratulate him on his birthday).
Lopetegui will no doubt be hoping that he will be able to look back on his 52nd year as the year he won his first LaLiga title with Madrid, and perhaps the year he helped the club win its 14th Champions League title. Anything less than a LaLiga title, and – knowing Perez's track record – he will unlikely be celebrating his 53rd birthday at Valdebebas. If he does manage to win LaLiga, he will be the first manager to do so in his first season while Perez has been president. No pressure then...
Keylor to miss Costa Rica's upcoming friendlies
Keylor Navas has chosen not to join his compatriots for the upcoming friendly matches against South Korea and Japan in September. With Thibaut Courtois breathing down his neck for the number one position, Keylor has decided to stay in Madrid as he wants to keep working with Lopetegui.
Since Courtois' arrival, the Costa Rican has so far started ahead of the Belgian for every game, and does not want to risk losing his place, although that may eventually be something that will be out of his hands.
Xabi Alonso takes over as U-14 coach
Xabi Alonso is the latest former Galactico to become involved in the underage coaching setup at Valdebebas. After Raul made his debut as U-16s coach last week, Xabi oversaw his first training session as coach of the U-14s yesterday.
The ex-Liverpool and Bayern midfielder joins Raul, Argentina's Santiago Solari (who played at the Bernabeu from 2000 to 2005) and Alvaro Benito amongst the coaching staff at 'La Fábrica'.
"Mariano told us many times that he only wants to play for Sevilla"