Valladolid hoping Ronaldo secures Vinicius loan
The former Real Madrid striker is likely to become the president of LaLiga outfit after taking control of the club.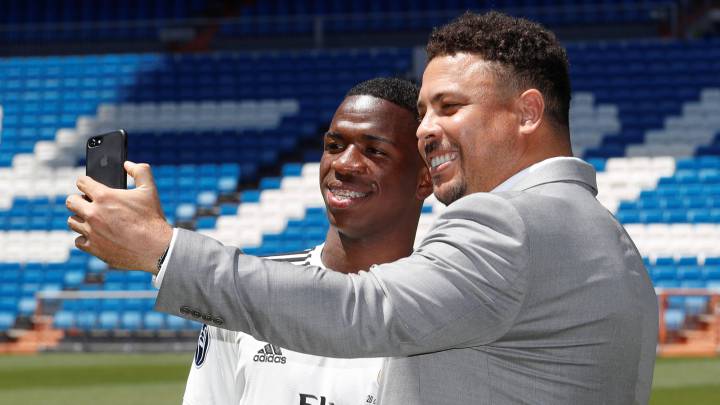 With Ronaldo Nazario looking likely to purchase a majority shareholding in Valladolid for 30 million euros, as revealed by El Larguero on Spanish radio on Monday night, the hope at the LaLiga outfit is that the former Real Madrid star will help bring in up and coming prospect Vinicius, who recently joined the Bernabéu club.
Ronaldo to take over at Valladolid
According to Cadena Ser, Ronaldo's acquisition of half the shares in the club is expected to take place in the next couple of days, with the Brazilian becoming the majority shareholder and taking over as president of the club.
Valladolid hopeful of Ronaldo influnce regarding Vinicius
Sources at Valladolid indicate that the club believes that if Ronaldo does take over, there is a possibility Vinicius' near future will include a spell in the northern Spanish city, given the close ties between the two Brazilians. Ronaldo, who is also on the board at Real Madrid, was master of ceremonies at the presentation of the youngster at the Bernabéu, with Real Madrid paying 45 million euros for his services from Flamengo.
Valladolid believe Primera football best for Vinicius
The argument being made at Valladolid is that a player who was at one of the biggest clubs in Brazil and having played in the Copa Libertadores would adapt better to Spanish football playing in the Primera rather than training with the Real Madrid first team but playing with Real Madrid's B team, Castilla, in the third division, where he would meet none other than Valladolid B on 7 October.
Valladolid are therefore hoping that if Ronaldo does take over, he'll be able to present this argument to the highest levels at the Bernabéu and convince them that a loan deal to a LaLiga rival would be in the best interests of both the player and Real Madrid itself. Valladolid have asked on several occasions to take the player on loan, and have always been rebuffed. They are now hoping Ronaldo can tease a 'yes' from Florentino Pérez...