Lopetegui: "Real Madrid's squad now closed"
Real Madrid's coach declared his squad officially closed but admitted that striker Borja Mayoral could leave the club in the next few hours.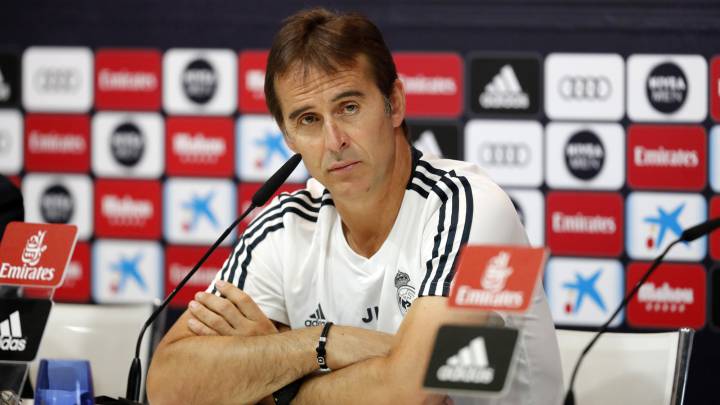 Real Madrid coach Julen Lopetegui declared his squad officially closed but admitted that out-of-favour striker Borja Mayoral could leave the club in the next few hours.
Developing the team's game and first sensations
We're making progress and we'll be taking more steps forward with every game we play. We still have to keep improving in certain attacking and defensive aspects. The team is trying to produce a sense of solidarity within the individual quality we have.
Mendes' comments about the UEFA Player of the Year award
I'm not going to enter into any discussion about anyone's comments. I'm happy because Luca won it. He's one of our players and I'm sure he displayed merits to win it. Luca combines individual quality with the collective ideas he brings to the game - I love the way he has of interpreting football. But to be honest, I prefer collective awards rather than individual ones".
No more arrivals at Real Madrid
Squad now closed
With Mariano's arrival, the squad is now closed. I don't think there will be any movements at the last minute. We're happy and satisfied with the team we've got.
Award winners at the UEFA gala
It's recognition for the work done in last season's Champions League. Now we are living in the present and right now, the present is the Leganés game, the league and that's what we are focused on. The prize we want this week is three points against Leganés".
Mariano and Mayoral
Borja is still one of our players but he has several alternatives to leave and it's likely that he will go out on loan and that could be closed today. He's a young lad who has worked well with us and he could have the chance to gain more minutes. If Mariano is back with us, it's because we're delighted to have him back on board. Borja has made the decision to leave - that's best for him and we fully understand.
Goalkeeping position wide open
Keylor Navas as first choice
The line-up for the Leganés match will be announced tomorrow. I have complete faith in both of our goalkeepers. We're spoiled for choice and that's a fantastic situation to be in. We will be managing the goalkeeping position as we deem fit.
I am not going to say who is first choice and who isn't. I have three magnificent keepers and we'll be constantly looking at the situation and make our decision accordingly.
Advice for Luis Enrique
The only thing I can say is to wish him the very best of luck in his new role. I'm sure he will get his first squad list spot on.



LaLiga Santander
*Update 31 de agosto de 2018