Real Madrid round-up: Mariano, Leganés, crowds, shirt numbers
The transfer window is closed, Matchday 4 is upon us and there's plenty going on at the Santiago Bernabéu club.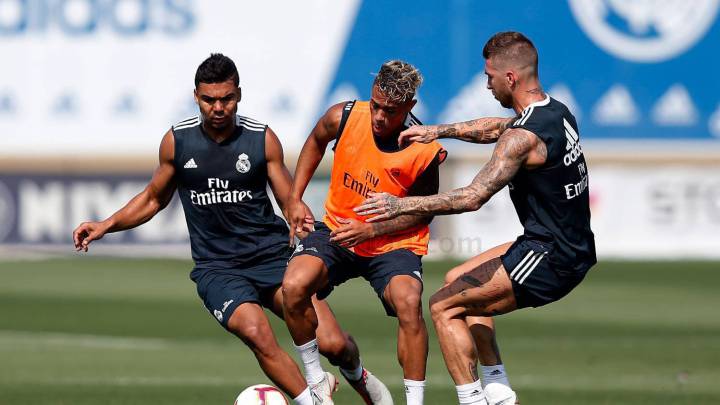 The transfer window has now closed (which will clearly stop all talk about new signings!?) and Real Madrid are all set to continue their 100% start to the season at home to another Madrid club, Leganés. Here's some of the news doing the rounds...
Bookies banker
There's no doubt that Los Blancos are being penned into most fans' accumulators this weekend. Playing at home is one thing that generally bodes well for the biggest clubs, but also when you factor in that their opposition finished in 17th place last season, and you'll understand the bookmakers confidence. You'll not get much back on any bet placed for a home win, so if you're feeling brave, have a punt on the Cucumber Growers and get 23€ for every 1€ staked. A draw offers value too at around 9/1.
Watching masses or misses?
August in Madrid is hot. It's also a time when many Spaniards tend to be on a strict holiday policy. For those reasons, the Santiago Bernabéu saw its lowest crowd since 2009 in the opening game of the season against Getafe (less than 45,000). It's September now, and a significant improvement in the number of half-time bocadillos is expected.
Mariano for Cristiano
One of the other reasons given for the low crowd two weeks ago - certainly by some - was the drop in interest from 'football tourists' since the departure of Cristiano Ronaldo. The returning Mariano Díaz has inherited the Portuguese player's number seven shirt and, after being confirmed in the squad, will hope to make an immediate impact. The striker may not be box-office yet...but a few net-bulgers can change that quickly.
Los Blancos in numbers
It's not only the number seven shirt that has been assigned. As the transfer window closed at midnight, Real Madrid were able to finalise the rest of the squad. This included Sergio Reguilón taking over the No.23 that Mateo Kovacic left behind after leaving for Chelsea.