Real Madrid 4-1 Leganés match report: LaLiga 2018/19 matchday 3
Two Benzema goals and a Ramos penalty in the second half saw Lopetegui's side claim a solid win over Leganés after a Carrillo penalty had cancelled out Bale's opener in the first 45.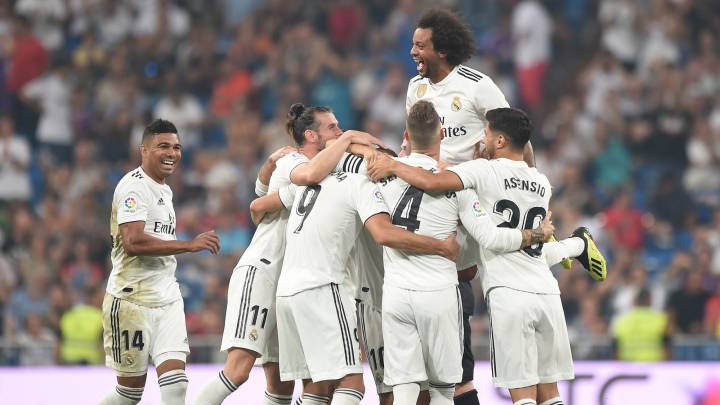 Real Madrid 4-1 Leganés: match report
Where would the goals come from? was the question. Who would be responsible for putting the ball in the back of the net for Real Madrid now Cristiano Ronaldo has headed off to Italy? The answer so far: Bale, Benzema and Ramos. They'd all already scored coming into this evening's match against Leganés and all went home having added to their haul. Bale, lively throughout was a constant threat (if his touch was as superhuman as his pace, he'd be one of the true all time greats), and he grabbed the first, swivelling marvellously to slam home a Carvajal knock back. That's his third in the Liga so far, having scored in the opener against Getafe and against Girona in last weekend's trip to the northeast. Leganés surprised everyone by grabbing a goal on their first attack, when Casemiro was so shocked to find himself defending (possession at this point was a fairly ridiculous 86:14) he clumsily collapsed into Eraso in the box and Carrillo knocked the penalty home, giving debutant Courtois, a surprise choice over Keylor Navas no chance.
Benzema provided a brace in the second half
Real Madrid dropped their aggression and incisiveness after the goal and with movement drying up in attack the fans began to fret again about who was going to provide the spark Ronaldo so often used to. They had no need to worry, Benzema realised something was needed and produced two moments of wonderful skill to effectively put the match to bed. Just two minutes after the break Benzema held off a challenge from Silva, standing his ground to perfectly cushion a header past Cuéllar. The goal was initially chalked off, the referee erroneously deciding Benzema had been at fault in the tussle with Silva, before his officials up in the VAR box asked him to have another look. He did so and spotted if anything it was Silva who'd been up to no good. 2-1 and the nerves around the Bernabéu settled. Just over 10 minutes later and Benzema conjured up a delightful goal, linking up well before striding across the top of the box and burying a diagonal ball back across the goal in the bottom corner. 3-1 and the questions were mostly forgotten.
Ramos, who had scored Real Madrid's first penalty against Girona (Benzema got the second) was called upon for spot-kick duties in the 66th minute and he made no mistake, sending Cuéllar the wrong way and putting Madrid 4-1 up. Leganés were done by this point, sending up the occasional foray into Real Madrid territory in a bid to convince that they were still in the match, but in reality the remainder of the game was an exercise in seeing whether Real Madrid could boost their goal difference further. They had chances, from Bale, Benzema and a fine snapshot from Isco (who came on for Modric), but the net remained untroubled.
Tranquil debut for Courtois

Courtois, making his debut for Real Madrid and relegating Keylor Navas to the bench, had almost nothing to do all match, saving one Santos shot just before half-time and occasionally coming out to claim through balls at the edge of his area. Navas meanwhile presented his Uefa keeper of the year trophy to the Bernabéu before the match with a rather glum look on his face.
Lopetegui is going to have difficult questions to answer about who is in his goalmouth for any given match this season, but on the evidence so far the questions about who is going to replace Ronaldo's goals may be more easily answered.
Real Madrid 4-1 Leganés: live online | latest news
90'+4'   Full time! Real Madrid brush Leganes aside in the second half, with two goals from Benzema and a Ramos penalty. 4-1 it finishes. Real Madrid three wins from three at the top of LaLiga!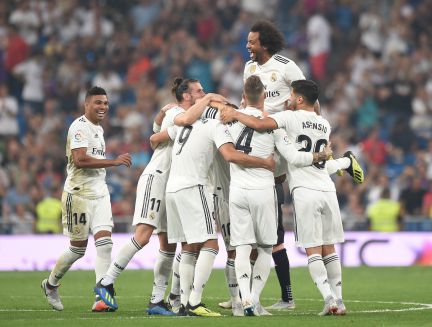 90'+3'   Nice burst down the left from Marcelo, but a stray defender's leg in the box clears the danger.
90'+1'   Isco! First time shot off a Lucas Vázquez fast pass into the box, but the wee man from Málaga finds Cuéllar's bread basket.
90'   Four minutes of additional time. We're unlikely to learn much in them.
89'   Real Madrid's domination clear.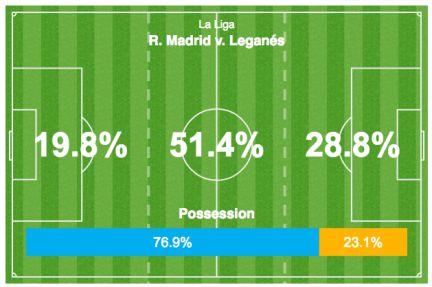 88'   Lopetegui out exhorting his players to keep the intensity up.
87'   Ceballos lucky he didn't do more damage to Lucas Pérez.
86'   Ceballos with a very reckless high foot.
84'   Four goals in four games for Bale against Leganés now. He was decent this evening, scored the opener, which was very well taken, and was a constant threat.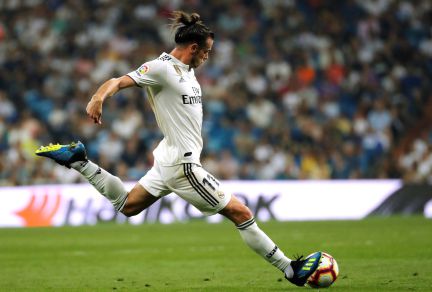 83' Bale off. He gets a rousing round of applause from the Bernabéu. Lucas Vázquez comes on for him.
80' Santos off for Rolan for Leganés.
79'   Isco backheel to Marcelo is a treat, and they nearly pull off the one-two, Isco just failing to get to the return ball.
78'   Real Madrid inflating their completed pass count something rotten here.
77'   Ceballos is much happier with Lopetegui in charge
77' Asensio off for Ceballos.
76'   Great skill coming through from Asensio, goes round his man and lays off to Bale, who fires over.
75'   Courtois claims a high ball. He's really not had much to do this evening.
74'   Leganés would probably like this to end about now. Passing practice for Real Madrid out there.
73'   ISCO with a Zidane turn into the box brings the Bernabéu to its feet! And he then puts a very dangerous ball in which nearly ends up going in as an own goal.
72'   Bale mishits a shot into the turf, it flies up and ends up on the roof of the goal. Would have been quite something if it had sneaked in the top corner.
71'   Benzema looking for his hat-trick, but he runs into cloggy traffic at the top of the box and Leganés nab it off him.
70'   Marcelo has been involved a fair bit tonight, offering himself and pushing forward, but he'd not created very much in all honesty.
69' Double change for Leganés. Eraso for Vesga and El Zhar for En-Nesyri. Unlikely to be enough.
65'   Ramos converts comfortably! 4-1!
65'   Ramos to take...
64'   Penalty for Real Madrid! Asensio brought down as he ran to the bye-line.
63'   Varane hits Ramos as he jumps in his own box, and he's winded himself, landing awkwardly.
61' Modric off and Isco on.
60'   BENZEMA! That's a cracking goal, moving across the top of the box and sending it back diagonally to beat the entire defence and Cuéllar. 3-1!
60'   Isco ready to come on...
59'   Bustiniza does very well to prevent Benzema getting away from him. That could have been very dangerous.
57'   Kroos! That's great technique to hit an outside of the foot volley while jumping, but it slide just wide. Fine skill though.
56'   Teams taking bit of a breather after that goal. Real Madrid in possession, shifting it from side to side.
54'   Bale's speed as he ran onto that ball from Kroos was really quite something. Touch just let him down, but he was doing about 25 mph.
53'   Courtois not quite fast enough to stop a ball going out the back. Corner for Leganés... which leads straight to a Real Madrid counter. Three on three but Bale charging in to finish the move ends up fouling.
51'   Leganés very close to having the ball in the back of the Real Madrid net, but ah, there was an offside anyway in the build-up. Neat work from Leganés though which should worry Real Madrid a little.
49'   Referee says... GOAL! 2-1!
48'   Ref going to go and watch it again.
47'   Benzema was in a bit of a tussle before he nodded home. Ref thought it was a foul, but he's sent it to VAR.
47'   Benzema nods home, but it's chalked off for an infringement in the build-up.
47'   Isco warming up...
46'   Asensio gifted the ball in his own half and he goes off on a lengthy sprint up the pitch before he's forced to turn round with little support.
45'   Off we go! Second half underway!
Looks like there are no changes from either side for the second half.
Here come Leganés... finally.
Real Madrid out for the second half. No sign of Leganés yet...
Here's Sergio Ramos, Luka Modric and Keylor Navas celebrating their 2017/18 UEFA Men's Defender, Player of the Year and Goalkeeper of the year awards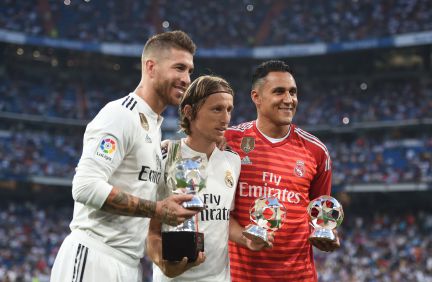 45'   Real Madrid were absolutely bossing that half and had gone ahead from a Bale goal after 16 minutes, but the balance shifted after Leganés pulled back level from the penalty spot (clumsy challenge from Casemiro). While Real Madrid still had more of the possession they struggled to create real danger, a Benzema effort well saved by Cuéllar apart, and Leganés began to feel comfortable enough to mount the occasional tentative, probing attack. Real Madrid still favourites to come out with all three points, but they need to up their incisiveness and could do with a lot more movement in and around the box.
45'   Asensio has an effort from a tight angle but Cuéllar gathers easily and that's half-time! 1-1 at the break.
45'   One minute of additional time.
45'   Santos with a nice backheel to release Eraso, except Eraso wasn't expecting it so he just stood and watched.
43'   Carrillo back up, ruefully rubbing his injured side.
42'   Carrillo has injured his ribs jumping with Casemiro. There is a fair amount of the Brazilian to be fair.
41'   Cuéllar! Great save from Benzema at the back post.
41'   Possession has shifted to 75/25.
40'   A long spell of Real Madrid possession ends when Marcelo tries to beat his man and get into the box on the left, but forgets to take the ball with him. The Bernabéu are not entirely impressed by that. Real Madrid get the ball back and Bale tries a long ranger, but it goes well over.
39'   Bale sends a nice ball across to Kroos, but his header doesn't find anyone doing anything interesting in the box.
37'   Carrillo must be knackered. He's put in a shift up front for Leganés hoping to get on the end of a long ball.
34'   The little Leganés revival has petered out. Real Madrid dominating the midfield again with Modric putting his foot on the ball.
32'   Asensio and Carvajal are at times combining excellently down the right. Asensio that time released to the line, and he sends a sweet diagonal ball to the penalty spot, but there's nobody there to take advantage.
31'   Carvajal with a great touch to beat his man out on the right and he sends a ball to the back of the box where Bale nods down, but only into the arms of Cuéllar.
30'   Long throw from Silva into the Real Madrid box, but Courtois dominates his area and claims. He'll enjoy getting a few touches to settle the nerves.
29'   That goal has perked Leganés up a bit. They are beginning to pass it around, with Eraso finding space.
27'   Santos storms through with a three on three break for Leganés. He decides to shoot himself but sends it close to Courtois. The keeper grabs it gratefully.
26'   Yellow for Santos for a rough one on Casemiro.
26'   Great penalty from Carrillo there, sending Courtois completely the wrong way and rolling it home.
24'   Leganés' first attack. Very clumsy from Casemiro to give that away. Courtois had a chance to make his first touch but went the wrong way.
22'   Penalty for Leganés! Casemiro goes into Eraso. And Carrillo converts! 1-1!!
21'   Bale tumbles at the back post. The Bernabéu would like a penalty, but ref Latre isn't giving one for that.
20' Possession stats make depressing reading for the Cucumber Growers. 86% to 14%...
18'   Leganés would probably like to go and look for an equaliser, but they're on the back foot again, trapped in their box as Real Madrid look to grab a quick second. Great ball from Modric to Ramos nearly gives them it too.
16' Bale! 1-0! Long ball across from Ramos, Carvajal knocked it back and Bale fires home! Well taken on the swivel!
15'   Bale in action. He's looking loose (in a good way)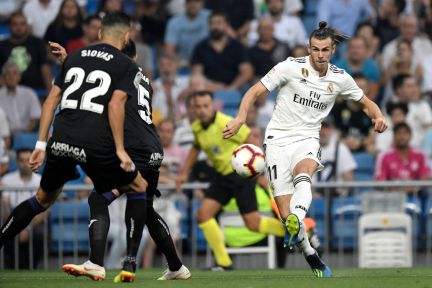 14'   Real Madrid happy to play with just Varane and Ramos at the back here, with Marcelo and Carvajal pushing right up the wings.
12'   The corner comes to nothing, thrown into the mixer and then back out again.
11' Real Madrid front line very fluid with Asensio and Bale switching sides regularly. Asensio on the right there swings a dangerous diagonal ball through the box, passing just over the penalty spot. It takes a touch off a defender and out for a corner.
10'   Ten minutes up and Real Madrid are comfortably on top here. Leganés sitting pretty deep and letting the home side come at them.
9' Great ball from Bale out on the left, but Benzema has his feet slightly tangled up and get shift to get his head on it. Some nice passing from Real Madrid here.
6'   Leganés yet to really get a foot on the ball. They manage two passes across the back and one forward down the right to El Zhar before they lose it again.
5' So neat from Asensio! Released down the left, controls with his chest, chips Cuéllar, but the ball goes just over and lands on the roof of the net.
      Lose ball and Modric flies in aggressively on Carrillo. He gets a yellow
Real Madrid knock it about at the back, before two sharp passes through Modric releases Bale. He sends a dangerous ball in, but Asensio flies in recklessly and Leganés get the free-kick.
Off we go! Real madrid with the kick-off!
Keylor showing off his best keeper to the Bernabéu. He doesn't look entirely happy as he heads back to the bench...
Teams out, hands shaken, coin tossed...
Teams getting ready to head out...
Bale responded to Cristiano Ronaldo leaving and he's on form right now. he's scored nine in his last nine outings and has been involved in four of  Madrid's eight goals so far this season, scoring two and setting up two. Bale is also on a goal a game vs Leganés...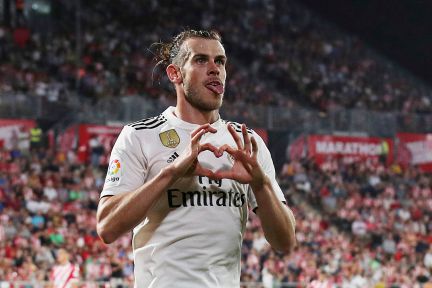 Remember Leganés dumped Real Madrid out of the Copa del Rey quarter-finals back in January, winning 1-2 and going through on away goals.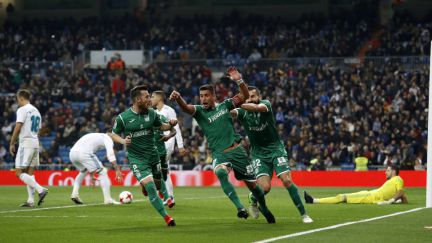 Teams heading back into the tunnel at the Bernabéu... 15 minutes  to go!
Looking pretty decent...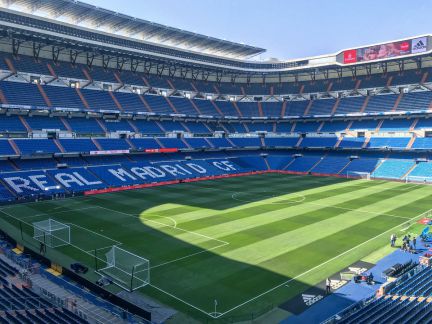 Lopetegui looking very serious as he watches Real Madrid warming up. Smart blue shirt and tie for the Real Madrid coach tonight.
Returning signing Mariano is on the bench. Here's how his presentation went.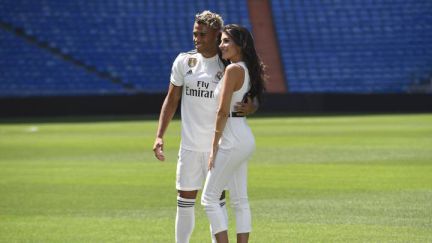 And Leganés have Serantes, Rolan, Ojeda, Nyom, Vesga, Omeruo and En-Nesyri on the bench.
Leganés will start: Cuéllar; Juanfran, Bustinza, Siovas, Jonathan Silva; Gumbau, Rubén Pérez, Eraso; El Zhar, Carrillo and Michael Santos
Real Madrid bench: Keylor Navas, Nacho, Mariano, Lucas Vázquez, Llorente, Isco and Ceballos.
Real Madrid starting XI: Courtois; Carvajal, Varane, Ramos, Marcelo; Casemiro, Kroos, Modric; Asensio, Bale and Benzema
Well we got that one wrong. Courtois gets the nod!
Expect Keylor Navas, the winner of UEFA's goalkeeper of the year, to be between the sticks tonight. The thinking is new signing Courtois will get his chance after the upcoming international break.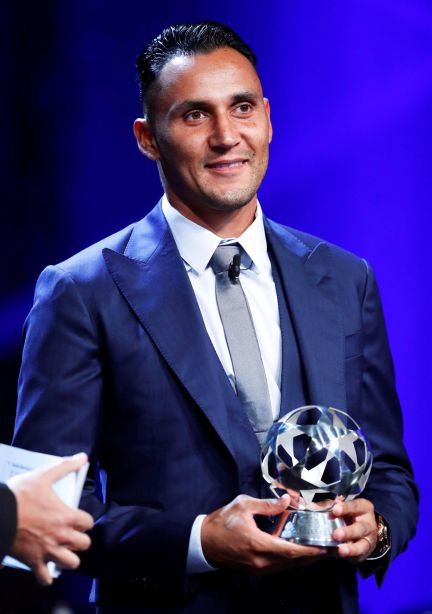 It may be September, but there are few thoughts of mists and mellow fruitfulness here in Madrid. It's still a balmy 32 degrees ouside, though it will have freshened up to just 31 degrees by kick-off, the handy app on the phone reckons.
Hello and welcome to our live coverage of Real Madrid v Leganés at the Bernabéu. Kick-off is at 20:45 CEST, so just under an hour away...
Real Madrid vs Leganés: live online | match preview
Los Blancos welcome Leganés from across the city to the Estadio Santiago Bernabéu at 20:45 CEST on Saturday. The home side are clear favourites to take another three points but there has been enough rustiness seen in their opening pair of fixtures to give the Cucumber Growers at least a little hope of springing a surprise.
Real Madrid: Modric could be back
Lopetegui is building, slowly but, from the early games seen so far, surely. Two wins from two in LaLiga, goals from key players who needed to stand up after Cristiano's departure, and some of his headliners still to be fully integrated. The signs are tentatively positive. Today against Leganés is yet another chance to bed in his ideas and further build a momentum to take his side into the bigger games that lie ahead.
Luka Modric was crowned Uefa's best player in Monaco on Thursday, a trophy he can add to player of the tournament at the World Cup. Leganés at home in game three may be his first as a starter. In what was a quiet transfer window for Los Blancos, Thibaut Courtois was arguably the most significant addition to the squad yet the former Atlético goalkeeper is yet to play a minute of competitive football for his new club. Another player returning to the Spanish capital, Mariano, does so with plenty of ambition. He may have been handed the iconic number seven shirt, but he is almost certainly going to start this game on the bench. Whether or not he can push his way in front of the other forwards will depend on one of two factors: his own prolificacy or injury to others.
Lopetegui will decide if Varane or Nacho will partner Sergio Ramos in defence while he will be mindful of the problems Madrid had in their left-back area against Girona. The Marcelo of old needs to stand up.
Leganés: Carrillo is the threat
Madrid welcome Los Pepineros to the Bernabéu, who arrive as massive underdogs to take anything from the game. But Pellegrino will have his side hungry and ready to battle for every ball. The side has an attrition of players in rest season unlike most, with only two starters remaining from the team that played Madrid a couple of seasons ago. This summer 14 new recruits arrived, and the manager is bringing them into the fold little by little.
Carrillo is their Argentinean point-man. Expect directness from the visitors for the times that they are in possession, and for their main man up front to be asked to win the long ball. At over 60%, Carrillo leads the charts in winning aerial duels. Santos will be close by looking to feed off him.
Injuries don't help their cause, however, and they'll miss Szymanowski, Arnáiz and Raúl Garcia, with Bustinza one of those to come in. More disappointment too, as loanees Óscar and Lunin are ineligible to play due to the agreement in their contract. There is no pressure on Leganés tonight, but a Madrid side still finding its feet could offer them an opportunity to cause a shock.