Rayo Vallecano fans protest and call for president's resignation
Fans of the neighbourhood club took to the streets to protest after it was confirmed on Monday that the football stadium in Vallecas was to remain closed.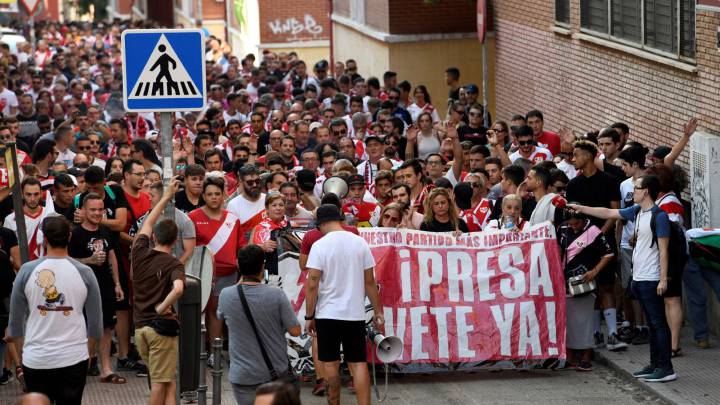 There was no football in Vallecas on Saturday evening with LaLiga calling off the 1830 CEST scheduled game between Rayo Vallecano and Athletic Club last Monday. The announcement from the regional Madrid government earlier in the day confirming that, due to safety concerns the stadium would be closed until further inspections were carried out being the catalyst for the suspension.
Fans of the neighbourhood outfit declared their intention to carry out a protest coinciding with what would have been the kick-off time to voice their displeasure with the manner the affair has been handled and at the same time called for the resignation of Rayo president Raul Martin Presa.
Protest
The Rayo fans were joined by a number of Athletic Club supporters who were also affected by the games suspension and the multitude marched towards the stadium from Puerto del Monasterio street with a banner with the slogan: "Nuestro partido más importante. ¡Presa vete ya!" (Our most important game yet, Presa get out now) at the front of the crowd. The supporters then formed a human chain around the ground where Angel Dominguez, one of the supporters groups heads read out a communique voicing dissatisfaction of the treatment Rayo fans have endured during the years under Presa's time as club president.
It's still unclear what will happen with Rayo's forthcoming home fixtures with more meetings expected next week between LaLiga, the club and the Madrid regional government.