Barcelona 8-2 Huesca: LaLiga 2018/19, matchday 3, match report
Barcelona hammered Huesca in the first game the sides have ever played against each other in LaLiga with an exhibition from Lionel Messi and Jordi Alba amongst others.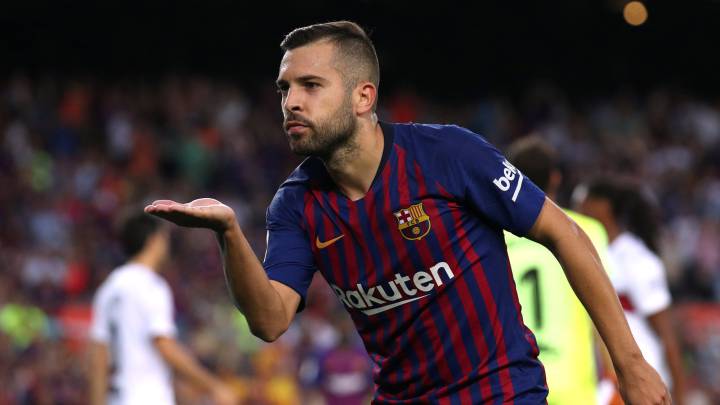 Barcelona 8-2 Huesca: match report
Lionel Messi and Barcelona ran riot at the Camp Nou on Sunday night despite an early scare that turned out to be little more than a speed wobble as they careened to a 8-2 win.
Cucho Hernandez gave Huesca the lead and their first ever top flight goal at the Camp Nou after 121 seconds when he poked home a cross from the right-hand side that was headed down into his path.
Lionel Messi responded after 16 minutes, however, after awaking from their slumber. He struck with his right foot as the ball beat Axel Werner and crashed in off the bottom of the post to level matters.
Jordi Alba, who was recently left out of Luis Enrique, responded to that disappointment with a typically commanding performance up and down the left-flank at the Camp Nou. He forced an own goal after 24 minutes when he sent a low cross into the six-yard box and Jorge Pulido poked it beyond his own keeper.
We needed VAR for the third after Alba broke through enemy lines and squared to Luis Suarez, who finished with the inside of his foot.
Barcelona looked to be home and hosed by Alex Gallar, who was Huesca's hero in their first ever game in the top flight a couple of weeks ago against Eibar. It was 3-2 and the game was wide open and primed for more goals as we were soon to find out.
The second half started with an Ousmane Dembele as he continues his impressive start to the season. He clipped the crossbar with a shot in the first half as it bounced to safety. He hit the post on 48 minutes with a shot too but this time the bounce went his way as it crossed the line and Barca went 4-2 up.
Ivan Rakitic was next up as Messi turned creater and clipped it into the Croatian's path. The midfielder slammed home and slammed the door on Huesca's hopes of a comeback in the process.
That looked like it would be the goal of the game but Messi might have beaten his teammate for the award after he raced clear and slid beyond Werner to make it six.
Barcelona weren't done, however, despite Leo Franco making a more defensive substitution. Jordi Alba finished off a masterful performance when he slotted between Werner's legs from a wonderful through ball from Messi in the 81st minute.
Huesca's first trip to the Camp Nou in the league started like a dream but descended into a nightmare and the problem with such an open approach is the wounds a five-goal beating can leave.
They had time for one more as Messi turned down his hat-trick chance. Suarez was pulled down by Werner in the box and he stepped up to finish it as time expired to make it 8-2 with Huesca's flaws and inexperience brutally exposed.
Barcelona, on the other hand, keep pace with Real Madrid and sit on nine points from three games and with an international break to take a breather before they continue their fight for LaLiga honours with whoever proves good enough to keep up, which might take some doing if this game turns out to be par for the course.
Barcelona-Huesca: live
90'+2' GAME. SET. MATCH!
90'+2' Suarez pulled down and scores the penalty! 8-1. Huesca have been embarrassed here.
90'  PENALTY! 
90'   Vidal with with would have been the most acrobatic assist in the history of football. His chilena onto the head of Suarez was perfect but the Uruguayan's header is off target.
87' Another obstruction and Musto is booked for that clash with Alba. Advantage is played and Vidal shoots over the bar.
84'   Coutinho goes down and that's not a penalty. Looked like he was obstructed as he raced toward the through ball from Suarez. I think that might be a sympathy decision at this stage.
80' Jordi Alba between Werner's legs. Messi with the assist again. 7-2 now and this is turning into a rout.
75'   He goes really close. But it's wide. Werner at full stretch and hoping he wouldn't look around to see the ball was nestling in the net. It wasn't.
75'   Perfect for a left footer. Messi on a hat-trick... stop me if you've heard this one before!
75'   Free now for Barcelona outside the box. 
73'   Arthur replaces Busquets as Valverde gets the chance to rest some of his midfielders. 
72'   He was obstructed initially and then pushed over the endline. No penalty and no massive complaints from Barcelona.
72'   Goal kick as Messi is taken down inside the box. 
69' Rakitic going off now for Arturo Vidal.
69'   Free for Barcelona. The sting is gone well and truly out of this one. Huesca have been rattled.
65' Huesca sealing their defence now after conceding six. They made a defensive substitution after 65 minutes.
64' Ruben Semedo comes on Gallar.
64' Umtiti comes off now for Lenglet.
62' WHAT A FINISH! Lionel Messi races clear and he slots beyond Werner. He now has four goals in LaLiga this season. 6-2 to Barcelona.
61'   He's okay though.
61'   Pique gets clattered in the back from the cross that comes in after the corner. No penalty and he's slow to get up, and it was also Umtiti who caught him in the back. 
59'   Coutinho strikes one of his classic right-footed efforts but it's blocked. Barcelona win it again and it's out for a corner. 
58'   Werner has conceded five goals so far but he has also made six saves! 
58' Longo is replaced by Gürler. 
57'   Coutinho, a Barcelona player who hasn't scored, and he goes closes. Strikes and Werner saves but it goes out for a corner.
54'   Sergi Roberto with a shot at the back post. He strikes with his left and Werner scrambles across but it goes harmlessly wide in the end.
52' 5-2! They're scoring for fun now. Rakitic drives a shot into the bottom corner. Messi with a lovely assist too putting it on a plate for the midfielder. They're all getting in on the act.
51'   Suarez through now and shoots with Werner saving with his knee. That's a corner for Barcelona.
50'   Huesca drive forward now and win a corner. They haven't given up hope and are showing some signs of life.
48' GOAL! Dembele with the fourth. He strikes with his left and Suarez played it into his path and he drives it home in off the post. 4-2.
46'   Messi rattles the crossbar. He was onside, chests the high pass down and absolutely crushes a shot against the crossbar. Werner actually saved it with his head and knocked it onto the post.
46'   We are back underway for the second half! 
    Rakitic presented with his runners' up medal from the World Cup ahead of the game.

    Still really open and the second Huesca goal certainly gave them hope. They might score again, but the problem for them is, Barcelona might score another four.
45'   HT. Not a bunch of added time if any. Five goal feast. 
44'   Coutinho in behind the defence and strikes. Werner with a good save and Huesca well positioned on the rebound to clear. This game is wide open. 
42' GOAL! 3-2 all of a sudden. We have ourselves a goalfest. Alex Gallar pokes it home. The ball is crossed in and Longo gets a foot to it as he sends it back towards goal. Gallar in the right place at the right time. 
41'   GOAL! It stands. After a quick video review, Suarez gets his first of the seaosn. Nice finish after a trademark run down the left from Alba.
40'   It's going to VAR. Alba might have been offside. 
39' GOAL! And now they have a third. Suarez from Alba and he pops it home. 3-1.
39'   Messi with the ball on the right of the goal. He just kind of clips one towards the back post. His lofted pass is headed down by Pique. He wins it back and tries another shot. Saved and cleared. Dangerous from Barcelona and they almost had their third.
38'   Dembele runs down the left and sees it kicked off his toe. He wins a corner.
36'   Pique into Suarez and his pass with the outside of his boot is off target looking for Sergi Roberto.
35'   Messi to take again. He strikes it over this time.
35'   Messi shoots and it hits the wall. There's a whistle though as Umtiti gets involed with Melero and some fighting going on. 
34'   Free for Barcelona now. Too far out to shoot but with Messi standing over it, you can never be sure. It's right on the edge of the 'too far out to shoot' zone. Messi is eyeing it up.
32'   Shot from Melero. Ball sent in from the right and it doesn't call very kindly to him. His shot is blocked up into Ter Stegen's hands. 
31'   Barcelona prying down the left hand side again. Offside from Alba on this occasion though.
30'   Alba runs into the box again and Huesca manage to clear this time.
29'   Dembele with a lovely effort from the corner. He bends that one with his left foot and it clips the very top of the crossbar. So close to being a third.
29'   Sergi Roberto cuts inside and wins a corner down the right hand side. 
27'   Another foul by Huesca. They're growing increasingly tired now and sloppy in their tackling.
26' Yellow for Luisinho for fouling Messi. He was about to break into Huesca's half and he gets the ankle kicked off himself for his ambition.
24' Jordi Alba GOAL! It will go down as an own goal actually but Alba did all the hard work. Pulido pokes it by his own keeper. Unlucky but Barcelona have improved since going a goal down.
23'   Messi passes to Coutinho strikes but it's blocked.
22'   Ball down the left and Coutinho squares but there's nobody arriving. Ball cleared by Huesca. 
21'   Suarez into Messi and he heads into Werner's waiting hands.
20'   Cucho Hernández arrives into space on the right now and has defenders ahead of him. He has Ter Stegen to beat too and he can't. His strike is saved by the German. Quite easily too.
18'   Werner forced into a save. It's a corner for Barcelona now. Barca, you feel, have moved through the gears just a little bit.
16' Messi gets it and breaks free with a lovely move. On his right foot and he slots it home! Hits the bottom of the post and in. Lovely finish. 1-1
15'   Great ball across the field to Jordi Alba. He plays it back inside and Barcelona looking for a breakthrough.
14'   Suarez wriggles free. He squares but Huesca batter it away. Ball arrives back in and Axel Werner is clattered by Luisinho and he is grabbing his ribs.
12'   Barcelona on the break now but Messi's plan foiled by Pulido. Barcelona haven't had a shot on target yet.
11'   Corner comes to nothing and Barca start again.
9'   Rakitic take down from behind just outside the box. No free though. Pique and Roberto pleading after Huesca win a corner. Luisinho the accused.
7'   Cucho Hernández' goal after 121 seconds the quickest goal for a visitor to the Camp Nou in the league since 5th May 2013 when Dorlan Pabón scored for Real Betis after 62 seconds according to Mister Chip. A proper dream start.
7'   Ball clipped toward goal and it's headed up into the air. Huesca clear but Barcelona win it back. Melero with a foul and Barcelona start again. They have it in Huesca's half.
6'   They have the bulk of possession though.
6'   Barcelona not having it all their own way here. 
4'   Ball passed in to Jordi Alba but it's too far ahead of him. Axel Werner goal kick.
3' Cucho Hernandez! GOAL! Huesca take the lead. He pokes home a lovely cross into the back post. 1-0 Huesca. Headed down to him by Longo.
2'   Throw for Huesca. They're on the ball now. throwing it around quite confidently.
1'   We are underway at the Camp Nou
    Ousmane Dembele has started this season on fire! He was excellent in the Spanish Super Cup and scored the winner and he scored the winner against Valladolid last weekend too.
    Let's go team! 

    Teams emerge from the tunnal.
    Huesca with a busy summer too. Seven of their summer arrivals starting today. Axel Werner from Atletico Madrid, Luisinho from Depor, Xabier Etxeita from Athletic Club, Jorge Miramón from Reus, Damian Musto from Tijuana, Moi Gómez from Sporting Gijon and Samuele Longo from Inter Milan.
    Meanwhile, for Barcelona, Jordi Alba scored. Maxi Gomez and Iaso Aspas scored for Celta Vigo yesterday having missed out on their national teams and Gomez said they were all fired up because they missed out! Let's see what Alba does here tonight.
    Alex Gallar, who scored twice in Huesca's first ever game in the top flight, starts today! He starts alongside Gonzalo Melero and Cucho Hernandez, two players to keep an eye out for today.
Our in-house Oracle has been busy staring out across the horizon in search of answers for this one: "Barcelona had a rare weekend off from rattling in goals at will at Valladolid but back at Camp Nou with no injury concerns up front Huesca can expect to be given a torrid time in their first dust-up against one of the big boys". 

Here's how and where tonight's Camp Nou clash between FC Barcelona and SD Huesca 

Hello and welcome to our build-up ahead of live coverage from Camp Nou as SD Huesca make club history in the first ever match between both sides in Spain's top flight. Kick off in the Catalan capital is at 1830 CEST.  
Barcelona v Huesca: preview
Newly promoted SD Huesca travel to Camp Nou this evening in what will be the first ever clash between both sides in Spain's top flight.
Both teams have had positive starts to the 2018/19 season with Barça recording two wins from two whilst newcomers Huesca have not been daunted by their first ever season in LaLiga recording an opening season away win at Eibar and managing to snatch a late draw last week at San Mames in a game that featured what will surely be one of the goals from the season with Huesca's Miramon offering the spectacular.
Barça coach Ernesto Valverde is taking nothing for acknowledging that the side from Aragon have been good value for money securing their 4 points haul in LaLiga.