Courtois: "They tease me about the Champions League final I lost against them with Atlético"
Following his debut last weekend, the Belgian keeper has opened up about his first few weeks in Madrid to the press in his home country, calling Sergio Ramos "the best defender in the world".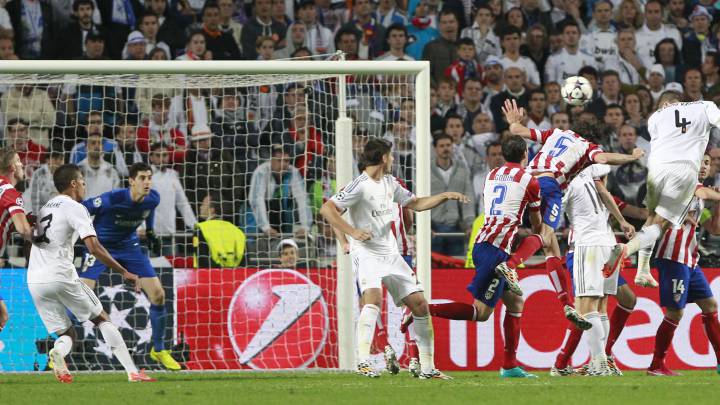 Thibaut Courtois has given his first major interviews to Belgian media since his first appearence for Real Madrid last Saturday against Leganés, in which he compared Madrid to former club Chelsea, and gave his thoughts on his debut and his Fifa goalkeeper of the year nomination.
"The level at Madrid is much higher than at Chelsea," he told Belgian daily Het Nieuwsbald. "You see just from training that that the level is high. Now, I can verify daily that Sergio Ramos is the best defender in the world."
The Belgian goalkeeper also compared the feeling of playing at the Bernabeu to playing at Chelsea's home ground. "It's double the size of Stamford Bridge," he said. "It's a different feeling. If you look ahead, you only see a wall of people, while there (at Stamford Bridge) you can see the sky or the hotel behind."
On Leganés debut: "I felt great"
Courtois also spoke about his debut performance and explained why he felt that the coaching staff were right to wait until last weekend to give him his first appearance.
"It's not the first time I have played here. I know the language and I know the stadium. In the first few minutes against Leganés, I was stunned, but then I felt great," he said.
"I arrived here late in the pre-season so it's normal. Also, in my second training session I had a pain in the back of my knee. It was logical that firstly I had to train well for a few weeks. The coach has managed it excellently. I'm glad that they let my play last weekend."
On his kids, new colleagues and Fifa nomination
The ex-Atlético player also gave an interview to Belgian TV channel VTM, in which he spoke about his arrival in the Spanish capital and being close to his children, which was reportedly one of the main reasons he wanted to return to Madrid. "I'm especially happy to be able to see my kids every day, although my 16-month-old daughter is still too small to understand everything," he said.
Courtois also spoke of the jovial nature of the relationship with his new team-mates, who were once, of course, arch rivals during his time at Atlético. "Now and again they tease me about the Champions League final I lost against them with Atlético," he said.
Touching on his Fifa nomination for goalkeeper of the year, he told VTM: "I don't know when they voted. But if that happened after the World Cup, that could be an advantage for me. Let's see if I win the trophy… I hope so."