Real Sociedad 1-2 Barcelona: LaLiga Santander 2018-19
The Liga champions came from behind to win 2-1 on their traditional bogey ground, with the home side making life easy with two defensive howlers.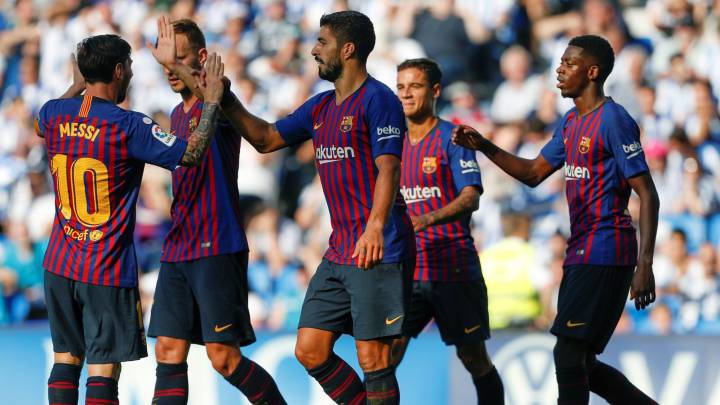 Barcelona took another step towards redressing their balance in Anoeta with a 2-1 win on Saturday although the visitors stumbled towards victory rather than striding purposefully to a second consecutive triumph in a stadium that has proved a testing ground for the reigning Liga champions over the past decade.
Real Sociedad, inaugurating their recently improved stadium that has allowed spectators to be much closer to the action, laid out a game plan in the opening 45 minutes that frustrated Barcelona to perfection, reducing Ernesto Valverde's side to a single shot on goal and containing the visitors' lightweight midfield to good effect. The Barça boss had promised changes to his line-up after the international break but it became swiftly apparent that Sergi Roberto and Rafinha were no match for the hardened old hands patrolling Asier Garitano's five man midfield set-up.
The home side opened the scoring when Aritz Elustondo latched on to a loose ball in the area unattended to fire an unstoppable shot past Marc-Andre Ter Stegen, his effort clipping the post on its way past the despairing grasp of the German. Ter Stegen would later keep his side in the game but it was his opposite number, Gerónimo Rulli, who would prove the decisive factor.
After the break Barça improved with the introduction of Philippe Coutinho, the Brazilian adding his eye for a pass to an attack that had been utterly stunted in the opening period. Coutinho drew a fine save from Rulli with a curling effort on the hour mark and it was the resulting corner that proved La Real's undoing. The Argentinean came for a punch, missed, had a second chance to bash the ball clear but was beaten by the hardly imposing presence of Ousmane Dembélé and the ball eventually landed at the feet of Luis Suárez, who needed no written invitation to belt home from a couple of yards.
La Real left to rue Rulli mistakes
La Real did not recover from the blow – not least because they had enjoyed three excellent chances to extend their lead in the few minutes preceding it. Three lightning breaks had Barça's high defensive line backpedalling furiously as the blue and white shirts poured forward and Ter Stegen made two game-saving saves with Mikel Oyarzabal obligingly firing the best chance of the onslaught into the stands when he had time to steady himself first.
Suárez's goal owed a little to good fortune but Dembélé's, which came just three minutes later, was hit straight off a four-leaf clover on the Anoeta turf. Rulli was again at fault, trying and failing again to punch clear and the ball broke for the Frenchman, whose left-footed shot would nine times out of 10 been smothered by the sea of defenders in front of him. A first Sociedad deflection ricocheted into the face of a second defender, steering the ball past the helpless Rulli as surely as if it was on a piece of string controlled by Valverde, who celebrated wildly on the touchline.
The Barça boss may be less enthused when he sees replays of both goals but his side maintained their perfect start to the season under the most testing scrutiny and largely in the absence of Leo Messi, who appeared to have been hampered by his two-week break rather than energised.
For Garitano and Real Sociedad it was a case of what might have been. Had one of those glorious chances created at 1-0 been seen through Barça may well have crumbled. As it was, the renovated Anoeta was denied a dream inauguration while the visitors essentially sleepwalked to a barely deserved victory.
Real Sociedad vs Barcelona live online: as it happened
90'+3' And that's it! Barça somewhat fortunately come from behind to win in Anoeta for a second season running, definitively ending the curse. La Real will be kicking themselves after having the Liga champions by the throat for a spell in the second half at 1-0 up but end the afternoon empty handed. 
90'+3'   Merino stands a cross up but it's bread and butter for Ter Stegen. 
90'+2'   La Real win a throw after Vidal takes a heavy touch. But it's Barça that break forward and Messi, Suárez and Coutinho lead the home defence a merry dance, the Uruguayan managing to squeeze a shot off. It's blocked though and La Real pile forward again... 
90'+1'   Jordi Alba in no hurry to take a throw on the left around the halfway line. Barça will look to pass this one out from here. 
89'   Three minutes to be added in Anoeta. 
88'   Oyarzabal slips a ball through to Juanmi but the Spaniard can't quite get a boot to it. Jodri Alba is limping about now but Barça have no changes remaining. 
86'   Juanmi! So close from the La Real striker, who springs the offside trap and leaps to plant a header beyond the reach of Ter Stegen but also just wide of the post! That was a beautifully worked move, Merino timin ghis ball perfectly, and so close to proving to be the equaliser. 
85'   Messi and Suárez decide to put on a show at the other end, the Argentinean slipping a reverse ball to the Uruguayan, who takes it round Rulli but can't find an angle to shoot. 
83'   And it also pays off immediately, Merino and Sangalli combining to tee up Juanmi, who draws a sharp stop from Ter Stegen. The flag was up anyway byt that is exactly what La Real were looking for with those changes. 
81'   The final roll of the dice for Garitano's side to salvage something from this game. 
81' And that's the end of Illarra's afternoon, the captain making way for Sangalli with Pardo also off for Mikel Merino. 
80'   Illarra seems determined to get himself off as he trips Busquets quite intentionally in midfield. The ref has let a lot slide this afternoon though and keeps his card in his pocket. 
79'   Free kick to Barça as Zaldua clips Coutinho in midfield. It's gone awfully quiet in Anoeta now. La Real seemed to have the game in their hands with half an hour to go but two defensive errors have turned the match on its head. The home side seem to have given up the ghost now but there are 10 minutes left... 
76' And it's Dembélé who heads off, Arturo Vidal coming on his place. 
75'   Elustondo, who has been excellent for La Real this afternoon, clears a dangerous ball with Messi lurking. Barça preparing another change now. 
73'   Juanmi gets a decent cross over the Barça defence but it's just a shade too high for Zubeldia as well, who would have had a good sight of goal if he could have brought that down. 
72' Jon Bautista comes on for Zurutuza. A little youthful verve up front for La Real. 
71'   And this is now the third consecutive time this season that La Real have gone 2-1 down after scoring first. Not very encouraging for Garitano. 
69'   La Real are completely shell-shocked now. From being 1-0 up and carving Barça open at will, nothing will now drop for the home side. Theo hits an attempted clearance straight to Suárez, who tries and overhead that plops wide. Movement on the home bench... 
  That's three in three games for the first time in his career for Dembélé now incidentally. 
67'   Illarra lucky to remain on the pitch after taking his frustration out on Messi, who has not hesitation in waving the invisible card in Cerro Grande's face. The La Real midfielder stays on though, by the skin of his teeth. 
65'   Gooooooooool! Dembélé! Sort of... Rulli fails to command his area again and softly punches to the Frenchman, whose shot hits a leg then a face on its way into the net with Rulli stranded. La Real have self-destructed in three minutes! 
64'   Coutinho! And what a save from Rulli! The Brazilian curls a trademark effort and the La Real keeper is at full stretch to paw if away. 
62'   Barça pull level out of nowhere! Piqué heads downwards and Rulli gets a hand to it, the keeper then attempting to punch clear with Dembélé getting the touch instead. In a sea of players the ball falls to Suárez who only has to blast it in from a couple of yards. Barça off the ropes and back in the game! La Real will be furious with themsleves for not capitalising on at least one of those three clear-cut chances. 
62' Gooooooooool! Luis Suárez! 
61'   This is incredible stuff! La Real do exactly the same thing again, breaking two against three and it's Juanmi who finds himself on his own in front of Ter Stegen, who makes another vital save. 
59'   Barça escape again! Theo finds himself clean through on goal and Ter Stegen makes a decent save to deny the former Real man. What has happened to Barça's defence? A right old shambles at the moment and La Real should be evern further ahead. 
58'   That should have been two! A ball to Messi lands at the feet of La Real and the home side launch a lightning break that Barça can't react to. Pardo finds Oyarzabal streaking down the right and he's though on his own with only Ter Stegen to beat but blasts his shot over the bar! A real let-off for Barça. 
57'   Jordi Alba scurries down the flank and sends in a smart cross for Dembélé but the France international was more or less static and couldn't guide his header on target. 
56' And that, unsurprisingly, is it for Rafinha. Sergio Busquets comes on in his place. 
54'   Oyarzabal gets back to thwart Alba on the left and a spot of pingball ensues. Messi emerges on the other side of the melle with the ball, just inside the area, but can't find a shot or a teammate. Fair to say this game won'r be going on his season highlights dvd at this rate. 
53'   Not much comes of it though, a soft header flopping into Ter Stegen's gloves, the Barça keeper not even having to move.  
52'   Oooops! Piqué, under pressure from Pardo, clobbers the ball back towards Ter Stegen but the German keeper had not chance of getting to it and it's out for a corner. 
51'   He thought about another appeal there but was suitably scolded in the first half for getting a bit too fruity with the ref and thought better of it. There was nothing in it anyway. 
50'   Suárez smiles ruefully as Héctor Moreno goes tumbling over in his own area and in doing so clips the ball onto the Uruguay international and out for a goal kick. 
49'   Ah, the ref changes his mind. Throw to Barça, not La Real, leaving Theo looking bemused as he bungs the ball towards a claret and blue shirt. 
48'   Barça looking to build around the box but Piqué plays a loose ball and La Real come forward. The visitors fal lback in orderly fashion though and bundle it out for a throw. 
47'   Barça almost immediately looking sharper than in the opening half, Messi popping in a decent ball that is cleared and Suárez bursting into the box but taking a touch too many and conceding a goal kick. That's almost as mych as they achieved in the whole opening 45. 
46'   The second half is underway! 
The teams are coming back out now and and sure enough Valverde has shuffled his pack. Coutinho comes on for Semedo to add a bit off spark to the midfield, with Sergi Roberto switching to right back. Busquets is limbering up on the touchline. 
The home fans are enjoying themselves though.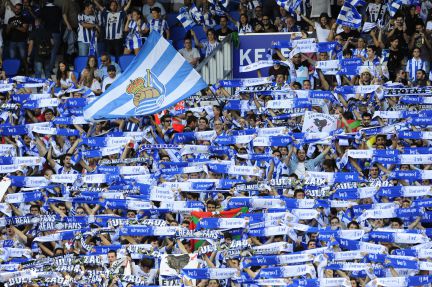 It has been a half to forget for Barcelona, who haven't really been at the races in the opening half. We imagine Busquets will be strapping on his boots about now and Arturo Vidal may be quick to follow. La Real have bossed the midfield, with Rafinha and Sergi Roberto just too lightweight for a side with physical players like Illarra, Zubeldia and Zurutuza charging around.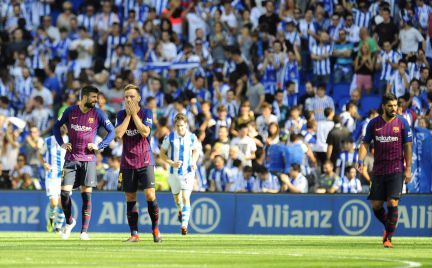 Messi didn't have a single shot on goal in that half, his only effort wide early on. Barça as a whole have managed just one in the opening 45, with La Real carrying out their plan at the back to perfection. 
45' And that's the half! La Real lead 1-0 on Barça's bogey ground. Messi trudges off shaking his head. Suárez continues to remontrate with all and sundry as he stalks towards the tunnel. It's a grim panorama for Valverde, who will have some talking to do in the dressing room if Barça are to turn this one around. 
44'   Barça appeal for another penalty, Suárez incensed as a high ball brushes Héctor Moreno with the Uruguayan in close quarters. If anything that was a high boot from Suárez but referee Cerro Grande is unmoved and has a little word with the Barça forward about the vehemence of his protest.  
43' Illarra find his way into the ref's book for flattening Umtiti in midfield. 
42'   And it's not given! Corner instead. Messi takes and Rakitic gets up to head but can't keep it down and on target. 
41'   Close! Barça appeal for a penalty for a shirt pull after getting a shot off from the deck that Rulli palms just wide. We're going to the eye in the sky... 
40'   Messi tries to lop one to the far side rather than go around the wall and Theo Hernández is there to head it behind for a corner. 
39'   Dembélé runs into another blind alley and and clatters into Suárez and Illarra. The ref detects a foul in the melee and Messi will have a chance to test Rulli from about 25 yards. 
37'   Free-kick to La Real as Umtiti blocks Pardo on the right. The home side then return the favour with a clip on Rafinha and Barça regain possession. 
35'   Dembélé is easily dipossessed and shows a little frustration as he bundles into Zaldua. La Real appeal for a free-kick but Barça get a throw instead. 
33'   Jodri Alba and Dembélé combine on the left and Barça win a corner. The Frenchman delivers and Piqué gets up above the La Real defence to head down and across goal but it find niether the net or the outstretched boot of a teammate. That was still Barça's best chance of the game so far though.  
31'   Zurutuza capitalises on a mistake from Semedo but can't find a telling ball on the edge of the area. You wonder what Willian José is making of all this. The injured Brazilian would surely be licking his lips if he was fit and facing this Barça back four. They can't seem to land a pass and only Piqué is playing anywhere near to the standard of a reigning Liga champion. 
The remodelled stadium is playing its part, it has to be said. The fans are now practically on the pitch, rather than being separated by a running track, and the Barça players may be feeling the effects of that a bit. La Real certainly are, and to good effect. 
29'   Dembélé gets a clean run down the right and shapes to cross but it clips his left foot before he can hit it and the France international misses completely with his right. One of those things, but it just serves to accentuate how off-colour Barça have been in the opening half hour. 
28'   Juanmi gallops towards a long ball and Piqué, who has been his defences' saving grace so far this afternoon, gets across to mop up. 
27'   Sergio Busquets is biting his nails on the bench and rightly so. La Real are largely bossing the midfield and although he was scheduled to be rested today Valverde must be wondering at what stage he can feasibly get him on without crushing the spirit of either Rafinha or Sergi Roberto, both of whom have been fairly ineffectual so far. 
26'   Messi finally gets the ball in front of goal but is immediately accosted by three La Real shirts and can only ping a half-hearted effort wide. 
24'   Theo Hernández gets his first run of the afternoon but in a scene that will be all-too-familiar to Real Madrid fans he gets past a defender, finds the byline and then lofts a soft cross straight into the waiting paws of Ter Stegen. 
22'   Garitano's set-up is working a treat so far, the back three staying deep to thwart any forays and the packed midfield harrying Barça at every turn. Just after the 22-minute mark and Messi pulls out his first grimace of the match. Credit to the home side but can they keep this up for 70 more minutes? 
20'   Elustondo, who is already on for the man of the match award, reads a long ball from Piqué to Dembélé perfectly and glides across to scoop the ball from the Frenchman's path with nought but grass between the Barça man and the goal. Excellent stuff from the 24-year-old. 
19'   Jordi Alba is not having a good time against Oyarzabal, who again cuts through to the byline and squares but Piqué is there to cover. 
17'   Leo Messi has barely had a touch in the opening 15 minutes, La Real are doing an excellent job of cutting off his supply line. That said, the Argentinean lofts a ball over the top from the halfway line for Suárez to chase and he manages to hook it back across goal. Dembélé comes thundering in at the other side and flattens a defender to concede a free-kick. 
16'   La Real with their tails up now and Rubén Pardo breaks down the right, feeds Juanmi with a lovely ball to the edge of the box and the former Racing striker makes a right mess of the attempt, getting tangled up in blue-and-white socks. Another excellent opening for the home side though. 
14'   Barç a little rattled by the goal and Valverde will certainly ask questions of his back four - Elustondo was given the freedom of the Barça area. 
The stands are rocking after that. It really was a cracking effort. Is the "curse of Anoeta" about to strike Barça again? 
12' Goooooooool! Goooooooool! La Real takes the lead. The ball is floated into the area and drops kindly for Elustondo, who wraps his left foot around it and cracks one in off the inside of Ter Stegen's near-side post. What a strike! 1-0 to the home side. 
11'   Sergo Roberto gifts the ball to Oyarzabal, who dashes towards goal and is floored. Free-kick to La Real. 
10'   Saúrez is pickpocketed and La Real threaten to break but indecision gets the better of the home side. Decent opportunity to show Barça a clean set of heels there. Oyarzabal then picks up the ball on the far side but is called offside.  
8'   Semedo gets away and pops a cross over. La Real clear for a corner even though there was no claret-and-blue shirt lurking in the wings to meet it. The home side clear with little fuss from the corner and Barça drop back to build afresh. 
7'   Sociedad give the wall away cheaply and the home side are forced to back-pedal, Illarra providing good cover. Garitano will not have enjoyed that though, particularly as on paper his side should be ejoying the better of the midfield battle. 
5'   Rulli is out sharply as Aritz Elustondo and Luis Suárez get into a tussle in the area. The keeper smothers the danger and the La Real defender did well there to hold off the charging Uruguayan. First half-sniff of the net for Suárez. 
3'   All the way back to Ter Stegen for Barcelona and La Real manage to get a foot on the ball. It's soon back at Jordi Alba's mercy though but the Barça left back can't sling a cross in and Dembélé eventually concedes a throw on the right. 
2'   All the early possession for Barcelona, as you'd be expect, but little geniune penetration as yet. La Real scurrying about in pressure but chasing shadows in the early stages, and the new stadium doesn't half cast one over the pitch. Looks like it's probably a bit off-putting from here. 
1' We're off! Barça get us underway. 
  There'll be a tribute to Imanol Agirretxe before kick-off, the Sociedad striker who spent his entire career at the club and retired at the end of last season after a long battle with a persistent ankle injury. The crowd give Imagol a huge ovation, and richly deserved it is too. 
The teams are out, the handshakes underway, the sun is shining and so is the new Anoeta! It's a perfect afternoon for a spot of football and we're about to get underway in the Basque Country. 
And Real Sociedad's: Moya, Merino, Gorosabel, Rodrigues, Bautista, Raúl Navas, Sangalli.
Barcelona's bench for this afternoon's game: Cillessen, Busquets, Coutinho, Lenglet, Munir, Vidal, Vermaelen.
La Real meanwhile have gone eight consecutive Liga games without keeping a clean sheet, a statistic that might require alteration today with the home side looking a little light in attack. 
Messi will be raring to go in Anoeta after taking the international break off. The Argentinean is currently leading the scoring stakes in LaLiga with four in his opening three games and the odds on him adding to that tally today are probably fairly short. 
Barcelona knocked eight past Huesca in their last Liga game and come into the clash at Anoeta as favourites after La Real's indifferent start to the season. The hosts have conceded five already and will have their work cut out to keep Messi and co at bay. 
As expected, a few changes in midfield for the visitors with Rafinha and Sergi Roberto coming in alongside Ivan Rakitic. La Real look like they'll be going with a 3-4-1-2, with Zurutuza tucking behind Oyarzabal and Juanmi.  
Team news should be out shortly but it seems likely that Valverde will ring the changes after the international break. Leo Messi, Luis Suárez and Ousmane Dembélé are all expected to start up front though. 
League leaders Barcelona will be aiming to score another victory in La Real's back yard after a run of a decade without picking up three points in Anoeta came to an end last season with a 4-2 victory for the visitors. 
Hello and welcome to AS English's live coverage of the LaLiga Santander week four fixture between Real Sociedad and Barcelona at Anoeta.