Juventus - Sassuolo live: Serie A 2018/19
Follow all the action as Juventus host Sassuolo at the Allianz Stadium in week four of the 2018/19 Serie A season, with kick-off at 15:00 CEST.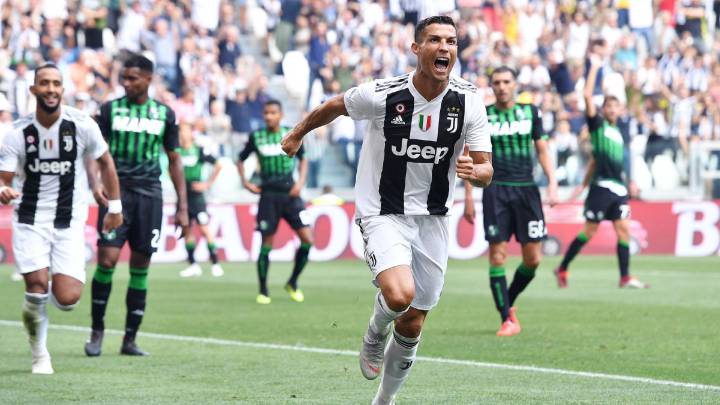 Cristiano Ronaldo scored twice as Juventus saw off the challenge of Sassuolo with a 2-1 victory at the Allianz Stadium to maintain the last remaining unbeaten record in Serie A and open up a three-point lead over Napoli at the top of the table.
Going into the game the two sides were the only competitors in Italy's top flight not to have tasted defeat this season and it appeared during a lacklustre first half that produced just a single shot on target that the status quo might be manitained. Sassuolo came to play and Roberto De Zerbi's side took the game to the hosts with their quick passing , possession-based style but couldn't find the target, Gian Marco Ferrari enjoying the half's best chances when he rattled the bar with a header – but was subsequently penalised for a foul – and then warmed Wojciech Szczesny's gloves with another from a corner.
Ronaldo had at least aligned his sights in the opening exchanges, firing just wide from inside the area, and after the break the Portuguese finally got off the mark for his new club with a tap-in after the unfortunate Ferrari again got his head on the ball to deflect Mario Mandzukic's effort onto his own post and into the clutches of the lurking Juve number seven, who gratefully took the chance from point-blank range.
The former Real Madrid forward was on target again 15 minutes later, Emre Can releasing him on the left with a delicious through ball and Ronaldo taking it in his stride, picking his spot and unleashing a trademark left-footer past Andrea Consigli.
Ronaldo goals see Juve over the line
Sassuolo launched a late assult on the Juve goal, Szczesny making a flying save from Alfred Duncan's fierce drive before smothering another attempt across his goal two minutes from time. Substitutes Cristian Dell'Orco and Khouma Babacar – who was a surprise omission after providing three assists in the 5-3 win over Genoa before the international break – combined to pull one back, a glorious cross from the left back being met powerfully in the air by the Senegal international who guided his header past Szczesny.
Chaos then descended as referee Daniele Chiffi, who had been a hard task-master in the first half, awarded Douglas Costa just a single yellow card for elbowing and headbutting Federico Di Francesco. The Brazilian then spat on the Sassuolo winger, with VAR studying the incident and awarding a straight red to add to his caution, which will in all likelihood will result in a lengthy ban.
But the afternoon belonged to Ronaldo, who finally broke his duck for Juve in his fourth Serie A appearance, in a mirror image of how he started last season when he required the same length of time to open his account against Getafe, going on to score 44 in all competitions by the season's end.
Juventus vs Sassuolo live online: as it happened
90'+3' And that's it! What a frantic end to the game! Juve cling on to win 2-1 as chaos descended at the end there. Costa also appears to have spat at an opposition player so it won't be the last he hears of that if it goes in the referee's match report... 
90'+2'   And now it looks as though Costa is off! We're not quite sure what happened there. Meanwhile, Sassuolo went close to equalising while the focus was elsewhere. 
90'+1' And there's a bit of afters on that as Costa is shown a yellow card after appearing to elbow and headbutt Di Francesco. Should have been a red there. 
90'   Sassuaolo pull one back through the Senegalese, who powers a header past Szczesny. 
90' Goooooooool! Babacar! 
88'   It's taken short though and Costa is hemmed in. Sassuolo squeeze off a shot at the other end but its a comfortable enough save for Szczesny. 
87'   Costa and Cuadrado combine on the right with Ronaldo pointing to the space behind the two central defenders but they don't see it and Sassuolo snub out the danger. Juve have a corner though... 
85' Pol Lirola clips Cancelo and Juve have a free kick in their own half. It finds its way to Costa who goes on a run across the face of the Sassuolo defence and lets fly with his left but drags the shot just wide. He appeals for a corner but it's a face-saver. That didn't hit anyone on the way through. 
84'   And Berardi does just that, chancing his arm from distance but it's well wide. 
83'   Sassuolo trying to build another attack but it's getting a bit late for the subtle approach. They'll need to try something a bit more direct to salvage anything here. 
81'   Ronaldo! Cancelo hits a ferocious strike from disatance and Consigli can only parry it into the Portuguese's path. Inexplicably, Ronaldo misses the target from about six yards with only the keeper to beat! 
80'   Berardi decides to take the entire Juve side on himself and wins a free kick for his efforts. There are plenty of tired legs out there now though and it's straight out for a Juve throw. 
78' Alex Sandro heading off now, Juan Cuadrado on. 
76'   Ronaldo! A glorious ball from the right finds the seven unattended in front of goal but he steers his shot wide when it looked easier to score! A frustrated kick of the post suggests Ronaldo thought so too. So close to his hat-trick there. 
75'   Duncan! The Ghanaian draws a splendid, sprawling save from Szczesny with a bolt from his left foot. Decent stop from the Pole there. 
74'   Juve break forward in numbers again and look for Ronaldo in the area. He goes down under minimal contact and appeals to the ref, who is unmoved. 
72'   Ronaldo skips and dances in the area and plays the ball back to Sandro, who returns the pass. The Portuguese is closed down quickly though and can only stab a soft effort straight at Consigli. He fancies his hat-trick here. 
70' Emre Can heads off to make way for Rodrigo Bentancur. Dell'Orco is on for Sassuolo, replacing Rogério. 
69' Costa! Juve break like lightning again and the Brazilian flashes a shot just wide of the far post. Sassuolo have to be careful about leaving themselves too exposed at the back as they chase the game at the other end. The hosts have all the armaments to add to their tally. 
68'   Sassuolo are knockig at the door now, spreading it from side to side with Duncan and Bourabia very involved but they can't fina way through. 
66'   Di Frencesco wastes a decent chance at the other end as he smashes a shot into the side netting with KPB waiting in the middle. Di Zerbi makes the international sign of "think, think" on the touchline. The sub just got a heady sniff of glory there. 
64'   The Portuguese makes it two as Juve break straight from the corner at the other end. It was four on two and Can finds Ronaldo with a perfect ball. The number seven runs onto it, shuffles his feet and unleashes a left-footer past Consigli to make it 2-0 to the hosts! 
64' Gooooooooool! Ronaldo! 
63'   Sassuolo win a corner on the left after a long period of possession, with Bourabi and Pol Lirola pushing up into the attack. 
61'   Cancelo releases Ronaldo on the left with a glorious outside-of-the-boot ball but the Portuguese errs when trying to play it back into the area and gives it straight to Sassuolo. 
60' Allegri shuffles his pack as well, Mandzukic coming off for Douglas Costa. 
60' Di Francesco comes on for Sassuolo, Duricic the man to make way. 
58' It's taken short by Dybala, who receives a return ball and slings in a cross. It's no trouble for Sassuolo though who clear easily.  
57'   Cancelo, who has been Juve's best player today, tries to pick out Ronaldo at the far post but just overhits his ball. Corner to Juve... 
54'   Juve work a corss into the box and Ronaldo goes for it at the same time as Ferrari. One of them gets a touch but it trickles into the gloves of Consigli. 
That Ronaldo goal was Juve's first shot on target of the game, incidentally. 
53'   Sassuolo with a long period of possession but Juve are holding firm at the back. Cancelo sells Duncan a dummy after nipping a dangerous attack in the bud with quick feet, to the delight of the crowd, who have found their voices now. 
51'   KPB! Sassuolo almost reply immediately as the Ghana striker backheels a cross goalwards. It's got Szczesny beaten but edges just wide of the post. The game has livened up a bit now! 
50'   Not one for the career highlights dvd but Ronaldo is off the mark for Juve! 1-0 to the hosts. 
50'   Goooooooool! And it's Ronaldo! A free kick is lofted in, Mandzukic gets an overhead vaguely on target, it's nodded onto the post by a Sassuolo defender and the Portuguese is there to tap it in from half a yard out! 
49'   Close! Sandro pings in a cross and Mandzukic nods it down. Khedira almost gets a boot on it but it's cleared in extremis. 
48'   Sassuolo overelaborate a little trying to play it out from the back and concede a throw. 
47'   Dybala tries to pick his way through but is thwarted by Marlon. 
46'   Juve swing a cross into the area and it bounces about a bit, Mandzukic takes a swipe but misses then Ronaldo is blocked as he tried to poach the rebound. Sassuolo hack it clear though. 
46'   No changes at half time. 
46'   Juve get us back underway in Turin! 
Juve were guilty of giving the ball away far too often in the first half and will have to be more cohesive if they are to break down a solid Sassuolo back line after the break. 
Just the one shot on target during the opening 45 and that came from Sassuolo, who also edged possession and pass completion rate. 
45'+3' And that's the half! Let's see what Allegri decides to do after the break because that was pretty flat from Juve, who have been more than matched by the visitors. Few clear chances for either side so far. 
45'+3'   Juve continue to probe but are finding it hard to string more than three passes together with Sassuolo extremely well-drilled. 
45'+2'   The big guns are up but Ferrari, who has been everywhere for the visitors, is there to clear. 
45'+1'   Sassuolo work another nice move but KPB can't control it on the edge of the area. Juve race down the other end and win a corner. 
45'   Sassuolo runing the clock doen as best they can now. 0-0 at half time is a decent result against Juve away. Three minutes added. 
42'   Bonucci tries a ball over the top and Matuidi does well to turn it back in to the box but Sassuolo are too well set up to be undone by anything like that. We wouldn't be surprised to see Pjanic coming off the bench sooner rather than later, with Douglas Costa also cooling his heels in the dugout. 
41'   Play stopped again as Mandzukic is clipped on the ankle. Juve really short of ideas at the moment. Nothing is working on the flanks and Sassuolo are solid in the centre. 
39' Indeed, it was a shirt pull on Cancelo.  Shame for Duncan, that was quite a strike. 
38'   Duncan has the ball in the back of the net with a fine strike but the ref has ruled it out. Again, we're not sure why, possibly for a previous foul on Cancelo. 
37'   Well, that sums up the first half. Consigli is forced into a snap save from one of his own players and that was Juve's best chance so far! Pol Lirola gets a firm touch on a Juve cross and almost beats his own keeper! Quick reactions from Consigli there. 
35'   Sassuolo work the ball well into the area and Bonucci beats KPB to the ball. It breaks for Berardi and he has a crack that is deflected out for a corner. It's all the way back to Consigli though and Ferrari is down clutching his throat. It looked like an accidental one from Bonucci but it was right in the windpipe, which is going to hurt whether it's intentional or not. He's ok to go on though fortunately. 
33'   It's a decent delivery, outswinging onto the penatly spot but it's cleared by Sassuolo. The ball falls to Emre Can and he tries his luck but wallops it into the upper tier. 
32'   Ronaldo and Khedira play a one-two and it pings off a defender for a corner. 
30' Alex Sandro makes a rare forward foray and delivers a fine ball into the area but Sassuolo hack it clear.  Cancelo goes in the book for booting Duricic in the chops as he went for the ball. No malice, just a very clumsy challenge from the Portugal international. 
29'   Sassuolo looking to pick a way through but are forced back to the halfway line. KPB does well to evade several Juve defenders and tees up Berardi but his shot is blocked. 
27'   It's all a bit scrappy in the Allianz Stadium and the crowd is hardly buzzing. This ain't a classic yet, it has to be said. Plenty of misplaced passes, momentum-breaking fouls and a little bit of a persnickety ref are all contributing. Now KPB and Bonucci go nose-to-nose after an aerial challenge but its just handbags, there wasn't much in it.  
26'   But it's a poor effort from the Portuguese and trickles out for a goal kick. 
25' Emre Can is flattened by Berardi, who immediately apologises. Free kick to Juve, Ronaldo eyeing it up but it's a good 35-40 yards out. 
24'   Mandzukic gets half-a-chance in the area and fires in a shot but Marlon, of ex-Barcelona fame, is there to block. 
23'   The game is lacking a bit of fluidity with the fouls coming thick and fast. This time Duncan clatters into Dybala and the ref's well-worn whistle goes to work again. 
22' Duricic finds his way into the referee's book but we're not sure why. The ref had just awarded a free kick for a foul on KPB so there was no reason for the Serbian to have a moan that we could see. 
20'   Sassuolo work a nice move and win a corner on the left. Berardi delivers and Szczesny is forced into a save from the onrushing Ferrari, who plant a decent header on target but straight at the Juve keeper. 
19'   Juve win a free kick as Berardi flattens Alex Sandro. There hasn't been much attacking threat from his side yet. Juve are playing rather conservatively for a home game. 
17'   Ronaldo and Dybala attempt a one-two but there's a wall of Sassuolo players in attendance to clear. The ball falls to Rugani, who has a decent enough pop from distance but it's wide of Consigli's far stick. 
16'   The old warhorse is back up though and Juve have the ball in their own half, stroking it about as they look for an opening. 
15'   Berardi temporarily off the pitch as Comsigli gets play back underway. It doesn't last long though with Bonucci now down and grimacing as he clutches his ankle. 
14'   Ferrari in the mix again at the other end as he cuts out a dangerous ball aimed at Mandzukic. Berardi is down on the turf after a clash and is getting treatment but the Sassuolo captain appears to be ok to continue. 
12'   Sassuolo win a bizarre corner as Cancelo clips the ball over the line thinking it had gone out of play. Ferrari hits the bar with a header but the flag is up as he was clambering all over Bonucci. 
11'   Ronaldo involved in another attack as he gives and gos, latching on to the return pass in the area after a good run but failing to land his header on target. 
10'   KPB draws a foul from Khedira to slow things down a bit and hand posession back to Sassuolo. A through ball is not sufficiently forewarnded and there's no green and black shirt running on to it. 
9'   A nice move from Juve as Dybala skips a couple of challenges and finds Khedira. He squares for Ronaldo who spots the run of Blaise Matuidi and back-heels into the Frenchman's path. It's just too strong though and the midfielder can't control it. Slick stuff. 
7'   Juve don't make much of it though. The home side are at least seeing some of the ball now though. 
6' Ronaldo! The Portuguese gets his first sniff of goal and lets a right-footer fly. It gets a nick off a defender and zips just wide of the post for a corner. 
5'   Ronaldo gets his first touch and is clobbered by Berardi, who duly apologises with a half-smile on his face. 
4'   Sassuolo work it into the area, looking for KPB, but it flashes in front of the goal and Cancelo hooks it out for a throw. Early warning for Juve there of how quickly their opponents can turn possession into attack. 
3'   Juve win the ball briefly but a loose ball from Khedira sets the visitors up for another go. Cancelo concedes a throw out on the right and Sassuolo work it back to Consigli. 
2'   Sassuolo boss Roberto De Zerbi has gained a reputation as a coach who likes to play possession-based football, keeping it on the deck and moving it about swiftly and that's how the visitors have come out. Juve haven't had a sniff yet.  
1'   We're off! Or not quite... KPB is told to retake the kick-off, which you don't see every day. Anyway, now we are underway! 
The players emerge with the mascots. The young lad that has Ronaldo's hand looks pretty pleased with how his day is going. A big smile for the cameras from the Portuguese and we're about to get underway. 
  The players are coming out for the pre-match handshakes. It's a decent turn-out in the Allianz Stadium as you'd expect. 
Just 10 minutes to go until kick-off now as Serie A's last two unbeaten sides go head-to-head. 
Worth remembering of course that Ronaldo didn't exaclty get off to a flyer last season, drawing a blank in his opening three games for Madrid before finding the net against Getafe. He went on to score 44 in 44 appearances across all competitions, including 26 in the league, which would have placed him second in Serie A behind Mauro Icardi and Ciro Immobile (both bagged 29).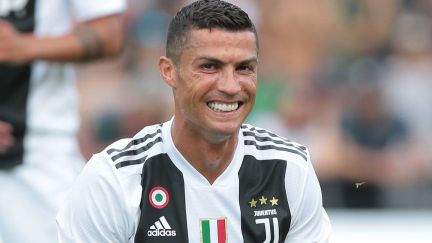 When the teams last met, back in February, Juventus ran out 7-0 winners with Gonzalo Higuaín bagging a hat-trick and Sami Khedira helping himself to a brace. 
Just looking at that Juve bench again... is that possibly the strongest in Europe? There's a lot of talent and experience at Allegri's disposal. Perin, Pinsoglio, Chiellini, Cancelo, Rugani, Pjanic, Bentancur, Costa, Cuadrado, Kean, Bernardeschi. 
Dybala gave an interview with Gazzette dello Sport a few days ago during which he discussed playing alongside Ronaldo. The pair will have the chance to work on their on-pitch understanding today. "It's incredible. With him, everything is good, we just have to keep training together, we have all season ahead," said the Argentina striker. 
Much of the focus will be on Cristiano Ronaldo, who has still to break his Serie A duck after his big-money move from Real Madrid last summer. Massimiliano Allegri is confident that the Portuguese will find the net today but Sassuolo will have other ides. 
Both sides go into the game today unbeaten, Juve leading Serie A from Napoli and Sassuolo in third after a solid start to the season that has included wins over Inter and Genoa. 
Hello and welcome to AS English's live coverage of Juventus vs Sassuolo from the Allianz Stadium in Turin. Kick-off is at 15:00 CET.