Real Madrid 3-0 Roma: Champions League result, report
Isco, Gareth Bale and Mariano scored for Real as Los Blancos saw off Roma in their Champions League opener at the Bernabéu on Wenesday.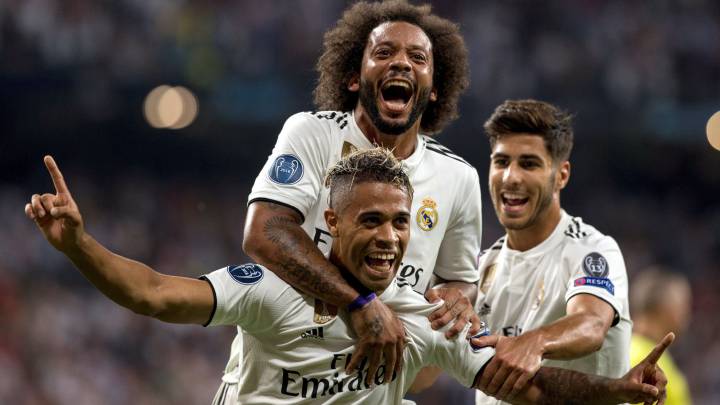 Real Madrid coach Julen Lopetegui enjoyed a dominant victory in his first Champions League game in charge as the holders got their European campaign underway by beating Roma 3-0 at the Bernabéu on Wednesday night.
Isco, Bale and Mariano seal opening win for holders
Embarking on their first Champions League bid without Cristiano Ronaldo since 2008/09, Real were, despite creating a glut of chances, made to wait until the stroke of half time before Isco broke the deadlock with a fine curling free-kick.
The opportunities continued to come thick and fast for the European champions in the second 45, and on the hour mark Gareth Bale doubled their lead after running onto Luka Modric's slide-rule pass and finishing low across Robin Olsen.
Substitute Mariano Díaz, re-signed by Los Merengues from Olympique Lyon this summer, then rounded off the scoring with a superb late strike from range on his second debut for the club.
Keeper Keylor impresses on return to side
Despite their overall dominance, however, Real did also have Keylor Navas - recalled to the side in place of close-season signing Thibaut Courtois - to thank for more than one commendable save.
Lopetegui's group leaders now face

CSKA in Moscow

With Viktoria Plzen and CSKA Moscow drawing 1-1 in the night's other Group G fixture, Real end matchday 1 two points clear at the top of the table, with a trip to Russia up next on 2 October.
Real Madrid vs Roma: as it happened
93'   Peeeep! And that's that. A richly deserved three points for Real Madrid in a dominant win capped by that fabulous Mariano finish. 3-0.
92'   Three minutes of added time, by the way.
90'   What a way to mark your (second) debut. Mariano picks the ball up on the corner of the box, looks up and pings an unstoppable drive into the far top corner. Olsen ain't saving that one. Lopetegui applauds on the touchline, and well he might.
90' ... but now Real do make it three! Mariano with a scrumptious strike!
89'   Isco overdoes it in the box when he had Kroos well placed for a lay-off. Marcelo's ball across the box then evades everyone... 
87'   Pellegrini steps over the ball and lets it run to Schick in shooting space but, thanks chiefly to Carvajal, Real Madrid scramble it behind for a corner, which comes to nought. Roma come again, and Dzeko heads towards the far post... only for Keylor to produce another smart stop! Real may have been dominant tonight, but it's also true that their goalkeeper has also had to look alive at times, and has done just that.
85' Lopetegui makes his final substitution, Modric making way (via a standing ovation) for Dani Ceballos.
83'   Ünder pings a ball into the box which, if it reaches Schick, will leave the Czech youngster in acres to shoot - but it's cut out by a white shirt. The Italians haven't been without their moments of danger, but have been wide open at the other end. They can count themselves lucky to have only conceded twice.
80' Just the 27 attempts on goal for Real Madrid tonight.
79'   Oh Asensio! The winger pirouettes away from De Rossi and Pellegrini inside the box and finds himself one on one with Olsen... who saves from point-blank range. What a piece of skill that was from Asensio. Deserved a goal, as they say.
76'   Mariano shapes to shoot on the edge of the box, but at the last moment opts to slip a neat reverse pass into the run of Isco... but it's just underhit. The Spaniard was very nearly in for a third there.
73'   Twice Olsen prevents Real Madrid from making it three! First the Swede dives to Kroos' powerful drive from the left, before palming away Modric's low shot from the other side of the box.
72' Real make another sub, introducing Mariano Díaz for his second debut for the club. Bale comes off for the Hispano-Dominican.
71'   Asensio almost gets Bale in at one end, before suddenly Roma are scampering at pace at a backpedalling and outnumbered Real backline... but Shick's shot from an inviting position on the edge of the box is woeful.
70'   By the way, Real Madrid have broken Tottenham's home European goalscoring record by netting in their 43rd straight continetnal fixture at the Bernabéu.
69' Roma boss Di Francesco shuffles his pack for the final time tonight, withdrawing a midfielder in N'Zonzi and throwing on a forward in Patrik Schick.
68'   Now Asensio shoots at Olsen's goal, but his low curling effort is always drifting just wide.
66'   Modric feeds Casemiro, the Roma defence backs off, and the Brazilian duly obliges by slapping a shot at goal... but it's just off target. The Brazilian responds to his in accuracy with a mini self-directed strop.
64'   That second Real Madrid goal really was peak Bale.
63'   Ufff! Roma almost pull one back, but again Keylor is very much on his mettle to turn a fizzing Kolarov effort wide.
61' Real Madrid make their first substitution of the evening, Benzema trotting off to a warm ovation and being replaced by Marco Asensio. Roma also make a change - their second of the night - as Diego Perotti comes on.
58'   Modric looks up and releases Bale into space on the left with a lovely slide-rule pass, and the Welshman is in his element, striding past his man and into the box, and pinging his finish past Olsen and into the far corner!
58' Gooooal! 2-0 to Real Madrid! Bale!
55'   Modric... Olsen saves! Isco finds the Croat's run in behind the Roma defence with a beautiful little through ball, but his shot on the stretch is gathered by the Roma keeper.
54' Roma make the first change of the evening, debutant Zaniolo coming off for Lorenzo Pellegrini.
50'   Now Bale hits the bar, controlling Marcelo's low ball and turning it towards goal from eight yards or so. The woodwork denies him, though, via a touch off Fazio's outstretched foot.
49'   Ünder shows a terrific turn of pace to frighten the life out of the Real Madrid defence and fire a shot towards Keylor's top corner, but the Costa Rican produces a fine save! And then up go Real to the other end and almost grab a second! The ball is worked to Benzema on the left edge of the box, and his low ball is meant for Marcelo, who's all alone at the back post, but is turned wide by Bale. The Brazilian flops to the turf in exasperation - had Bale left it, he'd have had a straightfoward chance to double Real's lead.
48'   We're immediately back into the all-the-ball-for-Real-Madrid groove, and Casemiro almost finds Benzema in the box with a cute little pass, but it is cleared... and Roma almost equalise!
46'   No changes, by the way.
45' Back out come the teams at the Bernabéu, and we're back underway!
Don't forget that we've also got live coverage of Valencia and Juventus' Group H clash at Mestalla, where the Italians lead 1-0 at half time despite being reduced to ten men by Cristiano Ronaldo's red card for clashing with Jeison Murillo. Miralem Pjanic was the goalscorer for the Bianconeri, slotting home from the spot just before the break.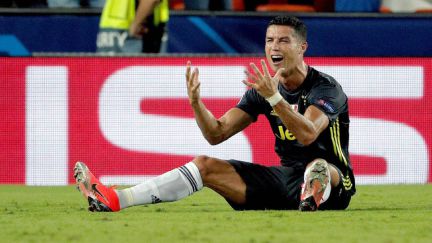 45'   One minute of time added on. Roma win a free-kick on the left, which is primer fodder for Kolarov's left peg. The former Man City man's delivery into the box is easily cleared, though.
44' Goal! Real Madrid finally find the breakthrough! The hosts win a free-kick on the edge of the box as Isco and Benzema exchange passes via a lovely backheel by the Spaniard, who is brought down by De Rossi. The veteran gets a yellow card for his troubles. Isco stands over it and... curls a deft effort into the corner! Olsen could only stand and watch.
40'   Now Isco shoots, and Olsen turns his bottom-corner-bound strike around the post! "Real Madrid are really starting to get infuriated," says Spanish TV commentator Carlos Martínez. It certainly shouldn't be 0-0.
38'   Real go close once more! Zaniolo has a chance to slip El Sharaawy in behind the Real backline, but his slide-rule ball is underhit. Real come back at Roma and win a corner, from which Olsen has to be alert to keep Ramos' effort out, with the ball headed towards the top corner!
35'   Bale blazes over from range. I make that 12 shots for Los Blancos, but just the one on target.
32'   Real spend a good minute plopping the ball about in front of the Roma backline, before the visitors intercept and burst forward on the counter. First it's worked to El Sharaawy on the right, but he has his shot blocked. However, Ramos then fells the striker and the Romans have a dangerous free-kick on the right, which Fazio heads off target. Better from the Italians, though.
30'   Ooh, there's a first shot on target for Roma... but it's an absolute trundler from N'Zonzi and Keylor scoops it up with ease.
28'   Twice Real Madrid get themselves into positions to send the ball into the middle, but twice Roma clear once it gets there. The holders really ought to have converted all this territorial dominance into goals by now.
26'   Now Bale tries his luck from a similar position to Kroos' shot, but his curled effort is well wide of the far post.
25'   Kroos advances towards the box and fires a shot at Olsen's near post... but it's wide. It was the German's mistake that forced Ramos into the challenge that earned him a booking moments ago.
22'   Sergio Ramos is the first man into the book for a lunge on Steven N'Zonzi, and Roma have a chance to send a free-kick into the box. Daniele de Rossi's delivery is headed behind for a corne to the Giallorossi, which Benzema clears at the near post. Roma work the ball back to Ünder, but he's well crowded out by the home defence and Ramos comes away with the it.
20'   Every time Roma have the ball, Real Madrid win it back in two shakes of a lamb's tail. The hosts are temporarily down to ten men as Casemiro comes to the touchline for treatment, before trotting back on.
18' Blimey. Benzema receives a throw-in an acres of space on the edge of the box. Acres. Roma's defending has been beyond ropey. The ball is finally worked to Kroos, but his shot is off target.
17' Back come Real, and Isco's back-post cross presents Carvajal with a headed chance, but he nods wide. Benzema then almost cuts it back for Bale in front of goal, but Fazio is there to clear.
15' There's the first moment of danger from Roma. A route-one clearance beats Carvajal's outstretched leg and leaves Ünder with an opportunity to run at Varane. Perhaps discouraged by the fact that the Frenchman is absolutely rapid, the youngster opts to attempt a spectacular long-range effort, but it is wild. 
10' And again Roma are opened up easy as you like! Casemiro breaks down a tentative attack by the Italians, and in the blink of an eye Isco has Bale sprinting by his man and with a chance to scamper in on goal... only for the forward's first touch to let him down.
9'   On this evidence, it's a matter of time before the hosts take the lead. Kroos has acres of space to dance forward and fire a shot on goal, but the German's effort is over. Roma's defending thus far has been less than impressive.
8' And Real Madrid should score once more! Luka Modric slips a delicious little ball into Isco's well-timed run into the box, but Olsen saves from almost point-blank range! 
7' Real come again, and just for a moment an inviting space opens up for Bale to put Isco in on goal. The Welshman sees what is needed, but the execution of his outside-of-the-boot pass is off.
5' Kroos' pass to Bale was a beaut. Roma haven't seen a whole lot of the ball so far.
3'   Gareth Bale should score! Toni Kroos plops through a lovely ball that meets the Welshman's run into the box behind the Roma defence - but while his control is perfect, his finish is juuuuust wide! So close to 1-0.
1'   Real Madrid promptly keep it for the whole of the opening minute, before Isco runs at the Roma defence and plays in Marcelo... who is offside.
Coin toss done, Real Madrid to kick off, and... Peeeep! Underway at the Bernabéu.
Out come the teams, and the anthem blares. Almost time!
With ten minutes to go to kick-off at the Bernabéu, here's a final bit of pre-match reading for you: Spanish stats guru Mister Chip has put together a few facts and figures ahead of Real Madrid vs Roma, which include a potential scoring record for the holders.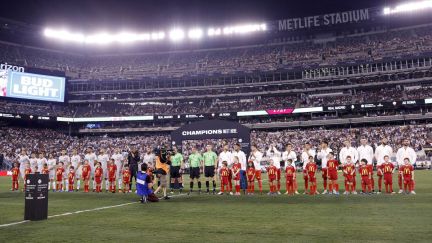 Tonight's man in the middle is Dutchman Björn  Kuipers, who took charge of Real Madrid's 2014 final win over Atlético, and it seems, is not short of a bob or two. In which case, why he wants the hassle of being a football referee is, quite frankly, beyond me. Hey ho, each to their own.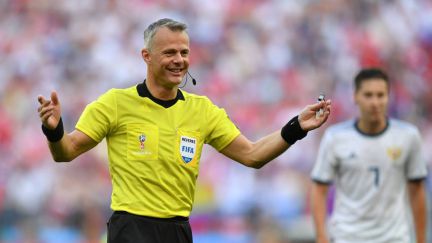 Meanwhile, we've also prepared a useful guide on how and where to watch tonight's Group G clash at the Bernabéu.
Ahead of Lopetegui's Champions League debut as Real boss, we've looked at how his predecessors got on in their bows in the competition.
Had Courtois started in goal tonight, it would have been the clearest indication yet that the summer signing is Lopetegui's number one... As it is, Keylor is back in nets and we're somewhat less the wiser on that front.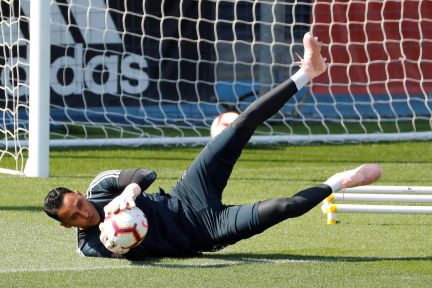 We also sat down with Atlético Madrid's Antoine Griezmann in recent days... and, judging by his comments in yesterday's pre-match press conference, it would seem that Real Madrid skipper Sergio Ramos does not share the World Cup winner's assessment of himself in said interview. 
  Incidentally, AS sat down with Di Francesco ahead of tonight's clash, with the Roma boss speaking in particularly glowing terms of Marco Asensio, who drops to the bench for the hosts tonight. His interview with our Italian football correspondent Mirko Calemme is definitely worth a pre-match read if you have not had a shufties at it already.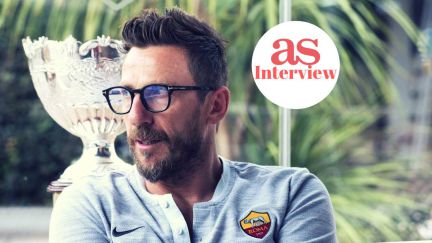 It's the first time since 2008/09 that Real have started a Champions League campaign without Cristiano Ronaldo, the tournament's all-time top scorer, in their first-team squad. Their last Champions League game without the Portuguese in their ranks? THAT 4-0 thumping at Anfield.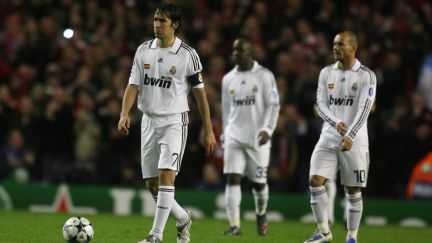 Before his surprise resignation this summer, Zinedine Zidane delivered three Champions Leagues in just two and a half years in the Real Madrid dugout, with Los Blancos the first club side to win back-to-back-to-back European Cups since Ajax in the mid-1970s. Now, however, the new man in charge leads the 13-time winners into the latest edition of their competition without a man who scored a whopping 105 Champions League goals for the club... 
He's got a tough act to follow, it's fair to say.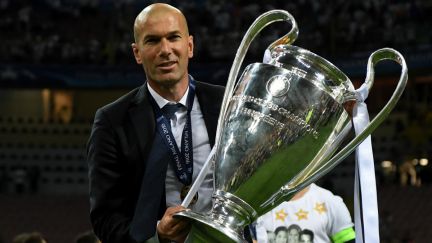 Julen Lopetegui takes charge of his first Champions League game as Real Madrid boss, as Los Blancos begin their bid to become the first club side to claim four straight European titles since... Real Madrid (on their way to five on the bounce between 1956 and 1960).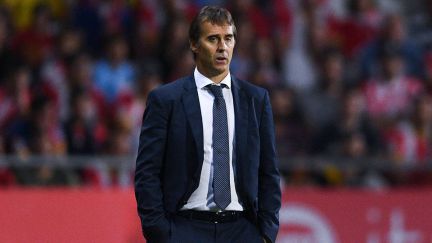 Good evening! Welcome to our live coverage of Real Madrid's Champions League opener against Roma!
Real Madrid vs Roma: match preview
Cristiano Ronaldo hit 105 Champions League goals in his nine years at Real Madrid, in the following impressive scoring sequence: 7-6-10-12-17-10-16-12-15. He was the tournament's top marksman on five separate occasions and, with the Portuguese in their ranks, Real lifted the trophy no fewer than four times. Now, all those goals, all that contagious ambition, are gone, never to return. So tonight not only marks the beginning of a Champions League campaign for Los Blancos, but the beginning of an era, one in which it is hoped the efforts of many will replace the work of one. It's an idea which, it seems, not everyone is convinced by: the holders kick off the competition's 2018/19 edition lower in the betting than would usually be expected, and are currently somewhere between fourth and sixth favourites.
Saturday's match in Bilbao did not help. The belief had been growing that Gareth Bale and Karim Benzema, scorers thus far of eight of the side's 13 goals this term, would take the step to the fore that the club is hoping for, but as soon as the first big opponent homed into view, they went missing. Meanwhile, Luka Modric hasn't returned from the World Cup in the finest of form. However, Marco Asensio's sustained starting status has accelerated his growth. He is yet to find the net, but he has three assists to his name and has also won three penalties. Meanwhile, certain tweaks designed to bring about a side more reliant on the collective: higher pressing, increased possession (with Real enjoying as much as 68% and leading LaLiga's passing charts) and an insistence on getting bodies into the box (leading to a per-game average of 16 shots). Two issues are still to be resolved: Keylor Navas and Isco. The decision Lopetegui makes on them today will shed light on the significance of his recent rotation of the pair.
10 years without silverware
Up against the back-to-back-to-back Champions League winners are Roma, who aren't your average club. The Giallorossi are headed up by Jim Pallotta, who was born in Boston to Italian parents, is co-owner of the Celtics and, together with three partners, bought 67% of the Serie A club from the Sensi family for 67 million euros in 2011. He travels to Rome once every six weeks and aims to export the US model of sports club ownership - obsessive when it comes to marketing, disciplined financially, entertainment-industry oriented - to a country chiefly moved by passion. Which means that criticism for Roma's 10 years without major silverware is making itself heard more than the plaudits for the club's 400 million euros in profits over the past few years and a planned new stadium more in keeping with the times.
Eusebio di Francesco's side go to the Bernabéu having reached the semi-finals last term but, with 12 new signings brought in over the summer, doubts surrounding whether those who have arrived (the likes of Steven N'Zonzi, Javier Pastore and Justin Kluivert) are at the same level as those who have departed (such as Alisson Becker, Radja Nainggolan and Kevin Strootman). Di Francesco, an Italian champion with Roma as a player, is struggling to produce a winning formula from Monchi's 2018/19 vintage: after all, the men from the capital have just one win from four Serie A games in which the 49-year-old has fielded four different XIs. Third in the Italian top flight last term, they are currently ninth, with seven goals already in the 'against' column. Not a single player has scored more than once, and only one of their summer recruits, Pastore - who is unavailable tonight due to a calf injury - has netted. What's more, Roma do not travel well: last season, they owed their place in the last four to turnarounds at the Stadio Olimpico, and only managed beat Qarabag on the road. Yet such statistics should not conceal the fact that they boast a striker in Edin Dzeko who poses an extreme threat to Real (the Bosnian has grabbed 45 goals over the past two Serie A campaigns), and remain a side which, though inconsistent, are no strangers to claiming memorable scalps.