Mariano: a precision rifle firing every 54 minutes for Real Madrid
The new number 7 had big scoring boots to fill but with an impressive ratio already building, this pure finisher could well become a Bernabéu favourite.
Real Madrid signed Mariano Diaz due to his profile being different from that of those forwards already in the squad. He is a pure striker, a finisher. The Madridista never forgot the five goals he scored during his only season in the first team and his eyes lit up every time he returned to Spain in his year with Olympique Lyon. On Wednesday evening, 20 minutes were sufficient to show the Estadio Santiago Bernabéu that he is still the same.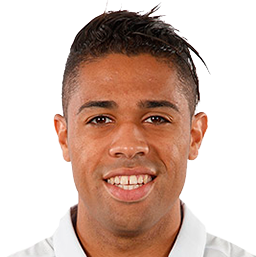 Mariano the marksman
In the summer of 2017 Mariano went to France with an already impressive goal return and improved on it immediately on his debut, at the highest level of European competition. He now has six goals in a Real Madrid shirt and needed only nine shots at goal to achieve them. That incredible average can frighten defences every time he gets in a position to shoot.
His numbers-per-minute ratio is no less impressive. His first spell saw those five goals scored across a total of 302 minutes, one every hour of play is up there with the best. That 'golazo' against Roma brings the ratio down to a mere 54 minutes, although clearly to truly prove his standing he will have to demonstrate this over more than a equivalent period of just four games.
"I've always wanted them to welcome me this well and I'm very grateful for it," he said after the win over Roma. Madrid fans wanted him to return, eager to see him again in their beloved white, and if he can continue with this goalscoring effectiveness, there is no doubt that he will become a favourite in the Santiago Bernabéu.