A new life for Dembélé
Dembélé has settled into a new way of life at Barcelona which has translated into his impressive performances on the pitch.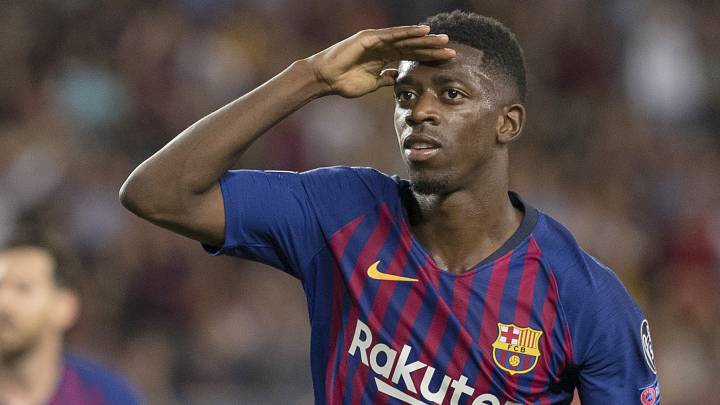 Ousmane Dembélé has been one of the sensations of Barcelona's great start to the season. Calm, confident and with insurance from Ernest Valverde that he is a permanent part of his plan, the French footballer looks like another player this season. It has been a difficult road, but he has finally settled into life at the Camp Nou in many ways and that has translated into his performances on the pitch.
"He's doing very well, but he can be better," a source inside the Barcelona dressing room has told AS. "We'll have to wait another season for him to assimilate all that we have asked of him."
A little over a year ago, Dembélé suffered a thigh muscle tear while playing against Getafe and had to undergo an operation undertaken by Finnish sports medicine surgeon Sakari Orava. The young player was devastated. When he returned, it seemed like he had forgotten how to play football and many were quick to proclaim that the €100 million paid to bring him from Borussia Dortmund had been a waste of money. But now that is not the case.
An impressive rebound
The 21-year-old striker has scored four goals in the season's opening -- three in LaLiga and one in the Champions League. And his renewed confidence is partly due to Robert Fernández and Eric Abidal, who looked after him and helped him to understand that the club "wasn't going to sell him", despite all that was being said before the close of the transfer market.
The club has also stepped up the level of attention given to him on a daily basis. Living alone and without his parents, the young footballer finally accepted that he needed an assistant at home to do housework and, above all, to tell him what he must and must not eat and drink, particularly his beloved soft drinks (some time ago, the club's nutritionists asked him to eradicate soft drinks from his diet and consume isotonic drinks for recovery).
All of these factors, along with winning the World Cup, are behind his improved performance this season. "Being called up [for France] for the World Cup was a breath of fresh air. Then winning it and feeling important within that group has boosted his happiness massively," said our dressing room source.
"He understands more of what Valverde wants, but it's too early to claim victory; there are still things that he finds difficult. The issue of tracking back when the ball is lost or the attack breaks down: that is where he must take responsibility and he's doing so little by little."
All in all, everyone at Barcelona's Sports City seems happier with Dembélé's situation, and most importantly, Dembélé himself.