SUPERCLASICO
Boca Juniors vs River Plate live online: Superclasico: as it happened
Goals from Martinez and Scocco were enough for "Los Millonarios" to secure maximum points at a packed La Bombonera in the Buenos Aires "Superclasico".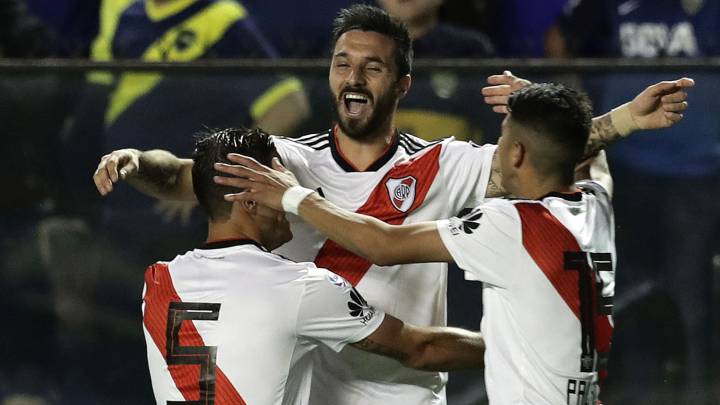 Boca 0-2 River: as it happened
Scuffles breaking out as Boca players manhandle the ref.... River players celebrate and Boca coach Guillermo Barros Schelotto is far from happy with the referee's decision pushing the match official
FT Boca 0-2 River
93'   Another Boca corner as River rob the ball with Zuculini breaking away ass the final whistle goes....
93'   Corner for Boca as Armani stops majestically  
91'   Boca huff and puff but apart from the first 15' of the second half, they've been outclassed by a better River as Boca hits the bar and  River clear their lines 
  Despite the adverse score line, still plenty of noise coming from the home fans (away fans banned from Argentinian top flight games)    
88'   We're set to have 4 minutes of time added on at the end of the 90
87'   Boca keep pushing as the clock ticks down. Gallardo was more than astute in adressing the problems that Boca were causing with good changes in Zuculini &  Scocco
84'   Five to go in La Bombonera. Can Boca salvage anything from the SuperClasico?
82'   Benedetto set to come off ...final throw of the dice for Guillermo Barros Schelotto.... Villa the man coming into the fray
81'   Boca win a corner as we head into the final ten minutes
80'   Another call for a spot kick and this time it's River who call for a penalty. Once again ref. says no.
77'   Rash tackles flying in from Boca players now as Almendra is booked. Impotence from the men in navy and yellow as the ref tries to ensure things don't get out of control.
Nandez carded for two footed tackle
71'   The Scocco strike should see maxiumm points head to the north of the city as I can't see Boca clawing their way back into the game as River dominate
What a strike from Scocco as he silences La Bombonera
Gooooooooooooooooooooool River make it 2
68'   Despite their improved performance in this half, Armani has yet to really be called into action as time ticks at La Bombonera
Tevez off (discreet pèrformance from El Apache) Zarate on for Boca
Almendra carded
Scocco comes on for River with Pratto the player making way, final change for River tonight
63'   Still no way through for Boca despite a step up in play in the second period.   
61'   Cardona drives a free kick dangerously close to the goal as Enzo Perez is subbed for Zuculini comes on
Another spectacular image from La Bombonera tonight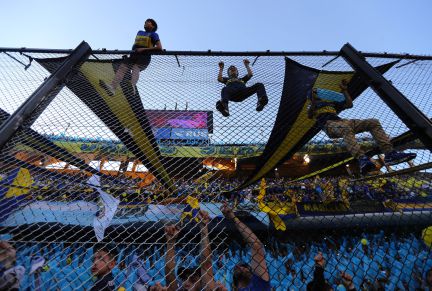 Another call for a penalty for Boca as Pavon is pushed over in the area. Once again the referee disappoints the home fans and waves play on
52'   Boca in a different gear now as they take the game to their visitors from the north of Buenos Aires 
50'   Great chance for Boca as the ball drops perfectly to Benedetto who tries a scissor kick but drives the ball high and wide
50'   We're underway again and Casco seems okay to carry on.....High energy start to this second half too
50'   Casco take a bad tumble and appears to have damaged his arm. 
48'   Boca seem to have come out with a better attitude as they apply more pressure with Cardona firing a long range effort on goal
Correct call on both occasions!
46' Double call for a penalty from Boca for hand ball x 2. Ref says play on much to the ire of the 49000 fans
46'   off we go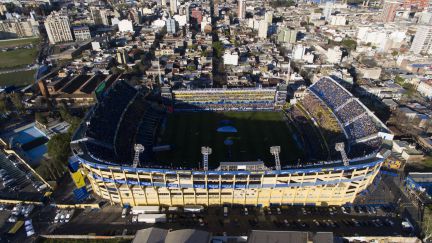 46'   Teams take to the field at the legendary La Bombonera.... (a trip there is high on the bucket list !)   
45' Far from comfortable are Boca in this first half as the whistle goes for the break.
45'   3 mins of time to be added
Fouls getting more robust as we move towards to the end of the first 45'. River worth their lead. 
44' A yellow is the end result for Cardona.
42'   Enzo Perez goes down after a tangle with Cardona. River players look for a card and a red could even apply for an elbow in the face from the Colombian.
Jara off / Cardona on for Boca
41' Jara seems to have failed to recover from an earlier knock as Ponzio is booked.  
Cardona looks set to join the action.
39' Play held up as players are attended to after a clash of heads.... We're back in action as Almendra latches on to a lose ball but his half volley gheads wide 
River Plate's Gonzalo Martinez celebrates his goa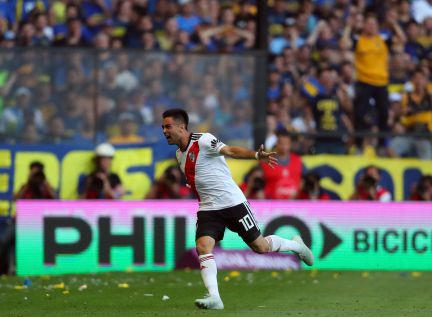 35'   10 minutes to hgo in the first half with River clearly on top. Two efforts from Benedetto all Boca have to date with the current champions failing to get any rhythm together  
33'   Danger once again from River as they link well down the right hand side but the final ball is straight at Rossi 
31'   Pavon certainly the danger man for the home side
30' On the half hour mark, once again great work from Pavon on the left flank as he feeds Tevez but the veteran fails to get a shot on target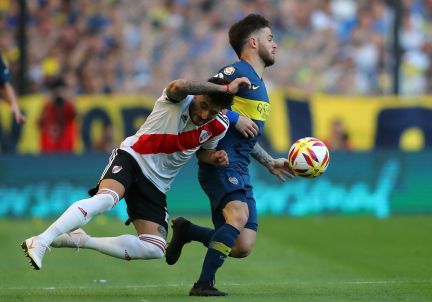 29'   Benedetto tries with a right footed drive but once again the shot is straight at Armani and the danger abates. 
27' River looking the more comfortable of the two sides despite the setback of losing Martinez who was running the show
25' Great work from Pavon on the flank as the ball breaks to Nandez who rifles over
Barrios booked for River
Confirmed: Martinez off and Quintero on for River 
22'   Looks to be a hamstring iussue as Quintero looks to replace the goalscorer 
21' This looks worrying from a River point of view as the best player for the away side looks to have picked up an injury.... Looks bad as River subs start to warm up
20'   Martinez bossing the game at present, at the heart of all the River Plate attacking play 
17'   What a start to El SuperClasico as the home fans start to get frustrated with a series of fouls
Boca Juniors 0-1 River   
River Plate go ahead with a sublime volley from Martinez catching the ball beautifully with his left foot 
Goooooooooool River score  
13'   High feet from Tevez as Boca were through.... Not a good decision according to the 49.000 home fans
11'   Another free kick for River which Martinez takes quickly. River enjoying the better possession in the past few minutes but with no end product.
7'   River now press with an entertaining start to the action with both sides sahring spells of dominance 
6'   Benedetto fires from long range and calls Armani into action with the River keeper tipping over. First danger on goal of the evening goes to Boca
4'   River break up the other end with Palacios' cross overhit as thew visitors maintain a sustained spell of possession.
3' Early pressure from Boca  as Pavon and Tevez link up well 
3' The traditional tense start to a game of this magnatitude.....plenty of niggly fouls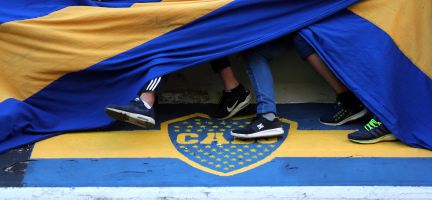 As always (well in recent times) it's just the voices of the home fans we can hear with no away fans allowed at domestic Argentinean league games
Boca to get us underway .....
Boca in their classic navy with yellow hoop, River in the white with red sash and black shorts as the sun drops on a packed Bombonera
Teams are on the pitch at a  packed La Bombonera as 4th placed boca Juniors face eternal rival River Plate 
Hello and welcome our live coverage as Boca face River 
The city of Buenos Aires and indeed most of Argentina will came to a halt tonight as the focus turns to the biggest domestic game in the league as Boca Juniors face River Plate in El Superclasio, a game that rarely disappoints with Boca currently fourth in the Primera Division with ten points with unbeaten River in 13th on seven points.
This Sunday's derby in La Bombonera will be just the sixth matchday of the 2018 Argentine Superliga season with both clubs still involved in the Copa Libertadores with River drawing 0-0 with Independiente and Boca securing a 2-0 home win over Brazilian outfit Cruzeiro.
Boca Juniors do go into this one as slight favourites being reigning champions of Superliga, and have impressively strengthened their squad again in a bid to retain the title and secure a historic three in a row.