Liverpool players drink Klopp's secret "isotonic potion" after every match
After every game, the Reds are given a special, mineral drink which enhances their performance, 'Sport Bild' reports. Ex-swimmer Mark Warnecke created the beverage.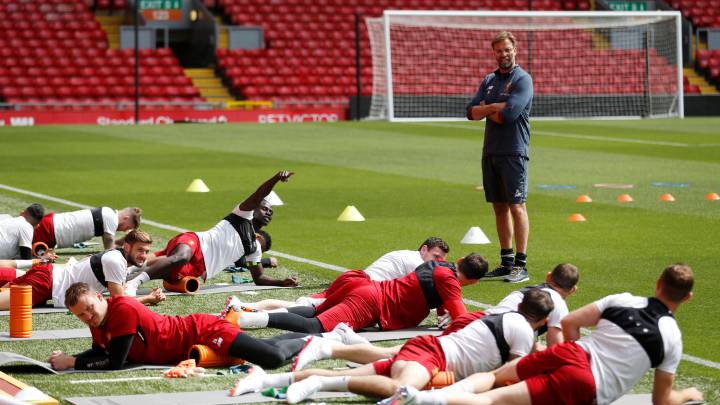 Things are on the up for Liverpool. The Reds top the Premier League table, have won every game they've played so far this season and are tipped as genuine contenders for this year's Champions League - and they have been playing some of the most spectacular football seen at Anfield in recent years. According to German daily Sport Bild, at least some of Liverpool's recent fortunes are down to secret potion which Jürgen Klopp gives to his players after every game which significantly enhances their performance.
Klopp's magic elixir
The isotonic beverage was concocted by former world champions swimmer Mark Warnecke. Warnecke wrote his name into the history books for becoming the oldest athlete to win a major swimming event since 1971. In 2005, aged 35, he clinched the world 50m breaststroke title to great surprise. Years later he confessed that nutrition was a key part of his sporting successes. Liverpool, who heard about his story, offered him a job working alongside the club's nutitionist Mona Nemmer and the German accepted.
Tonic for the troops
Sport Bild write that Mark Warnecke has developed two special mineral tonics for Liverpool's players, which they are given after every match and training. The drinks are very effective in speeding up post-workout recuperation and reducing physical fatigue. The German paper calls the drinks "secret potions".
Warnecke works with former Bayern Munich nutritionist Mona Nemmer, who is considered one of the best in the world in the field. Warnecke's drinks helped American swimmer Dara Torres post faster times after she had retired at 41 than she had recorded when she was 20.
Free of any banned substances

Liverpool's magic potion has come under scrutiny with some suspecting it might breach anti-doping regulations but it has passed every single test it has been subjected to and there is nothing to suggest there is anything illegal in the formula. What cannot be refuted is that since they've been fuelled with their post-match brew, Liverpool are looking more unstoppable than ever.