Leganés 2-1 Barcelona match report: LaLiga gameweek 6
Leganés recorded a historic win over Barcelona, with goals from Oscar and El Zhar seeing them come back from Coutinho's early strike.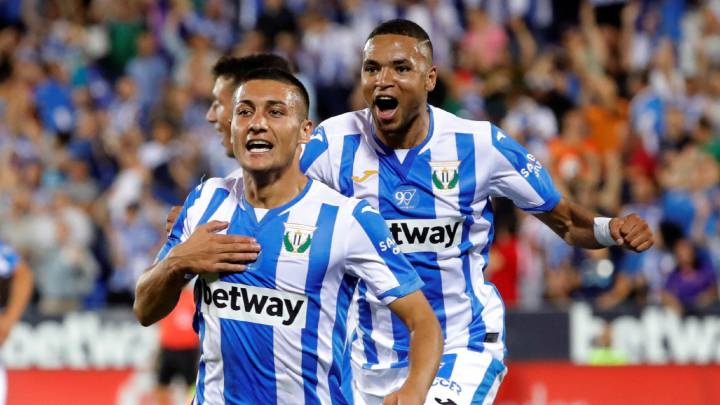 Leganés 2-1 Barcelona match report
Messi's 700th match for Barcelona will not be one he'll want to reminisce about with a grandchild sitting happily on his knee. Barça had started brightly enough, as expected, against the bottom side in LaLiga, dominating possession and generally worrying a Leganés side who had already conceded 10 in three games. And when Messi passed inside for Coutinho to take a touch and make it 11 in three games and 12 minutes it looked like the dropped points at the weekend against Girona would soon be forgotten.
Alas for Barcelona, Leganés were forced to come out after going behind and the 'cucumber growers', as they're known, suddenly discovered they didn't have so much to be scared of. En-Nesryi and El Zhar started making incursions into the Barcelona area and just before half-time Oscar forced Ter Stegen into a decent save.
And in the second half, Leganés turned their new found confidence into three points, hitting Barcelona with a double sucker punch with two goals in the 53rd minute. El Zhar brought them level, nodding home a looping Silva ball, and from the restart Piqué made what will go down as one of his worst mistakes on a football pitch, utterly failing to connect with a clearance and only managing to fluff it to Oscar, who buried first time to put the home side in front.
Barcelona had another come-back job on their hands, but unlike on Sunday they were unable to draw level, despite the introduction of first Suárez and then Alba and new man Malcom. If anything, as the clock ran down, Leganés looked as likely to get their third as Barcelona were to get an equaliser. Messi was as quiet as anything and the rest of the Barça front line failed to link up time and again.
At the final whistle the ovation around Butarque was a thunderous roar of pure joy; no doubt, many years from now, more than one grandchild in Leganés will sit enraptured on an elderly grandparent's knee and hear about the first time their little team humbled mighty Barcelona
Leganés vs Barcelona live online: updates
90'+4' GAME OVER! 
90'+3'   Corner for Barcelona now as time expires.
90'+2' En-Nesyri breaks free as he pushes Umtiti aside. Shot is tame and En-Nesyri bumps into Ter Stegen. Yellow card for En-Nesyri.
90'+2'   Throw for Leganes as Butarque bursts into song.
90'   Leganes had men streaming forward. They can't find them though and the ball goes back to Ter Stegen.
89'   Throw for Leganes now and I'm sure these will take plenty of time. Every set-piece and break of play becomes a mini-break.
88' Yellow for Nyom. He's only on the field and his first involvement is a really late tackle on Coutinho.
86'   Shot from Roberto as it falls to him at the back post. He blazes that one over and I'm sure Cuellar will take his time over this one.
85'   A little bit of controversy there as El Zhar goes down and needs time to get up and make his way off the field. He's exhausted. 
85' El Zhar is being replaced now by Nyom.
85' Merino and Pique tussle on the ground. Pique booked. 
85'   And they are playing with fire a little bit here. Ter Stegen clears. 
84'   Umtiti sees the ball out for a goalkick. Barcelona running out of time.
82' More changes Vesga off for Merino.
81'   What a save! Cuellar saves on the double. Coutinho effort is rejected and then Rakitic follows that up with another one that Cuellar saves.
80'   Corner sent in and it's out for a throw for Barcelona.
79'   Alba crosses and that's out for a corner. Leganes have to defend this now as Barcelona increase the pressure.
76'   Suarez battles hard and wins the ball back before sending it to the right. Leganes win it now though and they win a corner.
75'   Coutinho looks for Alba over the top with a little dink. But that's way too heavy.
73' Gumbau replaces Oscar. He gets a standing ovation. 
73'   Long diagonal ball by Leganes but that's out for a throw.
72'   Barcelona attck but offside yet again. Suarez the culprit this time.
71'   Malcom for Dembele and Jordi Alba for Vermaelen.
69'   Corner for Barcelona as Coutinho's free is cleared.
68'   Malcom and Jordi Alba coming on now for Barcelona.
68'   Dembele fouled by Juanfran. Leganes have some defending to do here. 
67'   Messi looks for Coutinho but there are so many Leganes jerseys. They lose it and Leganes counter.
66'   Juanfran with a nutmeg on Vermaelen and he squares to En-Nesyri. Blocked for a corner.
66'   They're cut out but Leganes keep it.
66'   En-Nesyri dispossesses Messi and they break. They could get three or four goals here! 
65'   Fairly tame yellow card now as the referee gets trigger happy with his cards.
65' Yellow for Vermaelen as he fouls El Zhar. 
63'   Luis Suarez heel caught Raul Garcia's face. Total accident but the referee should have stopped play.
63'   Play eventually stops. And the referee sends off someone on Leganes' bench.
63'   We have a face injury here? Butarque whistling here as Barcelone don't kick the ball out.
62'   Corner now for Leganés. Ref tells the players in the box not to be messing! The delivery arrives in and Barcelona don't mess about with a clearance.
61' Suarez comes on for Munir.
60' Umtiti booked. He fouls En-Nesyri and that looks a little soft.
58'   Bustinza fouled as Leganes take the sting out of this one.
57'   Umtiti throws En-Nesyri off the ball and he wants a free. Not coming and he gives the linesman a talking to. Barcelona still no closer to saving this one.
56'   All of a sudden, Barcelona have a comeback job on their hands.
53' GOAL! GOAL! GOAL! Leganes turn the game on its head. Just like that and Barcelona are behind all of a sudden. Long ball that Pique fails to clear and Oscar finishes.
53' El Zhar! GOAL! Barcelona are pegged back. Ball looped into the back post by Silva and El Zhar heads it home.
52'   Messi out wide to Sergi Roberto and it falls to Dembele from the cross. Leganes under pressure here. They're fighting off Barcelona so far but how long more can they last? There seems to be a lot more space for Barcelona's attacks and full-backs to run into.
51'   Munir shot saved by Cuellar. What a save but he was offside. Messi threads a lovely ball through to him. A mile offside in the end.
50'   Looks like Luis Suarez is warming up for Barça.
49' Dembele got a late stud on the leg. Bustinza the man booked for it. Really sore one.
47'   Barcelona have started the second half well here. They're applying some pressure with a throw now for the visitors. Ball over the top in search of Coutinho.
46'   We are back underway at Butarque.
Teams back out on the field after the break. 
45'   HALT-TIME at Butarque.
45'   Oscar with a nice run down the left and he cuts inside as the overlap causes confusion for Barcelona. He curls one but Ter Stegen saves it from going into the top corner.
44'   Pique heads back to Ter Stegen as half-time approaches.
44'   Looks like Barcelona have weathered the storm. 
43'   Leganes move forward again. A goal here before the break would not be undeserved. They've improved massively since the start and that goal.
41'   Ball over the top and Munir is just offside. Cuellar was off his line in any case but Munir offside again.
40' Ruben Perez given the first yellow of the game. He chops down Messi, as he lies on the ground. He kicked the back of his calf and that is a sore one. Referee hands out the card as justice is served.
38'   Ball over the top to the right and it's crossed by El Zhar. En-Nesyri meets it but it will take a better header than that to beat Ter Stegen.
35'   Messi again as he looks for Munir, who is offside. Dangerous from Barcelona but Munir quite clearly offside.
35'   Lovely link up play between Coutinho and Messi. Messi looks for Coutinho, who continued his run but Leganes manage to clear. Just about too as Barcelona continue to put pressure on.
33'   Busquets with a late slide on Tarin. Leganes improving in this half.
33'   A little aggressive from Silva on Roberto as they try to win the ball back. Leganes looking dangerous down that left hand side.
32'   Silva with a nice cross deep to the back post. It falls to Juanfran and his shot is blocked for a throw. Much better from Leganes, who can play a bit.
31'   En-Nesyri fouls Rakitic as he goes flying into the air. Not as bad as it looked as Barcelona get set to take the free.
30'   En-Nesyri drives forward. The whistle had blown about five seconds before but he keeps going forward with Pique in chase. He shoots, it's saved and the ball comes back for a free.
29'   Barcelona in possession. Silva comes out to meet Roberto and he forces him back to Ter Stegen.
28'   Barcelona might want to wrestle control of this one back before Leganes get too confident. They try that now as Munis finds Rakitic before Leganes win it back and it changes hands (or feet) again. 
27'   Long throw comes in and it bobbles around in the box for a few seconds and it sent up in the air before Silva pushes Rakitic in the back.
27'   A couple of throw in succession now for Leganes. 
26'   That early goal has forced Leganes to come out of their shell a little bit. They're still a goal down though! 
25'   Ball comes back in from Juanfran and Ter Stegen palms it down at the back post. Munir fouled by Oscar as he clears.
24'   En-Nesyri pushed over and fouled by Pique. Ref took a little while to blow the whistle but it eventually does arrive. Leganes with a chance to send one towards the penalty area. Oscar and Silva stand over it. It comes in and Vermaelen heads into the air and Leganes recover again.
24'   There's another effort. This time it's Busquets with the effort but that's well over.
23'   Another Leganes attack snuffed out by Ter Stegen.
21'   Ball over the top to Dembele and he's offside.
18'   Nice move with Vermaelen heading down to Dembele and he takes it down the line before Coutinho finds Messi and his left-footed effort dribbles into Cuellar's feet.
17'   Leganes have the ball and then lose it again before Messi curls one off the very corner of the frame of the goal. So nearly 2-0.
16'   Bustinza wants a free but referee not buying his crocodile tears. Rakitic takes the throw.
14'   Barcelona back in control now after their goal. Pellegrino on the bench looking rather glum as you'd expect. An early goal for Barcelona can mean a beating.
12'   En-Nesyri looking to reply immediately as he fouls Umtiti in the penalty area.
12' GOAL! What a finish from Coutinho. Messi passes inside and he takes one touch up to himself before firing the volley into the bottom corner.
11'   Roberto finds Munir but his effort is blocked. Leganes counter and Umtiti heads clear.
10'   And now Messi fouls Raul Garcia. He can offer a little smile after catching the full-back late. He's been fouled enough himself in his day.
9'   Vermaelen with a foul on El Zhar as Leganes slowly get up to the speed of this one. They've had a couple of little ventures forward. No yield yet.
8'   Ball into Munir but it's out for a throw. 
7'   Juanfran with a cross onto the head of En-Nesyri and he heads it down and into Ter Stegen's arms.
7'   Leganes haven't found their feet at all in this yet.
7'   Just a little warning shot from Dembele.
7'   Ball out to the left and Dembele with his earliest look at goal. He whips one to the near post but Cuellar has it covered and it hits the side netting anyway. 
6'   Messi into the penalty area but that's headed up and out by Leganes. Busquets fouls as it comes back in? Or was it offside. Unclear but Leganes have the ball on the ground and ready to take the free.
5'   Roberto and Munir connect down the right but they have to go back as Rakitic gets it. Busquets fouled by Vesga as Leganes get a little nervous with Barcelona moving forward.
3'   Barcelona controlling possession so far. Lega chasing shadows. Messi picks it up out on the right and he has a sea of blue and white jerseys in front of him. He drops the shoulder and forges ahead anyway.
2'   Oscar tries a pass forward. He can't find En-Nesryi, who is offside and knows it too.
2'   They retreat now as Barca hold the ball and fend off the home side. They're preparing an attack now.
1'  En-Nesryi pressing Ter Stegen early on as Leganés do indeed come out swinging. 
1'   We are underway at Butarque. 
    Messi and Bustinza the respective captains tonight as they shake hands and we pose for another photo.
    And the teams make their way onto the field and we have team photos. 
    We are almost ready for action. Just a few short minutes now as the players wait in the tunnel. They'll be ushered onto the field soon.
    Leganés have only played Barcelona four times and shipped 13 while only scoring three times. They have zero points in those four games too. 
    Leganés have lost their last two games but one goal, two 1-0's, but in the three games before that they conceded 8. They've made it hard to score on them but they've also forgotten how to score! Seven changes for him tonight. Juanfran, Tarín, Jonathan Silva, Vesga, El Zhar, Óscar and En-Nesyri all come in! 
    Messi will have a differen attacking partner tonight with Munir leading the line, it seems. Also, no Jordi Alba means Vermaelen will line up at left-back, unless of course, Valverde is thinking to play a three-man defence?
    Leganes XI: Cuellar, Juanfran, Bustinza, Tarin, Silva, Carnero, Perez, Vesga, El Zhar, Oscar, En-Nesyri.
    Barcelona XI: Ter Stegen, Roberto, Pique, Umtiti, Vermaelen, Rakitic, Busquets, Coutinho, Munir, Dembele, Messi.
    José Arnáíz signed with Leganés from Barcelona this summer but won't feature tonight as he's injured.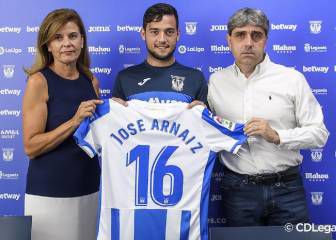 The only positive for Leganés is that they will have played both Real Madrid and Barcelona after tonight. It's easier from here! They were brushed aside by Real Madrid at the Bernabéu just a few weeks ago.
    Pellegrino says you have to be brave in these games! He's under some pressure and while a loss against Barcelona won't doom him, a heavy defeat won't help. Not an ideal position for him to be in.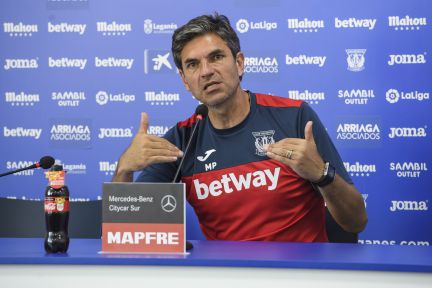 Hello and welcome to live online coverage of Barcelona's trip to Leganés to play the bottom club in LaLiga. It's a first versus last affair at Butarque on Wednesday night as Ernesto Valverde's side need to rebound for the first time this season after dropping points. Kick-off from Leganés is at 20:00 CET.
Leganés vs Barcelona live online: preview
For the first time this season, Barcelona have to rebound after dropping points. They drew with Girona on Sunday night and gave Real Madrid amongst others a chance of catching them at the top of the table. Real Madrid play later on Wednesday night meaning Barça have the chance to extend their lead at the top of the table and pile pressure on their rivals from Madrid. To do that, however, they need to travel into enemy territory and play Leganés, who are, despite how early it is in the season, fighting for their lives in the Primera division. Kick-off from Butarque is at 20:00 CET.
Mauricio Pellegrino's side have failed to score in their last two outings but have conceded just once in either game. Their only point of the season came in a 2-2 draw with Real Sociedad in the second week of the league. They conceded two, two and four goals in those first three games but have tightened up in recent weeks. That will have to continue on Wednesday night with a wounded Barcelona coming to town.
The Argentine says "in games like the one against Barcelona, you have to be brave," and he made a name for himself with Alavés playing a counter-attacking style so it will be interesting to see how he lines out. He won't have the services of Jose Arnáiz, Alexander Szymanowski, Ezequiel Muñoz and Kenneth Omeruo along wither midfielder, Recio, who is a doubt for the game.
Barcelona feel aggrieved by Clement Lenglet's red card against Girona in the first half of a game that finished 2-2. It left Ernesto Valverde questioning VAR and Lenglet suspended for one game. We will never know if that result was caused by the red or if Girona truly deserved their point. It won't matter much on Wednesday, however, as Barcelona will look to kill the game early and look forward to the weekend and their game against Athletic Bilbao at the Camp Nou.
In terms of squad news, Malcom returns to the squad after missing the last two games with injury. He has only played six minutes in the league this season and he replaced Denis Suárez, who will have to watch from the stands again despite being an unused sub against Girona. Lenglet is suspended and won't play but aside from that, Valverde should use a full strength eleven at Butarque. His first foray into rotating his squad backfired on Sunday with Arthur, Arturo Vidal and Lenglet all having varying degrees of forgettable days even though Arthur impressed in spells. Phillippe Coutinho, Samuel Umtiti and Ivan Rakitic should all return to the starting side picked by Valverde.