Sevilla 3-0 Real Madrid: LaLiga 2018/19, week 6
Real Madrid taken to the cleaners by Sevilla as their bogey stadium becomes a house of horrors with the Madrid derby on the horizon.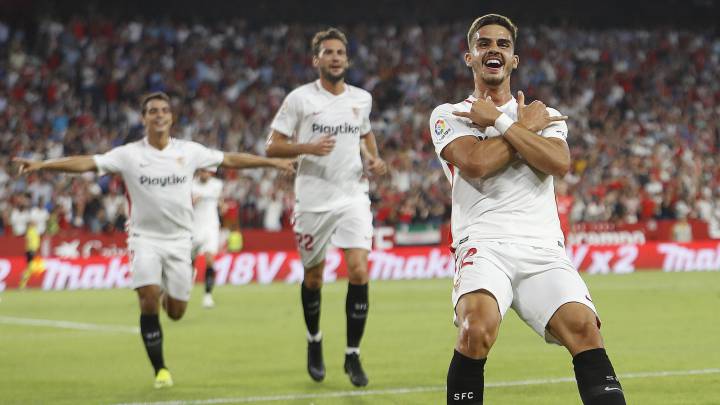 Sevilla 3-0 Real Madrid: match report
Real Madrid had a chance to move top of the table against Sevilla after Barcelona had fallen to lowly Leganés just before los Blancos tipped off at the Ramon Sanchéz Pizjuán. They not only couldn't win but they put serious questions marks over ever aspect of their entire being as a team and squad such was its ineptitude.
From the first minute, Real Madrid were outperformed thanks to a slick and suave Sevilla counter-attack. The home side were as organised in defense as they were clinical in attack, which, admittedly made the visitors look worse than they probably are. But Julen Lopetegui will be going home scratching his head as to why and how Sevilla got at his team so easily. And more worringly, why his team never really responded.
The rout started after 17 minutes when Sevilla broke down the right-hand side with Marcelo out of position and Real Madrid backtracking to no avail. Jesus Navas played it to Andre Silva and he slotted home at the near post.
Silva made it two for himself and Sevilla just four minutes later with an almost identical break down the right. Jesus Navas broke and instead of laying it inside, he shot and saw it saved only for Silva to drive home the rebound.
Real Madrid were at sixes and sevens and the way they were defending, it looked like it might be six or seven if they weren't careful.
Sevilla scored their third on 39 minutes when Ben Yedder slammed a volley beyond Courtois from a set-piece. The corner was whipped in and headed out as quick by Real Madrid. It came straight back in as the striker peeled away and finished with precision.
It had gone from bad to worse as Real Madrid's bogey stadium turned into a house of horrors for them.
The second half went just as Sevilla might have like although it didn't pass without incident. Modric had a goal ruled out for offside and Bale missed a one-on-one thanks to a strong hand from the impressive Vaclik.
They had to soak up more pressure than they might have liked but it was the work they had done in the first half that stood to them as the clock ticked on and Real Madrid's frustrating night grew into one of pure dejection.
It doesn't get much easier for Real Madrid either as Marcelo went off injured with the Madrid derby on the horizon. Julen Lopetegui had used his three subs at that point too and they had to finish the game with 10 men.
Atlético Madrid had an extra 24 hours to prepare for the game at the Bernabeu on Saturday night and beat Huesca by the exact same score as Real Madrid were embarrassed by Sevilla and they will be licking their lips at the prospect of playing a wounded Real Madrid side in a derbi of epic proportions.
As the league heats up, Real Madrid are suddenly looking very fragile and Sevilla took full advantage of that on Wednesday night.
Sevilla vs Real Madrid: live updates
90'+5' GAME OVER!
90'+5'   Hits the wall.
90'+4'   Free for Real Madrid but it will be just a consolation at this stage. Mariano to take.
90'+3'   Vazquez cross is caught by Vaclik.
90'+1'   Five minutes of added time. Sevilla in the corner now and no problem killing time. 
90' Banega off for roque Mesa. 
90'   Real Madrid can't find their way back into this one. Vaclik grabs the ball, Ramos heads it out of his hands and it's out for a corner.
88'   Ceballos fouled as he makes a run forward. 
87'   Jesus Navas offside as Sevilla try to see this one through. 
86' Nolito is on for Arana. 
85'   Sevilla break and then Vazquez is tripped up by Ceballos. 
85'   Arana remains off the field getting treatment. 
83'   Arana down injured. 
82'   Sevilla break again but offside. Not sure it was offside but that's the call from the ref. 
81'   Casemiro with an effort and that sums up their attacking effort tonight. Just a mile over.
80'   A couple of chances for Real Madrid. Ramos can't get a shot away but Sevilla break and the chance falls to Vazquez. He has a free goal, almost, but he fires over. 
79' There's another nasty one. Sarabia booked for a foul on Ceballos.
78'   Kroos almost has his pocket picked by Promes. 
77'   Mariano races in behind and he's offside. 
77'   Marcelo is indeed gone off. Real Madrid are down to 10 men.
75'  Water break. 
74'   Free comes in and it falls to Bale. He fires wide. 
74' Yellow for Banega. He fouls Ceballos with a nasty clip of the heels. Sore one. 
73'   He looks okay though? That was very weird. 
73'   Marcelo's injured. 
72'   Ramos caught late by Promes. 
72'   Mariano drives a shot over the bar. Ball makes its way across the box and he tries to curl one but that's just a mile over the bar. 
71' Ceballos coming on for Modric. 
69' Quincy Promes on for Ben Yedder.
69'   Sevilla win it back after a poor pass from Vazquez to Modric. They hold on after counter comes to an end.
68'   Cross comes in for Mariano and Vaclik grabs that one out of the sky like it's training. 
67'   That's just poor as Marcelo and Mariano aren't on the same page. 
66'   Kroos whips one across the field. Cross comes in and Sevilla recover. 
65' Yellow for Modric.  Frustrating night all around really as Banega is fouled by Kroos and Modric protests. 
64'   Bale with another chance. What a pass from Kroos as he sets him up. Fires wide. 
63'   And now Varane with a foul as Sevilla survive another scare.
62'   Bale through on goal. He sees his shot saved by Bale. That's as clear a chance as you'll see. 
60'   Courtois well off his line. He heads down and Lucas Vazquez fouls. 
59' Nacho and Benzema off for Lucas and Mariano.
57'   Pressure from Sevilla. A good save from Courtois. And that's very nearly 4-0. Good god, what a chance. Navas sends it across goal and it's nearly put behind the line by a Real Madrid player. Sevilla cutting through them. 
57'   Ramos chilena up in the air and well wide. 
56'   Marcelo with a cross now and it's out for a throw. Modric takes it down on his chest and shoots with Vaclik pulling off a lovely save. Corner for Real Madrid.
54'   It's offside. Referee rules it out and Modric's leg just off.
53'   Luka Modric make it 3-1. Referee calls for VAR though. 
52'   Varane caught late by Andre Silva as he heads clear.
52'   Modric plays it to Bale and he absolutely rifles one a mile wide.
50'   Silva with a shot and it's out and over for a corner. Real Madrid are in serious trouble.
49'   Sevilla attack again. Real Madrid manage to cover and break themselves. Everything is so laboured though. 
48'   Real Madrid making the most routine clearances look so hard. 
47'   Foul by Kroos on Sarabia.
47'   Benzema wins it back and he breaks with Bale in support. Sevilla step in front and win it back. 
46'   We are back underway for the second half. Let's see what approach Real Madrid take.
Two teams back out. No changes for either side, it looks like. 
Lucas looks like he'll be coming on at least. Maybe more subs but it's unclear.
Mariano, Lucas  and Ceballos warming up. 
45'+2'   Vaclik can't catch the cros and Bale fires over. That was so, so close. 
45'+2'   Marcelo crosses and it's another corner. 
45'+2'   Real Madrid on the ball now and Sevilla soaking up pressure. 
45'+1'   Two minutes of added time. 
45'   The free hits the wall and it's out for a corner. Ramos' effort catches a head in the wall.
44'   Foul on Casemiro and it looked like a dive. Banega brought over by the ref and given a warning. 
42'   They're nearly after scoring again. Sergi Gomez slides and puts it just over. 
41'   Real Madrid look completely deflated.
41'   Nacho with an effort that goes a mile wide.
40'   3-0. Ben Yedder knocks it home. Real Madrid are absolutely falling to pieces.
39'   Sevilla with a corner now as Banega makes his way over to take. 
37'   Modric loses out as Sevilla set their sights on another counter. Varane knocks it back to Courtois though and they are saved. 
36'   Benzema and Nacho on the wrong page and it's out for a throw. Sevilla recover.
34' Vazquez booked now for a foul on Bale as they somehow survive that scare.
33'   Vazquez hits the crossbar. Another counter attack that slices open Real Madrid.
30'   Water break now. 
29'   Shot comes in from Kroos.
28'  Ben Yedder takes it too far out to the right. 
28'   Sevilla with another chance. 
28'   Casemiro fouls Vazquez but play continues. 
27'   Kroos wins it back off Silva, who just seems to fall over looking for a free. Real Madrid attacking now. 
27' There's a knock on the head for Vazquez. Bale catches him and he's booked.
25'   Bale shoots with his left. That's never going to trouble Vaclik as he gathers.
24'   Bale drives a shot towards goal. It hits the post. Real Madrid pushing for their first. It comes back in and Bale heads down and Sevilla kick it out for a throw.
22' SILVA AGAIN! 2-0. Real Madrid absolutely stung on the counter.
21'   Real Madrid take over now. Casemiro pops one inside and it's back to Vaclik from Sergi Gomez. It fizzes towards him and he puts it out for a corner.
19'   Cross comes in and Sevilla have some defending to do now as Real Madrid turn up the intensity.
19'   Bale makes a move forward and it's put out for a corner.
17' Silva slots home. Jesus Navas drives down the right and he squares to Silva. GOAL! 1-0. 
16'   It comes straight back in and Ben Yedder takes a touch before firing over.
16'   Sevilla deliver the corner but it's headed out by Casemiro.
15'   Corner for Sevilla. Crossed in and Silva puts Nacho under pressure as he heads up and over.
15'   Sevilla win it back. 
13'   Bale wins the ball back in a crucial moment as Sevilla looked to break free. Now it's Real Madrid on the attack. 
12'   Very, very cagey affair so far. When Real Madrid in possession, Sevilla just sitting back. And when Sevilla in possession, Real Madrid are doing the same.
11'   Ball over the top looking for Modric but that's no use. Varane overhits it. 
10'   Real Madrid on the ball now. 
10'   Another half chance for Sevilla. 
9'   Real Madrid sitting dep now and Sevilla have loads of time. 
8'   Cross comes in from Sergi Gomez and that's headed into Courtois' hands. 
7'   Jesus Navas with a cross and it's headed out by Casemiro. Sevilla keep it though.
6'   Sevilla have started this one much better Sarabia with another cross and Ramos puts it out for a corner.
5'   Free comes in and it cleared. Sent back in but Real Madrid reject it again. Sarabia gets it and crosses but that's about a mile and a quarter over the bar.
5'  Nacho with a foul on Arana. Free for Sevilla now and Banega looks set to swing it in.
4'   Benzema with a run inside off the left hand side. He links with Asensio but the return pass is too heavy and into Vaclik's arms.
3'   Real Madrid take over and Marcelo takes it down on the left. Modric bundled over and he handles the ball. Free against him. That was very harsh.
3'   Sevilla take control of the ball after a decent start for Real Madrid. 
1'   Early attack for Sevilla and Courtois saves for a corner.
1'   We are underway and Real Madrid are the only unbeaten team in the league! 
    Sanchez-Pizjuan sings their hymn. Quite an intimidating atmosphere. 
Wissam Ben Yedder, who has plundered five goals in the past two games, is again partnered up front by André Silva, despite suggestions that Machín might sacrifice one of the strike duo against the joint LaLiga leaders.
Home boss Pablo Machín makes just the one change to the side that walloped Levante 6-2 at the weekend, Guilherme Arana coming in for former Barcelona man Aleix Vidal at left wing-back.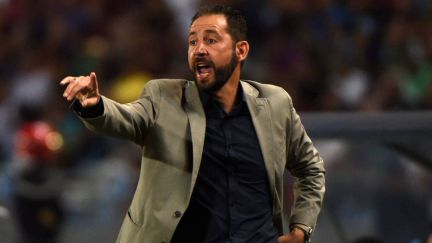 Fresh from winning FIFA's The Best Men's Player Award, Luka Modric had been expected to be given a rest, but starts in Seville in the wake of Isco's diagnosis yesterday with acute appendicitis.
  Meanwhile, Real Madrid's bench sees youngster Vinicius named among the substitutes for the first time. Keylor Navas, Jesús Vallejo, Mariano, Díaz Lucas Vázquez, Marcos Llorente and Dani Ceballos join the Brazilian starlet among the options that Julen Lopetegui has to turn to.
So, Marcelo, Toni Kroos and Gareth Bale come back in for Real Madrid and, with Dani Carvajal still out injured, Nacho deputises at right-back - rather than Álvaro Odriozola, who was handed his debut against Espanyol at the weekend. Thibaut Courtois keeps his place in goal. 
  As we said, we've got live text coverage of Barcelona's clash at Leganés - where, with just over an hour gone, a quickfire, two-goal salvo from the hosts has turned the scoreboard on its head and left the Catalans trailing 2-1! 
  Julen Lopetegui's men began the night level on 13 points with leaders Barcelona, who are in action as we speak against Leganés - and we have live coverage of that clash at Butarque.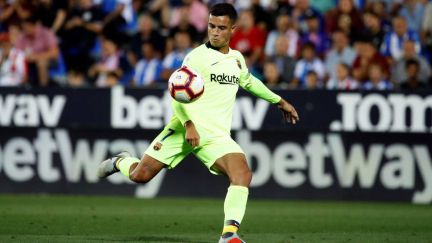 Good evening! Welcome to our live coverage of Real Madrid's LaLiga trip to face Sevilla! Kick-off is in just under an hour's time...