Leganés 2-1 Barcelona player ratings: Messi can't do it all
It was a night to forget for Barcelona as Ernesto Valverde's men conceded two quickfire goals to go down to Leganés at Butarque.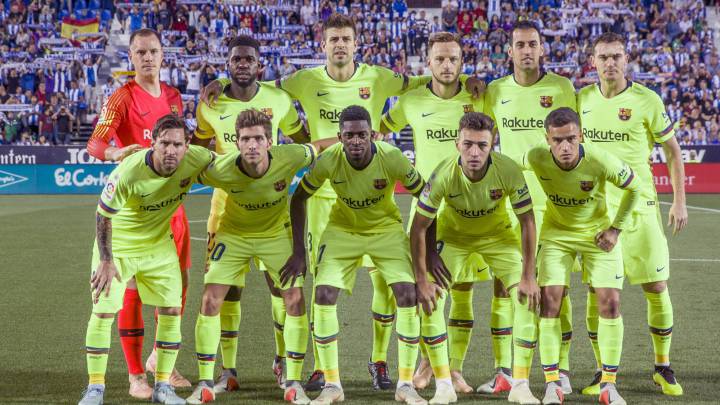 Ter Stegen:
Had no chance with Leganés' two goals, which were both point-blank strikes: one a header by Nabil El Zhar, the other following a schoolboy gaffe by Gerard Piqué. The German goalkeeper ended the match bleeding from his mouth and joining the attack to get on the end of a corner. He'll have felt utterly helpless tonight.
Sergi Roberto:
With the left flank offering little going forward, Barcelona's play tended to end up over on his wing, but while the youth product offered plenty in the way of desire, neither his crosses into the box nor his shots on goal were on the mark.
Piqué:
His grave error proved his team's undoing, as the central defender's attempted clearance merely served to set up Óscar Rodríguez to score Leganés' winner. There's no getting away from it: it was a moment that left his evening in tatters, having up to then not been too bad.
Umtiti:
Barcelona's best defender on the night - although, given how weak the visitors' backline was at Butarque, that's hardly an achievement for the Frenchman to write home about.
Vermaelen:
A disaster at full-back, but that's hardly his fault. The Belgian is a centre-back by trade, and everything he's used to doing is geared towards playing at the heart of the defence. Fielding him on the left flank was a solution that proved sterile and innocuous. He hardly joined in the attack or opened up the left wing at all, and was guilty of a degree of passiveness in the air in the lead-up to Leganés' firt goal. If he was out to earn his place at Wembley next week, there can be little doubt that he failed in that mission.
Busquets:
It just isn't normal to see the midfielder so swamped with work and showing clear signs of impotence. Busquets' performance was one that trailed off. At 2-1 down, he repeatedly rushed himself into errors.
Rakitic:
Had a chance to level the scores at 2-2 when following up on a Philippe Coutinho shot that was saved by Iván Cuellar, but in turn saw his effort stopped by the Leganés keeper. The Croat sometimes displays a dangerous tendency to go MIA.
Coutinho:
Scored a fine goal with a strike from outside of the area that surprised Cuellar but, overall, the Brazilian was disappointing. He conjured up some neat enough link-up play with Lionel Messi which, at the end of they day, led to little end product. He had a good opportunity to equalise with a curling shot which, on this occasion, Cuellar was equal to. Coutinho is a player who suffers a lot of in-game dips. He must be more consistent over the 90 minutes, and have a more persistent influence on the team's play, if he wants to be a true, top-class star.
Messi:
The Argentinian cannot do it all out on the field. He provided the pass to Coutinho in the build-up to Barcelona's goal, before firing a shot against the crossbar shortly afterwards. But he did not look at ease playing with Munir El Haddadi or, even more importantly, without Jordi Alba. There's no escaping the fact that, if you take Messi's accomplices away from him, his game is adversely affected.
Munir:
A poor game by the striker, who repeatedly got caught offside. He sought out Messi in a blinkered fashion that ultimately damaged the football he played. A missed opportunity for the Moroccan; it remains to be seen whether Ernesto Valverde will give him another in the near future.
Dembélé:
It's clear that the comparisons with Neymar were too hasty. He doesn't have the talent, or the audacity, of the Brazilian. His all-round attacking play, which seems to be entering into a bit of a slump, was loose - he gave the ball away all too often - and if he's not chipping in with goals, either...
Substitutes:
Suárez:
Came on for Munir, who looked lost. The Uruguayan's dynamism and will to win at least brought some penetration and agression to the attack; however, it's not as if he had that many moments on the ball.
Alba:
His introduction made a real difference, if not to the final scoreline then at least in opening up the play and offering solutions on the left flank. It's clear that, right now, his presence on the pitch is a must.
Malcom:
The Brazilian didn't get long. Valverde would do well to drop Dembélé to the bench against Athletic Bilbao and let Malcom get some LaLiga experience and show what he can bring to the side.