Ramos responds to criticism on Twitter, asks for fans' support
Sergio Ramos has directly responded to a fan on Twitter who took aim at him for ignoring criticism from his followers.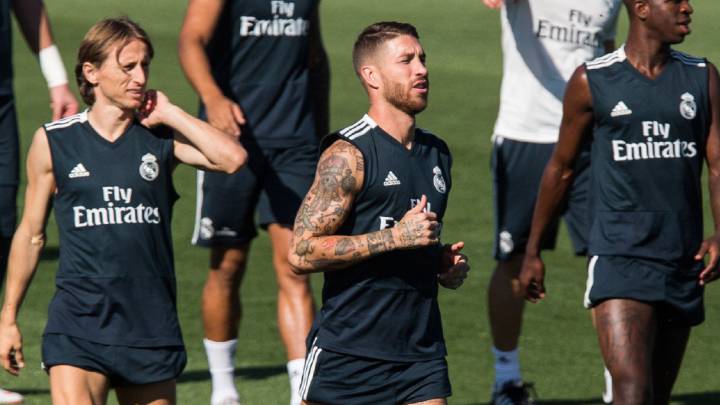 Sergio Ramos took to Twitter this Friday evening to directly address a follower over his response to criticism following the defeat to Sevilla, and also thanked fans for their support ahead of the vital derby clash with Diego Simeone's Atlético Madrid on Saturday at the Bernabéu.
In a tweet to Ramos earlier this Friday, Madrid supporter futbolinside77 wrote (in Spanish): "I was going to write some criticism but what's the point? Even if, hypothetically, you read my tweet, you would ignore it. We'll continue cheering for Real Madrid, whatever happens."
Sí os leo, llego a lo que puedo porque vuestras respuestas, afortunadamente, son muchísimas.
Las críticas constructivas siempre son bienvenidas, ayudan a mejorar como los ánimos ayudan a persistir.
Gracias a todos por el apoyo. Os esperamos mañana en el Bernabéu.¡Juntos siempre! https://t.co/uEKodVO6n3

— Sergio Ramos (@SergioRamos) 28 de septiembre de 2018
A couple of hours later, futbolinside77 was no doubt surprised to find that the Real Madrid captain had in fact read his message and offered him a direct response.
"Yes, I do read [your messages], I read as much as I can because, fortunately, there are a lot of your messages," Ramos tweeted futbolinside77.
"Constructive criticism is always welcome; it helps us to improve like encouragement helps us to persist. Thanks for your support. We'll wait for you tomorrow at the Bernabéu. Always together!"
Ramos will be hoping the Bernabéu faithful get behind their team on Saturday, as they look to steer their LaLiga campaign back on course after the humiliating 3-0 defeat to Sevilla on Wednesday.
4





LaLiga Santander
*Update 28 de septiembre de 2018