Giménez: Bernabéu doesn't have same atmosphere as the Wanda
The Atlético defender gave an interview ahead of the derby against Real Madrid, saying the winner will be "the one who wants it most".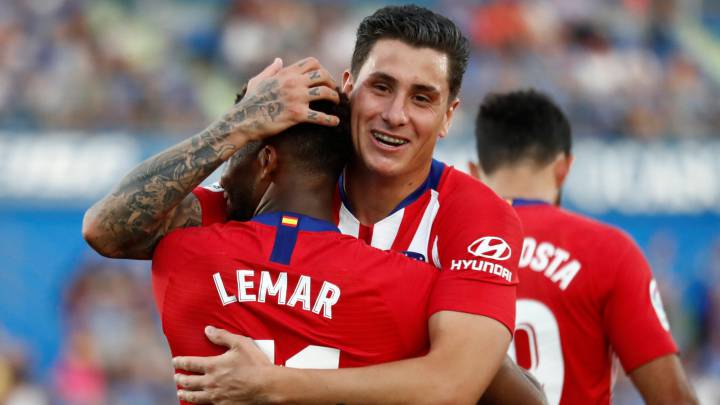 Atlético Madrid defender José María Giménez has said that in the derby against Real Madrid "it doesn't matter how you play," winning is "the main thing" in a game that must be played "a lot with the head," with "the heart and with emotion."
"In a game of this style, you have to play a lot with the head. A lot also happens due to the heart and emotion. The one who will win the game will be the one who wants it the most, no matter how you play, you win. The main thing will be winning, be it beautiful or ugly," said the Uruguayan defender in an interview with the official website of LaLiga Santander.
This Saturday, his team visits the Santiago Bernabéu. "Despite the rivalry, it's a great stadium. It's nice to play there. Although it doesn't have the atmosphere that the Wanda has, it has a derby atmosphere. It's always nice to play there but even nicer to win," he explained.
Taking it game by game
Giménez sees Atlético as a club "with great individuals, great teamwork and a coaching staff that works well," and believes that they must "dream big" with the squad that they have available this season, but insists that they must take it game by game.
"While we have the objectives set as a team, we always want to meet the short-term objective to achieve the long-term objective," he explained.
Diego Godín: a guiding figure
Giménez also spoke about his teammate and compatriot Diego Godín. "It's different from what you can experience in other teams: when you arrive and you have a teammate in the same position that is from the same country – this has been a plus in my career. I've had him by my side to talk to, to ask for advice, but especially to watch him on the field and to learn a lot of things from him," he added.
"I think that at 23, I don't know everything. I am certain that I have a lot of room for improvement in every sense. That's what I think. I want to keep learning and to be great central at Atléti."
24
*Update 28 de septiembre de 2018
LaLiga Santander
*Update 28 de septiembre de 2018