Ryder Cup 2018 final day: Europe win the Ryder Cup
Europe win the Ryder Cup after Francesco Molinari beats Phil Mickelson and claim the 14.5 points they needed to win it back off the USA.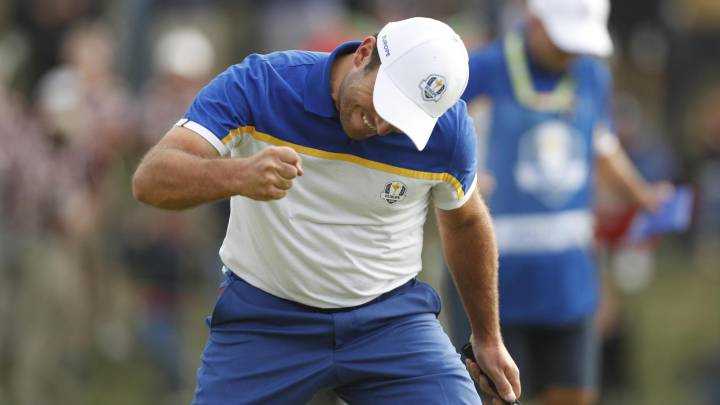 Europe regain the Ryder Cup
Europe regained the Ryder Cup as captain Thomas Bjorn's team reached the 14.5 points they required to beat the United States at a packed Le Golf National on Sunday.
Leading 10-6 going into the 12 singles matches there were some nervous moments on an exciting afternoon as the Americans occasionally threatened a comeback.
But with Ian Pouter taking the total to 13.5 with victory over world number one Dustin Johnson and Francesco Molinari, Sergio Garcia and Henrik Stenson all assured of at least a half the European team could begin to celebrate.
Defeat means the U.S.'s long run of failure on European soil in the biennial team competition goes on. The last time they won away was in 1993.
Ryder Cup 2018, final day: Europe 16.5-9.5 USA
    Incredible as Molinari is mobbed at the side of the green.
    Molinari could win 5 wins in 5. No European has ever done that and Mickelson concedes the point. Mickelson hits it into the water. He takes his cap off.
    That's it for Europe, Europe are guaranteed the point they need. 
    Sergio Garcia goes 2 up with 2 to play.
    Poulter wins that hole and he's 2 up. He wins another point off Johnson and he puts Europe up 13.5 to 9.5.
    Stenson in a situation where he can't lose being 5 up and with 5 to play. 
    Poulter shoots. That is just a fabulous shot from Poulter. That's surely another point for Europe.
    Poulter needs to land this on the green and he should be comfortable for the win and for a point for Europe.
    Johnson with his second shot. He lands it at the back of the green. 
    Stenson is 5 up on Bubba Watson and that could be where Europe's next point comes from.
    No problem whatsoever and that is straight down the middle from him. 
    All eyes on Johnson versus Poulter. On the 18th and the European set to drive. 
    Molinai does indeed sink that and he is 3 up on the 14th.
    Molinari with a beauty now. He is 2 up against Mickelson on the 14th. He might be about to go 3 up.
    Poulter just misses. It lips out. He can't win the match and will have to wait until the 18th to potentially do just that.
    Poulter to win the match. 
    Johnson's third shot. He chips on and he sends that out to the right. 
    Poulter coming up big. 
    Poulter one up and safely on the green. Johnson will be lucky to survive this.
    Garcia goes 2 up. 
    Rahm is absolutely fired up. He's just slapping everyone's hands. He's delighted and he has pushed Europe to within a point and a half of victory.
    12.5 to 9.5. Europe needs just two more points.
    Rahm wins it. He wins another point off Woods. 
    Dustin Johnson nails a monster putt and piles pressure on Poulter.
    Rahm about to win a point for Europe. 
    Okay, so Rahm is about to putt for the birdie. Woods will chip. If he wins this, he wins another point for Europe.
    Poulter comes up big again. Lovely first shot.
    Current score is 11.5 to 9.5.
    Projected finish is 17-11.
    The big one for the moment. Woods versus Rahm smashed one down the left fairway and he sets himself up nicely. He recovers from the 16th and the shot he missed. He has the chance now to finish this.
    Thorbjorn beats Spieth. Europe go one closer to winning the Ryder Cup.
    Rahm is really annoyed with him. 17th tee now and just one shot up.
    Rahm has a chance to hole it and set to remain 2 up. But he misses! What a miss that was. 1 up and it's really not deal to have this much pressure to beat Woods. 
    All of a sudden, Europe are feeling more confident. 
    Mickleson now to halves the hold and he misses that. Molinari goes 2 up.
    Woods gives himself a chance now and puts himself in position to land a birdie. 
    Poulter to win the hile. He lands it. Perfect. 12 feet and it's in. He goes one up. 
    On the 14th. Poulter versus Dustin Johnson. Poulter could win this hole now. 
    Rahm just hits it to the right and it doesn't break the way he might have liked. Misses. 
    Woods puts. It's not hit hard enough and Rahm is hitting this down the hill to win the hole. And to go 3 up.
    Woods puts his ball down on the 15th and he is two down. This is for a birdie. 
    Fleetwood misses as it flies past the hole. He concedes and another point to the US.
    Tommy Fleetwood is in trouble. Finau could beat it him now. Let's see this! The European has a long putt to try and keep this match alive. Close to 30 feet. Finau waits...
    To now it's 10.5 to 8.5.
    Simpson wins as he sinks that putt. That was pressure. He backed away, thought again, and the fans not happy. It didn't bother him.
    Rose with a birdie on the 16th. Simpson still has the chance to win it but there's a lot of pressure on him now. 8 feet. 
    He misses. And Koepka finishes the match with a half. That's 10.5 to USA's 7.5
  Paul Casey for a birder. 25 feet out and he has the chance to win this hole, and the match.
    Here's Rahm to go 21 up. He missed it. 
    Woods. sends it up the ridge it had rolled down. He's about 6 feet away from the hole and this is big for Rahm and for Europe.
    Rahm's 3rd shot on a par 5. He chips on and that just rolls over the hole. He's really close. Woods about to go down 2.
    Rahm takes the leads versus Woods and they are on the 13th.
    Noren wins the last hole against DeChambeau. The American is 1 up. 
    Casey down get it back all square versus Koepka. To the 18th.
    Finau versus Fleetwod. He's 5 up and he has the chance to finish this. But Fleetwod can half this point after Finau sinks that point. 
    Justin Rose could go 3 down here. He had to go to the hole with his 2nd. He lands the drink. Within 8 feet and Webb Simpson could go three up, which looks very likely.
    Brooks Koepka and Paul Casey go to the 18th. Casey handed a reprieve. He does indeed land it to the cheers of the crowd.
    First blood to the USA.
    McIlroy lands it on the green but he will concede this hole, it seems. 
    Thomas now with his second and he needs to be calm here. Find the green and his second is brilliant. 15 feet from the hole and that's a point for the USA.
    McIlroy was aggressive there and he lands it in the drink. 
    Justin Thomas is going to win this, it looks like! He's in the bunker on his third shot on a par four. Thomas sitting pretty on the fairway. Let's see.
    Let's stick with Rory McIlroy here as he steps out of the bunker to figure this out.
    Remember Europe are up in 4 and down in 5 and all square in 2. This is tense. Rory McIlroy in a bunker and as it stands it would finish 15-13. 
    Webb Simpson is two up with with four to play. 
    Koepka for a birdge put on 16. He's 1 up. And that breaks left and he is not far away at all. 
    Here is a complete rundown of the Ryder Cup scoring. 
    The crowd chants "Rory, Rory, Rory". Over to the 18th. 
    McIlroy needed that five-yard putt.
    All square. That's good enough for McIlroy and Europe. They are on the 17th and move onto the 18th now.
    McIlroy needs this to halve the hole.
    Ohhh, Thomas sinks that one for USA. 
    Tiger Woods just birdied the 12 and is all square with Rahm. 
    Casey trails Koepka by 1. It lands inside Koepka's and Casey has a chance to putt that and reel Koepka back in.
    It's Europe 10-6 USA. 
Hatton and Reed all square now after six. 
Reed takes the lead over Hatton after five holes, the American moving to one up with a beautifully rolled putt.
Europe up in six, the US up in four, all square in two.
  Thomas levels his singles pairing with McIlroy.
Stenson moves one ahead on Watson. Europe now up in seven!
Tiger has pulled one back in his tussle with Rahm, cutting the Spaniard's lead to just one.
Justin Thomas sinks a lovely putt to halve the hole with McIlroy on the 11th. "You have to take your cap off to Thomas there," gush our Spanish TV commentary team.
Now Olesen goes two up on Spieth! Olé Olesen!
Olsen goes back up one on Spieth, leaving Europe up five now.
Jon Rahm remains one-up in his duel with Tiger Woods as he matches the American at the sixth.
Justin Thomas has brought his pairing with Rory McIlroy level on the 10th, leaving the US up in three, Europe up in four and three all square.
Play got underway just under two hours ago, with Europe currently up in five, the US up in two, and one pairing all square.
Ryder Cup Sunday singles: preview
Having taken a 10-6 overnight lead into Sunday's singles, Europe are aiming to claim back the Ryder Cup from United States as the tournament's 42nd edition enters its final day of action at Le Golf National in Guyancourt, Paris. Can the US repeat their famous 1999 comeback from the same position and clinch a first Ryder Cup win outside of America since 1993? Can the hosts hold on for their 10th Ryder Cup triumph since they began competing as Europe? Play got underway at 12:05 CEST, with the Europeans needing just 4.5 points to secure victory.