Russian Grand Prix: Hamilton benefits from team orders to win
Lewis Hamilton leads Sebastian Vettel by 50 points with five races remaining after winning the Russian Grand Prix for a third time.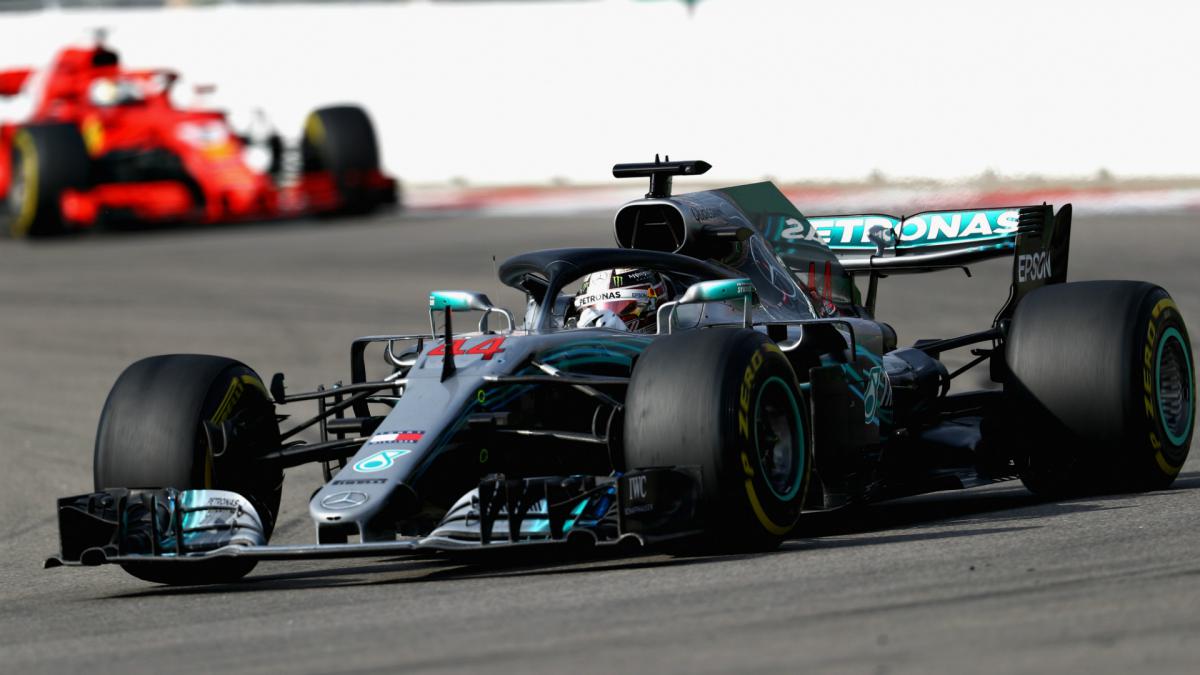 Lewis Hamilton benefited from team orders to win the Russian Grand Prix ahead of team-mate Valtteri Bottas and extend his lead in the battle for the Formula One world title.
Mercedes have now won five out of five races at Sochi Autodrom, continuing their dominance with a one-two on Sunday as Hamilton claimed a third win in a row to take a 50-point advantage over Sebastian Vettel, who took third spot.
Bottas started on pole ahead of Hamilton but was told to move aside and allow his team-mate through into second place on lap 25 of 53.
Max Verstappen led at that point after hitting the front on lap 19, having started way back in 19th on his 21st birthday due to engine penalties both he and Red Bull team-mate Daniel Ricciardo incurred.
Verstappen finally pitted with 10 circuits to go, Hamilton taking the lead on soft tyres and keeping it by 2.545 seconds, with Vettel almost five back in third, to enhance his chances of claiming a fifth world title with five races to go.
Hamilton was not impressed when Vettel passed him after the world champion emerged from the pit lane side by side with his title rival on lap 14.
The Brit overtook Vettel with a move into Turn 4 two laps later after he had been irked when Vettel defended his position at Turn 2, an incident which the stewards looked into to but decided to take no action.
Vettel's Ferrari colleague Kimi Raikkonen was fourth ahead of Verstappen, outstanding on his birthday, and Ricciardo finished sixth.
Charles Leclerc took seventh with an excellent drive, with Kevin Magnussen eighth a day after signing a new deal with Haas.
Racing Point Force India duo Esteban Ocon and Sergio Perez completed the top 10, with Toro Rosso duo Pierre Gasly and Brendon Hartley retiring early on due to 'brake issues'.
BOTTAS CLEARLY NOT IMPRESSED WITH BEING UNDER ORDERS
Bottas won in Russia last year and got a great start from pole as Hamilton was put under pressure by Vettel.
The Finn pitted from the lead to switch from ultrasofts to soft tyres on lap 12 and was back in front a couple of laps later after both Hamilton and Vettel had gone in for new wheels.
With Raikkonen and Verstappen ahead of him without having been in the pits, Bottas was poised in third spot with a victory there for the taking.
Bottas was second when Raikkonen came in on lap 19, with Hamilton and Vettel battling it out behind him.
As Hamilton gathered pace, Bottas was told to let him through and the Englishman duly went on to seal another win.
There were muted celebrations from Hamilton as he went over to Bottas after the race, his team-mate looking flat after having to settle for the second step of the podium.
VERSTAPPEN PUTS ON A BIRTHDAY SHOW AS RED BULLS FLY
Verstappen put on a sensational show on his big day, leading for much of the race after starting so far back with a new power unit.
The flying Dutchman got off to a brilliant start, climbing 11 places in the opening five laps.
Verstappen led for much of the race and reacted to a move from Hamilton at Turn 2, defending superbly into the corner before finally pitting and was left to reflect on a memorable day.
He told Sky Sports: "I'm very pleased. The goal was always to be fifth and I am happy with that.
"It was a good launch and I had good traction. It was the right decision to take the engine penalty today rather than in Mexico. A bit of birthday cake today? I think so."
Team-mate Ricciardo was called in after 40 laps and was fitted with a new nose as well as soft tyres, having complained of debris being stuck in his front wing.
IN THE POINTS
1. Lewis Hamilton (Mercedes) 1:27.25.181
2. Valtteri Bottas (Mercedes) +2.545s
3. Sebastian Vettel (Ferrari) +7.487s
4. Kimi Raikkonen (Ferrari) +16.543s
5. Max Verstappen (Red Bull) +31.016s
6. Daniel Ricciardo (Red Bull) +80.451s
7. Charles Leclerc (Sauber) +98.390s
8. Kevin Magnussen (Haas) +1 lap
9. Esteban Ocon (Racing Point Force India) +1 lap
10. Sergio Perez (Racing Point Force India) +1 lap
DRIVER STANDINGS
1. Lewis Hamilton (Mercedes) 306
2. Sebastian Vettel (Ferrari) 256 (-50)
3. Valtteri Bottas (Mercedes) 189 (-117)
4. Kimi Raikkonen (Ferrari) 186 (-120)
5. Max Verstappen (Red Bull) 158 (-148)
CONSTRUCTOR STANDINGS
1. Mercedes 495
2. Ferrari 442 (-57)
3. Red Bull 292 (-203)
4. Renault 91 (-404)
5. Haas 80 (-415)
NEXT UP
Is the Japanese Grand Prix next week, a race which Mercedes have won in each of the last four years - three of those victories coming for Hamilton – including the 2017 race.