CSKA 1-0 REAL MADRID
CSKA Moscow 1-0 Real Madrid: Champions League match report
An early from from Vaslic was enough to see Real Madrid lose to CSKA Moscow in the second round of the Champions League at the Luzhniki Stadium.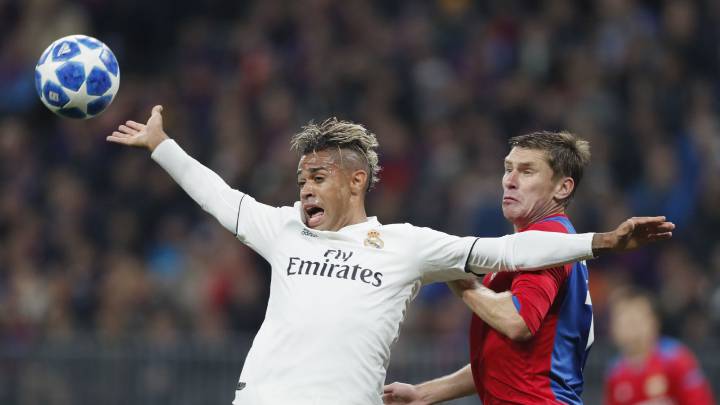 CSKA Moscow 1-0 Real Madrid: match report
As far as lessons go in how to dominate every meaningful stat while losing the one that matters most, Real Madrid put on a masterclass at the Luzhniki Stadium on Tuesday night in the Champions League with 21 shots and 70 percent possession against CSKA Moscow.
They dominated for almost every moment from the first until the last except for a very brief five-second spell in the second minute when a Toni Kroos backpass was jumped by Nikola Vaslic and he put CSKA ahead.
Real Madrid had chances too in that first half. Once they got to grips with CSKA's rare counter attacks and started to really dominate possession, they hit the post and the crossbar through Casemiro and Karim Benzema. It all felt to forced and frustrating, however, for a Real Madrid side who have failed to score in three games for the first time in over a decade.
The second half kicked off with more of the same and Real Madrid hit the post in that half too. It was late on though and through Mariano, who came on a second half substitute to inject pace into a stagnant attack but ended up being another body in a sea of legs, arms and torsos in CSKA's penalty area.
Shots rained from outside the box with Marco Asensio and Toni Kroos going close. There were shots that weren't close either with Asensio and Benzema bring the cuplrits of some wild efforts that were born out of a need to do something when nothing seemed available to them.
As the game ticked on, CSKA retreated further back. It got to the point where they stopped even pretending to run after the ball once they kicked it up the field.
Raphael Varane had one last chance in the dying seconds but headed wide. As time expired, the referee sent off Igor Akinfeev with two quick-fire yellows. He played on but there was no time for any more action.
Real Madrid won the possession battle but they lost the war and fall to third in their Champions League group after a tough night in Moscow. It's back to domestic competition with Alaves at the weekend for Lopetegui's side who will have to, at least, score in that game to prove they aren't immune to doing something they seemed to be able to do at will in the Champions League and beyond last season.
CSKA Moscow-Real Madrid: live
90'+8' It's officially over now.
90'+8'   Into the 8th minute of added time but it was mostly taken up by referee making a meal of this.
90'+4'   Referee is making a mess of this. It's not over. He won't let the keeper come on. Kyrants off for the sent off Akinfeev as a keeper comes on. 
90'+4' Akinfeev sent off after the game. It's over, it looks like. Two yellows in the space of about two seconds. 
90'+4'   Referee plays over the four minutes and Varane heads it wide at the back post. 
90'+4'   Can CSKA hang on? Kroos loses it and if they hold onto it here they win the game. They can't though. And they're caught out of position too. One last chance. 
90'+4'   Mariano with another header and that's well over the bar. Just a few seconds left now. 
90'+3'   CSKA with a venture into Real Madrid's half but they can't get a shot away. Reguilon is pulled down and CSKA have more defending to do. 
90'+2'   CSKA Moscow fans in the stands with no shirts on and they're singing to their hearts' content. 
90'+2'   Ball sent in by Ceballos and it's handled again by Mariano. 
90'+1'   Can Real Madrid find the breakthrough.
90'+1'   Four minutes of added time. 
90'   Odriozola hits the post with a flying header at the back post. Wow! 
89'   Ball down to Mariano and he handles it. CSKA taking their time now and they have retreated all the back into their own half.
88'   Ball arrives in and Mariano hits it wide.
87'   Cross comes in and Modric heads it wide. CSKA in no hurry with this goal kick. 
86'   That is really poor from Asensio. He sends in a cross that is over everyone. 
85'   Mario Fernandes sends it up the field. CSKA holding on now but it looks like Real Madrid are unable to find a way through.
82'   Throw for CSKA. They take their time over that one. 
81'   That's another corner for Real Madrid. Asensio sends it in and it's headed out. Ceballos gets it, shoots and Akinfeev puts it behind for another corner. 
81'   Tough shot to take. And Chernov is down now after taking a blow to the back of the head. 
81'   Flicked up onto Mariano's foot and he hits the volley a mile over the bar. 
80'   Real Madrid continue to knock on the door. 
78' Chalov off for CSKA. Sigurdsson the man to come on.
77'   Corner taken short and whipped in before it's cleared by Odriozola. Throw for Moscow now.
77'   Moscow looking more likely here. Bijol shoots and Navas saves. Corner for the home side.
76'   Modric covers and that's out for a corner.
74'   Kroos has a shot. Akinfeev scrambles across his goal. Wide. That was close though.
72'   Reguilon crosses after a couple of nice passes out wide by Modric. Corner for Real Madrid now.
70'   Odriozola down the right again. He runs it out over the endline. 
69'   Mariano fouled. Real Madrid with another chance to whip one in. 
68'   Benzema cross, Mariano heads it down at the back post and Asensio blasts it over the bar.
68'   Cross is whipped in and it's over two Real Madrid players' heads. They keep it though and continue to put Moscow under pressure.
67'   Odriozola wins a corner for Real Madrid.
67' First yellow of the game. It's Bikol who slides in and he gets a yellow. Reguilon the man he hacked.
66'   Real Madrid under pressure again. Crossed in and that's driven away at the back post. 
66' Dzagoev off for Efremov. 
65'   Chalov can't keep a long floated ball in. Throw for Real Madrid.
64'  Throw for Real Madrid. 
63'   Benzema strikes now and there's a Moscow player on the ground. 
62'   Moscow readying their first sub. 
60'   Another Madrid attack breaks down. They are all over Moscow but can't break them down. Moscow's every attack is the same but they are far less sustained. 
57' Modric and Mariano replace Casemiro and Lucas Vazquez.
57'   Benzema with a shot from outside the box. Not working tonight for him as he curls that one well over. 
55'   Moscow making hard work of a cross by Odriozola. It should be cleared at the back post but it's not and it's sent back over the top other post where they eventually do get it away. 
54'   Varane with a hopeful ball over the top to Benzema. He fights for it but he's outmuscles and it goes to waste. Moscow attack now and they are snuffed out before winnint a throw. 
53'   Headed wide at the front post. 
53'   Corner for Moscow. Vlasic with the cross and Lucas gets a leg to it. Organised attack from the home side.
52'   Asensio with another shot. A mile over the bar this time. 
52'   Mariano and Modric getting ready to come on now, it seems. Both warming up. 
51'   Moscow in again but Dzagoev takes it too wide, Nacho recovers and then he's fouled in the penalty area. 
51'   Ball across the field from Lucas to Odriozola and he can't keep that in. 
50'   Cross comes in and Benzema waits for it. Moscow don't though and it's headed to the keeper. 
49'   Asensio with a shot. Akinfeev struggles to see it properly. He saves but only just. Out for a corner. 
47'   Some sustained pressure from Real Madrid but Moscow staunch in their approach. Won't let them through. They get the chance to, maybe, counter a couple of times but it's not working. Real Madrid back in possession. 
47'   Ceballos on the right now as Lopetegui tries to innovate and spark a change in his side. 
46' Back underway after the break! Modric is back warming up for los Blancos. No sign of a change yet though.
45'+2'   Referee blows the half-time whistle. 
45'+1'   Real Madrid try one more cross and attack but that's tame by Reguilon and ends up in Akinfeev's hands. 
45'+1'   One minute of added time. Becao on the ground and grabbing the back of his leg. 
45'   They do get it forward. Not a bad effort either but they can't actually get a shot away in the box in the end. Kroos fouled by Fernandes. 
44'   Moscow continue to cling on. They counter now but options are limited.
43' Carvajal replaces by Odriozola. 
43'   Benzema offside. 
43'   Every ball into the box at this stage looks dangerous.
42'   Ball out to Asensio but he loses it after Lucas' cross. Moscow break but lose it again. Truly dominant from Real Madrid but no breakthrough yet. 
41'   Benzema cross is chested down and cleared by Moscow. Real Madrid back on the ball.
41'   Moscow retreating again. They haven't had a kick in a while. 
40'   Benzema hits the crossbar with a header. Akinfeev looked like he had it covered but obviously didn't. Reguilon's delivery. 
39'   Kroos with a lovely pass into Carvajal and he takes it down, cuts inside and shoots. Akinfeev saves but that was a really nice move cutting through the middle with an incisive pass from Kroos.
38'   Odriozola is coming on it looks like.
38'   Akinfeev with a dangerous clearance. Kroos handles the ball and he gets away with one there. 
38'   Dangerous counter by Moscow but the final pass lets them down and Nacho steps in to recover. 
37'   Benzema picks the ball up and curls one over the bar. 
36'   There's another corner. Casemiro sends the ball into Benzema but that's put out over the endline. 
35'   Kroos free is headed out but only as far as Ceballos and he shoots. It takes a nick off a head and stays in play. Ball eventually scutters to Akinfeev, who bends down and picks it up. 
34'   Free as Lucas fouled by Vlasic, the goalscorer.
33'   Reguilon takes a knock. If he isn't okay, the options are seriously limited.
33'   Real Madrid bossing possession. No way through yet. 
31'   Lucas tries to go through two Moscow defenders but loses out. 
30'   Lucas fouls Nababkin. 
29'   Moscow again on the break but when they don't have men in support, or one things goes wrong, they're screwed. They lose it again as white jerseys swarm them. 
28'   Casemiro evades a challenge and drives forward. He hits the post and it's out for a goal kick. Akinfeev not happy with his side's defending. He tells them not to dive in, which is how the Brazilian broke free into space.
27'   Poor control from Lucas as Benzema chests it down to him. Moscow recover, and lose it again. They don't seem to mind giving it away as long as it's in Madrid territory. 
26'   Mario Fernandes down the right and he is stopped by Nacho. Throw for Moscow. 
25'   Real Madrid win the ball back this time. They play it out from the back as they continue to assert their control on this one. 
25'   Moscow limited in possession but on the break, they look really good. 
25'   Reguilon's pass to Benzema leaves him short. Moscow win a throw. 
24'   Dangerous as it's headed down at the near post by Nacho. Moscow get it away but Lucas sends it back in and Moscow clear again. 
24'   That'll go out for a corner to Real Madrid despite Akinfeev's best efforts. Kroos to cross.
23'   Kroos foules now.
22'   Lucas skips by two challenges. Crosses to Reguilon and his strike is blocked. It falls to Carvajal and his shot is well over the bar. Better from Real Madrid though.
21'   Lucas to Casemiro and he tries to find Lucas again. Moscow recover and Nababkin is fouled. Free for Moscow. 
20'   "Cut it out," he says.
20'   Asensio wants a free as Becao runs into him. He wants obstruction but it's not coming. All he gets is a talking to by the referee along with Becao. 
19'   Reguilon to Asensio now as Real Madrid launch a new attack. Lucas cuts in and plays to Casemmiro. Ceballos coughs it up but Moscow's counter not good enough this time as the visitors recover. 
18'   Free is crossed in. It bobbles free and they strike but Navas gets down to save it. 
17'   Casemiro gives the ball award. Really sloppy. Moscow awarded a free.
16'   Moscow again on the move but Dzagoev's flick towards Chalov sees him ruled out for offside.
15'   Worked shorted and the ball is eventually sent in. Chernov heads over.
14'   Moscow corner. Real Madrid all over the place at the back.
14'   Kroos deliver it into the box and there's an offside for Varane, and you can put another few names to that list too. There were plenty of white jerseys on the wrong side of the law.
13'   Moscow win it back for about 1.5 second before losing it again. And then Bijol fouls Ceballos. Chance for Real Madrid to send it into the box. 
12'   Real Madrid in possession now as Reguilon takes off but sees himself fouled by Mario Fernandes. 
11'   Lucas fouled. Really harsh on the Moscow player.
10'   Moscos looking for a way through now as Becao launches one towards Navas. Poor ball really.
9'   Reguilon picks it up and plays to Benzema. He crosses and Asensio makes his way towards the endline. Headed by Ceballos but that's well wide.
8'   Ball back over the top from Moscow but there are men offside and they won't challenge. Real Madrid back in attack before losing out. 
7'   Reguilon gives the ball away Moscow counter. They win a throw down the other side of the field. That counter looking quite sharp early doors.
6'   Moscow with the ball out from the back but that's overhit and out for a throw. Real Madrid attack through Kroos. He shoots and it's deflected up into Akinfeev's hands.
5'   Reguilon with the cross from the left. That's well over the crossbar. 
4'   Real Madrid win it back now as Ceballos and Benzema link up. Ball over to Carvajal and they look for a way through. Carvajal loses it and they attack down the left-hand side. Cut out by Nacho.
4'   Varane tries a through ball that Moscow intercept. They win it back and attack again.
3'   Not ideal for Real Madrid.
2' Moscow take the lead! Just like that. Nikola Vlasic on his knees celebrating. Kroos with a dreadful pass back and Varane misjudges it - although it wasn't really his fault - and Moscow go 1-0 up. My word.
1'   Ball in behind early from the left for Nacas to deal with but that's way too close to him. Real Madrid take off in attack.
1'   ....And underway at the Luzhniki. 
    Benzema and Akinfeev up for the toss. We are ready. 
    And here we are. The teams emerge onto the field as one of the mascots grabs the weird blue Champions League ball from the podium. 
    Teams in the tunnel! Almost ready for action. Lopetegui says once his team heats the Champions League anthem, they come alive! It's about the start.
    Benzema will captain Real Madrid tonight. He was booed off at the Bernabeu on Saturday. Let's see if his fortunes change tonight. He also hasn't had a shot on target in the last five games.
A fresh evening in the Russian capital with a temperature currently of 8C.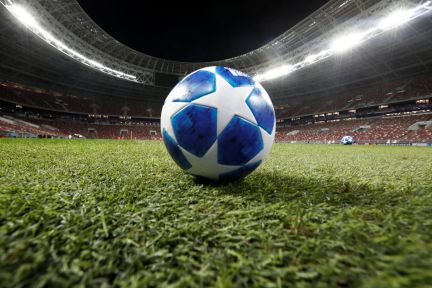 Here's how the spectacular Luzhniki looks this evening as the 2100 CEST kick off looms.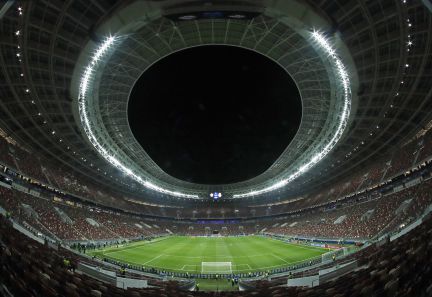 AS Roma and Viktoria Plzen are the other sides in Group G and both teams face each other in the Italian capital this evening.  
Hello and welcome to our live coverage from the Luzhniki stadium in Moscow as CSKA welcome Real Madrid to the Russian capital. Kick-off for tonight's Group G contest is at 21:00 CEST. 
CSKA-Real Madrid: preview
Real Madrid are in the Russian capital for match-day 2 of the 2018/19 Champions League group phase as they face CSKA without Gareth Bale and Sergio Ramos.
Ahead of the second group game for Madrid, CSKA's Alan Dzagoev was one of those for the home side giving the press words to write. And the midfielder wasn't buying the 'weaker' tag being labelled on their opponents:
"They say that Madrid arrive with injuries but, for me, it seems as though they have a squad for two teams."
Much has been made of Madrid's poorish start to their LaLiga campaign - and it's certainly an interesting beginning to the season - but their Russian opponents are not having an easy time of it domestically either. After nine league matches CSKA sit fourth on 16 points having won just four of their games. Zenit lead the way on 22 points with only one loss and one draw to their name.