CHAMPIONS LEAGUE
Neymar hat-trick as PSG enjoy Parisian stroll over Red Star
Goals from Neymar, Cavani, Di Maria and Mbappé made it a comfortable night for Paris Saint-Germain in Group C of the Champions League.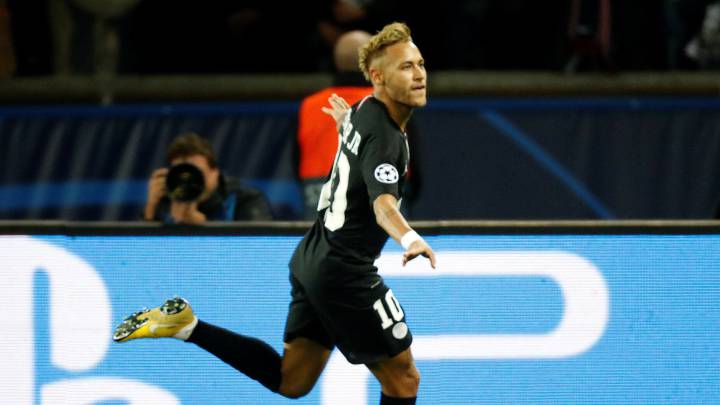 This result was never in doubt and the front three of Neymar, Mbappé and Cavani all got themselves onto the scoresheet, as did Angel di Maria. This is how it played out in real time...
Paris Saint-Germain vs Red Star Belgrade: as it happened
90'+2' GAME OVER! PSG comfy winners in the end.
90'+2'   Di Maria cross as time almost expires flies up into the air.
90'+1'   Cavani takes the ball just outside the box. He strikes and that's well over. Awkward effort from the striker.
88'   Cavani header drifts wide. Kimpembe takes it down and shoots now. Another corner as that takes a flick.
87'   Oh, Di Maria goes close for his second. His touch was lovely to set it up for himself but as it made it's way into the bottom corner, it was blocked. Corner again.
86'   Corner for PSG as Choupo Moting sees his effort deflected behind.
84'   Ball in from the left and he is offside. Replay suggests he might not have been but ref says so.
84'   Cavani scored but he's offside.
83' Neymar is replaced by Draxler in the end.
81' Neymar with his hat-trick. Borjan just shrugs his shoulder. He can't go anything wih that. That's a better free kick than his first one.
80'   Neymar fouled now outside the box. Might be his chance for the hat-trick now. 
75'   Di Maria turns and twists into a shooting position. He hits it well wide though.
74' GOAL for Red Star! Marko Marin slots it home. Former Sevilla player with a nice finish. Thiago Silva caught out and left chasing the winger. Nice finish. PSG in full control but still concede.
73' Last change for Red Star. Ebecilio replaces Ben.
72'   Draxler looks ready to come on for PSG.
72'   That ball in over the top from Neymar was class too. Just opened up the Red Star defence.
70' GOAL! There is it. Mbappe with the fifth. Cavani becomes creator and he just lays it off to Mbappe after Bernet puts it into the middle. Handy on for the striker. 5-0 to PSG.
70'   Neymar sets up Di Maria now and he stirkes. Borjan saves but it rebounds out and PSG look dangerous.
68' There's a yellow card for Stojkovic. Free for PSG that arrives into the box. Red Star fail to clear and PSG remain in attack. Rabiot gets it from Bernat but he fires over the bar.
66'   Rodic with an effort now. 2 minutes and 2 chances for Red Star. Tame enough effort but it's an effort none the less.
65'   Chance for Red as Marin comes in off the right and he shoots. Areola not too concerned with that one. 
63'   Red Star still can't get the ball into PSG's half. Neymar drives forward and he options. He finds Rabiot, who runs into trouble. He concedes the free. 
61'   PSG continue to attack down that left-hand side. They win another corner too. 
58'   Longest PSG have gone without a chance as the game hits a lull. Still, surprisingly, no changes for Tuchel still.
55'   Borjan again. This time it's from Mbappe. How is this still at 4-0? He was offside in the end but that was a really nice backheel from Neymar to set up Mbappe. 
53'   That last chance came from a lovely run by Mbappe down the left. He played it into Neymar and he tried a cheeky chip but it didn't work out as planned.
53'   Relentless from PSG. Red Star reeling here. 
52'   Again! Neymar sees another shot saved by Borjan for a corner. 
51'   Great save! Borjan denies Neymar his hat-trick. He takes the ball in close quarters and strikes but the keeper gets a hand to it and saves. 
50'   Good cross too! Rabiot meets it with his head but he can't get under it and it shoots over the bar.
49'   Another corner, this time it comes from Meunier's run down the right.
48'   Mbappe wants to get in on the act. He fakes a shot with his left and puts it onto his left. Low and hard strike is saved and put out for a corner.
47'   He doesn't make any changes but might soon. Red Star on the attack now to start as they obviously change their style from the first half, which quite clearly didn't work.
46'   We are back underway. No changes for Tuchel just yet but they have Lyon on Sunday and it will be interesting to see if he rests his stars for that now that he has the chance.
  A couple of changes for Red Star. Savic is off for Babic and Pavkov on for Simic.
45'+1'   Half-time as Neymar wins a corner. 
45'+1'   Silva sends it towards goal but it's out and Red Star can't handle it. Shot from Neymar saved, another shot from Neymar saved. This is an onslaught.
45'   Question now is whether Red Star can hang on until half-time without conceding again.
42' 4-0.  Mercy rule needed here. Di Maria pokes it home as the ball is sent through to him.
40'   Mbappe put through on goal. He opens out his body to put it into the top corner but it ends up in the top corner of Parc des Princes! He blazes that over. A quick look down at the ground to suggest it was his footing he lost wouldn't have gone astray there. A rare misstep by the French youngster.
39'   First proper chance for Red Star and that's sad to say. Fired over the bar and never troubling Areola from outside the box with an effort like that. Handy day at the office for the keeper as he has just a couple of kick-outs to his name so far.
38' GOAL! Slopp from Red Star as they can't clear it. Cavani picks it up and evades a challenge before slotting it home. 3-0. Game, set and match?
37'   Verratti to Mbappe on the right. His cross is blocked and sent back out to where it came. PSG keep it. Lots of Red Star bodies in the box.
36'   Neymar fouled again. He gets thrown off the ball by Jovicic and he looks at the ref bemused. He's not happy with his treatment so far. PSG free.
35'   Cross into the box from the left but Cavani with a push in the back on Rodic and the referee blows his whistle. 
34'   Just over 10 left here and Red Star still yet to create a dangerous attack. All very pedestrian as PSG move up the field before Meunier loses it.
33'   Di Maria injured. He limps off the field as he speaks with the medical staff. Unclear as to whether he will return but looks like he should be fine. 
31'   Meunier gets involved now down the right but his cross is straight into the arms of Borjan. 
29'   Six chances for them so far with Red Star registering just one wayward strike off target.
29'   Mbappe tries to make progress down the right but he has three defenders in front of him. He does have a think about it but decides it's best that he turns back. PSG recycle and Neymar ends up with it just outside the box. He whips it well over but nice chance. PSG could have 10 tonight.
28'   Neymar cross and he tries to round the defender. The defender is struggling and puts it out for another corner. Neymar steps up again.
27'   He sends it in and it's a strong header away but PSG pick it back up again.
27'   Borjan gets a hand to a header from Cavani. Ball arrives in from the left this time and Cavani doesn't make clean contact but enough to send it towards goal. The keeper puts it out for a corner. Neymar to take. 
25'   Red Star think about an attack but before they even get the ball into PSG's half, they are surrounded and lose it. PSG mount an attack straight away but it comes to nothing.
24'   Di Maria cross and Neymar flies in with a header but it's just too tall for him. PSG keep it and are looking likely for a third.
22' Jut like that, PSG go 2-0 up. Neymar the goalscorer. Cavani junps the throw and plays it to Neymar. He finds Mbappe and his chipped cross lands to the Brazilian on the volley. Roof of the net finish for Neymar's second. I wouldn't bet against him getting a hat-trick either.
20'   Savic wasn't booked for the foul on Neymar but maybe a worse punishment. Red Star with a mountain to climb now.
19' THERE IT IS! Borjan stretched but Neymar puts it over the wall and into the back of the net. Lovely free-kick. His first goal of the Champions League too. 1-0 to PSG.
19'   Verratti dominating so far. He's had plenty of touches in the middle. They play it through the centre and Neymar is clipped late by Savic. Looked worse than it was, I think, but he's lucky not to get a yellow for that one. Free just outside the box now for the Brazilian. Himself and Di Maria stand over it. 
18'   Neymar looks for Di Maria but he's outmuscled and Red Star put it out for a throw.
17'   Neymar tries a dummy but he loses the ball and then Bernat with a foul as he tries to win it back. Neymar playing deeper than he might like. Tuchel has him as a number 10 and with Di Maria on the right but he hasn't had much impact so far. Offside called on Red Star as they launch an attack. 
16'   Shot comes from Bernat after it bobbled around in the box. 
15'   Borjan got a save on that. Corner for PSG as Neymar takes. 
15'   Mbappe slams the ball into the side netting. 
14'   Reall neat move from Mbappe as he drives down the right hand side and just inside the penalty area. He squares to Cavani and his touch is nice but too heacy as it goes out for a goal kick.
12'   PSG continue with the ball. Another Red Star counter comes to an end as they break in their own half. Too far to go though and they'd ideally win the ball higher up the field. 
10'   PSG fans enjoying themselves so far. Boppin' up and down in the stands. PSG players enjoying themselves so far too with 88 percent possession to start.
8'   Borjan punches a ball away that arrives into the box from Neymar. Really poor clearance out as far as Mbappe and he clips it back towards goal. Wide but the keeper needs to do better there. 
7'   Neymar coughs up the ball now and Red Star counter. It's their first sustained attack. Shot from Causic and that's well over. Red Star look really willing to move forward at speed and they look quick but maybe a little too rushed.
6'   Red Star chasing shadows even still. Neymar passes to Mbappe and his touch opens up the field to him. Really classy but Di Maria loses out and Red Star counter. 
5'   Free is sent in to the front post. Cavani has the chance to do something with it but he has his back to goal and he just jumps out of the way of it. It goes wide. 
4'   Neymar touched the ball twice. Fouled twice. Hand in the face for the Brazilian. Looked a little bit soft but he won the free. 
3'   And now Red Star counter before losing it. They haven't held the ball longer than five seconds so far. 
3'   PSG move it into enemy territory. Verratti and Di Maria link up and his cross is cleared. But PSG win it back. 
2'   Neymar gets his first touch and gets toppled over. His quick feet evident early on. 
1'   Rabiot picked off in his own half. PSG recover. Red Star pushing high up the field on them. 
1'   We are underway in Parc des Princes. 
    Teams in the tunel as we get ready for action. Red Star in their red stripes for the game while PSG wear their Air Jordan Nike jerseys, the black ones.
    Here are the visitors warming up before the game on a cool evening in the capital of Paris.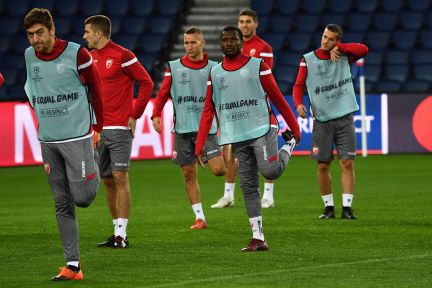 Red Star far from a pushover. They've played 20 games this season and are unbeaten in 20. 
    And as we can see from the line-up, Neymar is at number 10 and Tuchel recently explained why he likes having him in that position.  "He has the chance to be a bit more free and be in the centre of the game and we have the chance to involve him in every attack we make," he says.
    Jonathan Wilson's last article after the Liverpool debacle summed up most of PSG's issues. He says "PSG football is not Tuchel football; it may not even be football."
    Without disparaging Ligue 1, it's general consensus that PSG have to win the Champions League in order to become the team that want to be seen as. Julio Baptista things so too and says "I think there is a lack of stability for Paris Saint-Germain to be stronger in major competitions like the Champions League." He also think they need to do just that in order for Neymar to become the best player in the world. 
    Tuchel has learned the lesson from Liverpool and plays an actual midfield this time out. Verratti and Rabiot start in midfield. Liverpool overran them in that area at Anfield and they'll be hoping to avoid that tonight. 
    Hello and welcome to our live online coverage of PSG versus Red Star Belgrade. Kick-off from the capital is at 18:55 CET.
Paris Saint-Germain vs Red Star Belgrade: preview
Thomas Tuchel's PSG side taken on Red Star Belgrade as they try to steer their Champions League campaign back in the right direction after a schooling from Liverpool in the opening game. Red Star Belgrade drew with Napoli in their opening game and will be trying to build on that against a side that are perfect in their league campaign but looked unbalanced in ther first game in Europe. It doesn't help that Didier Deschamps, the French manager, has been taking down PSG's chances of winning the Champions League with everyone watching to see if they can evolve into the team they so desperately want to become. Kick-off from Paris is at 18:55 CET.
Neymar has admitted that he isn't fully fit. The Brazilian missed a large part of last season with an ankle and foot problem but played in every game in the World Cup. He is in fine form for PSG in the league with seven in seven games. His partners, Kylian Mbappe and Edinson Cavani have started well too and they have 16 goals in total between them this year. For the visit of Red Star, Buffon remains suspended after his sending off against Real Madrid last season. Layvin Kurzawa and Dani Alves are also out injured for the game.
Red Star have started their league campaign at blistering pace. They have played 10 and won nine of those with just one draw as the only blot on their copy. They have no injuries or suspensions for their trip to Parc des Princes. They are unbeaten in Champions League qualifying too having played nine games already with three draws away from home alojng with one victory. They will be relying most heavily on Richmond Boakye if he starts. He has three goals in two appearances this season but the goals have been well spread out amongst the squad.