Spurs 2-4 Barcelona: Champions League match report
Barcelona beat Spurs at Wembley thanks to an early goal from Coutinho, a rocket from Rakitic and a second half double from Lionel Messi.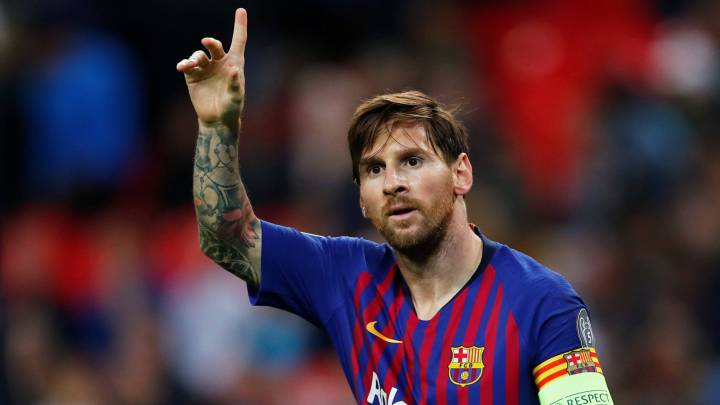 Spurs 2-4 Barcelona: match report
Start as you mean to go on and all that. That's what Barcelona and Spurs did at Wembley in the Champions League on Wednesday night. They was a goal after two minutes and six by the time the ref had blown his whistle for full-time after a helter skelter affair in England's capital.
Hugo Lloris rushed off his line to prevent Jordi Alba scoring after 92 seconds before the left-back cut the chance back to Philippe Coutinho, who had time to pick his spot as he fired Barcelona into the lead early doors.
Barcelona started better than the hosts but Spurs' relentless pursuit of the ball saw them gain control after that first goal. Pochettino's side did look shaky at the back every time the visitors attacked although it would take a world class strike from Ivan Rakitic to beat them the second time.
The ball arrived into Coutinho at the back post and his effort was blocked and deflected out to Rakitic, who lined it up perfectly before smashing it in off the post as Lloris grasped at fresh air a good yard away from the ball. Barcelona might not have deserved their two goal lead based on the opening half an hour but they were two clinical strikes.
It looked like it might be plain sailing for Barcelona after the break as Spurs seemed shot after their efforts in the first half. It was a frustrating night for Son, Moura and Kane, who were foiled time and time again by a robust Barcelona back line.
Harry Kane was about to change that, however, as Barcelona came undone and couldn't properly recover for the remainder of the game. Kane got the ball to the left and dummied inside Semedo before sending the ball curling past Ter Stegen. It was 2-1 with 52 played and Spurs looked like they were only getting started.
It would take a flowing move to undo them again when Messi passed out wide to Alba, who sent a ball into the box with more hope that precision. Coutinho stepped out of the way, then Suarez did the same before Messi calmly slotted home his first of the game to increase the gap to two once again.
Spurs had figured out how to get to the visitors though and they had chances. Erik Lamela pulled one back with 66 minutes gone when he curled one over Ter Stegen with the help of a Lenglet deflection.
The game was in the balance and there was another goal in the game. You could feel it and everyone at the game seemed to sense it to. But who would get it? Who else!?
Lloris played a ball out of defence as it arrived to substitue Sissoko. He was picked off and Barcelona high pressure meant Spurs weren't ready to defend. That was evident by the oceans of space and oodles of time Messi had in the center to slot it beyong Lloris as he put the result beyond questions.
It wasn't easy but Spurs at Wembley was never going to be. Luis Suarez bemoaned Barcelona's reliance on the Argentine after their draw with Athletic Club at the weekend. But on the biggest stage and with the biggest personalities needed, he was a breath of fresh air for Barcelona as he finished with another man of the match performance in a game filled with exceptional performers.
Tottenham - Barcelona live updates: Champions League
90'+5' After an absolute barnstomer, the ref blows the whistle at Wembley. What a game! 
90'+3'   Dier booked now for a fairly heavy challenge on Suarez. 
90'+1' Busquets off not for Vermaelen.
90' GOAL! Lloris plays the ball out and Spurs get robbed. Messi is free in the middle and he slots it home. Wembley is emptying. Stepover by Suarez and Messi finishes with ease.
89'   Trippier down the right and it's in for Llorente. Headed out and now Barcelona have a chance to attack. 
88'   Pique kicks the ball away and he's lucky not to be booked. Spurs move forward on the attack.
88'   Lucas Moura fouled by Vidal and it's all getting a little snarky now. 
87' Vidal comes on for Arthur.
87'   Messi fouled by Sissoko.
86'   Corner in and it's headed down into Ter Stegen's chest. 
85'   Corner comes in and Kane heads it off a defender's head. Another corner. 
84'   Moura with a chance. He cuts inside Lenglet blocks the shot for a corner.
84'   Kane sends one towards goal but Pique heads it out and back to Kane. His cross is way over everyone and out for a goalkick. 
83' Coutinho coming off for Rafinha.
82'   Winks battles and wins it back.
81'   Lucas Moura moves the ball out wide to get a better angle and he does. Right-footed effort is saved by Ter Stegen.
80'   He survives again Barcelona attack. Alba's ball inside is cleared and Kane breaks. 
80'   Semedo again being put under pressure. 
78' Fernando Llorente coming on for Lamela, who is spent after a hard-running 78 minutes. 
78'   Winks with an absolutely perfect tackle on Messi. He plays to Kane and he's offside. Sloppy from the striker. 
77'   Trippier sends a cross into the box. Semedo thinks he's out for a kickaround and takes his time to take it down. Playing with fire! He keeps it but that was a nervy moment with Moura behind his back. Spurs looking for the equaliser.
76'   Now Suarez is on the ground as Dier catches him with an arm. Much ado about nothing really. Poch up off his bench and looking mighty anxious. Valverde hunkered down.
74' Kane gets booked for fouling Pique. Really late as he catches Pique's leg after he cleared.
73'   Davies is offside and he's lucky because that was the worst shot I've ever seen. 
71' Coutinho passes to Alba after the left-back won it. Too far behind him. This is mental at this stage. Busquets hauls down Lamela and gets booked for that.
69'   Sissoko with a striker over the bar from a Trippier cross. That was about four miles over the bar.
68'   Lloris races out after a really dangerous pass back to him. The keeper goes around one challenge and then has Messi to beat. Messi wins it back off him and he nearly scores. Alderweireld to the rescue.
67' GOAL! Lamela curls one and it took a deflection off Lenglet and loops over Ter Stegen.
66'   Kane wins the ball back in the penalty area. Sheer determination.
64'   Coutinho down and looking injured. Looks to be okay as he just wanted a free. Now Moura loses out to Semedo. 
61'   Suarez strikes now as he sees that saved by Lloris.
60'   That free comes in and Kane gets a little push in the back in the penalty area. Referee doesn't see it or say anything.
59' Yellow for Arthur now as Winks breaks free and he's pushed in the back.
56' GOAL! Just like that. Wow. He plays it to Alba out on the left and he squares. Two dummies, one from Coutinho and another from Suarez and it falls to Messi who just pokes it home.
55'   Barcelona take control of this one all over again. 
52' HARRY KANE! Barcelona could be four up at this stage but Spurs peg them back with a lovely strike from Kane. Lamela plays it to him. He dummies Semedo and then slots it beyond Ter Stegen, who might have had his vision blocked by Pique. 
51'   Messi again. He strikes with his left and it hits the post again. Incredible.
50'   Corner now for Spurs. It's cleared.
48'   Offside from Spurs down the right hand side. Turning into a fairly frustrating night for them.
47'   Lamela pass out wide to Moura. Strange one too as he wasn't moving in that direction. He wins a throw but Spurs cough up the ball and Barca counter. Messi strikes and he hits the post. What a strike. Innovative from Messi as he slides it low to catch the keeper out. Nearly worked.
46'   We are back underway! No changes for either side. 
The question is whether Poch has anyone on the bench to improve Spurs' current predicament. A cursory glance suggests they don't.
45'+3'   Half-time as boos ring around Wembley.
45'+2'   It's not a free actually, it's a throw to Barcelona.
45'+2'   Messi fouled by Trippier. Way out on the sideline.
45'   Suarez shot is out for a corner.
45'   Pochettino is going to have to change a few things at the break. 
45'   and Lamela with a foul. 
45'   Kane accepts the ball in the penalty area. He gets it nicked off his toe though. That's poor from him.
43'   The clothesline is uncalled for, I mean, not the yellow.
43' Lamela chasing the ball and he gets frustrated. He throws and arm around Busquets' head with a clothesline. Yellow for the Argentine and that's uncalled for.
41' Yellow for Wanyama. He arrives really late on Messi. 
41'   Dangerous again from Spurs. Trippie cross and Pique clears as Semedo heads up into the air. 
40'   Suarez takes a kick in the back of the leg. Hand ball called on Alba though. 
38'   Spurs have looked like they want to create but they haven't really troubled Barcelona. 
35'   Barcelona down the other end and Messi charges into the area and loses the ball as he falls and looks like he was fouled. Suarez picks it up and sends it back across goal but Spurs deal with it. Moura fouls Arthur after Barca win it back from the clearance.
34'   Chance for Barcelona now as Alba squares to Messi. His snap shot is saves by Lloris. Son grabbed by Lenglet but no free as the South Korean ends up on the ground.
33'   Spurs dangerous now. Moura plays it to Lamela and he sends it across goal. Saved by Ter Stegen and he bounces on the follow up with Moura racing in to knock it home.
32'   Coutinho runs down into a shooting position. Drives it at Lloris. 
31'   Finish from Son but Trippier handles the ball in the build-up. What a finish that was. 
31'   Suarez breaks free down the right and he strikes across goal but that's wide. Spurs look shaky at the back.
29' GOLAZO! Suarez chests it down to Coutinho, it's blocked and he sends it towards goal again. It's blocked and falls to Rakitic and he absolutely buries it. What a goal. 
28'   Coutinho down the left and he shoots. It's blocked.
27'   Davison Sanchez gives the ball away and Barcelona break. 
26'   Semedo down the right but he can't get to it. Out for a goal kick. Wembley in fine voice but Spurs can't find a breakthrough yet.
25'   Kane tries his luck as his shot from outside the box bounces in front of Ter Stegen. The German gathers it first time as he dives to his right.
24'   Pique with a poor pass and Busquets is back on to recover, showing he looks okay. Mesi plays it through to Alba but he's offside.
23'   Busquets not gone off yet. He is off the field but no decision on if he will continue.
22'  Right, so what happens now. Busquets is going to have to go off as he is injured. Arturo Vidal is warming up.
22'   Davies with another foul on Semedo. 
21'   Spurs continue to push. 
20'   Busquets doesn't look right. He's holding his thigh.
18'   A really niggly game so far as Son runs down the left and catches Semedo with an elbow and a forearm to the head. Free Barcelona and what looked like a corner is now going the other way.
17'   Ball back to Lloris and his pass out to Trippier is really poor. The full back keeps it in but had to work hard for it. Ball down to Moura and he is fouled by Jordi Alba. 
16'   Spurs drive forward again and Son tries to go around Pique. He's offside anyway but he loses out in any case. Free for Barcelona. 
16'   Suarez goes to ground under the challenge from Wanyama off the ball. Nothing doing though. 
15'   Messi is going to send this towards goal as the heavyweights arrive. Headed over by Lenglet. 
14' Ball down to Coutinho from Lenglet and Alderweireld just throws him to the ground. Yellow card for the defender.
13'   Moura finds himself in a nice position as he breaks the line. He sends it back towards the penalty spot but while there are two Spurs players close, it lands at the Bacrlona players' feet between them. Chance gone. Promising from Spurs though.
12'   Trippier wins it off Coutinho and then he's fouled. Spurs really aggressive with their pressing.
11'  11'   Semedo takes a shoulder into the chest from Lamela. Slightly overzealous from the Argentine. Replay shows it wasn't as bad as it looked. 
10'   Barcelona haven't really had much of the ball recently. Moura to Winks and back to Trippier as Spurs settle on the ball.
9'   Spurs more proactive winning the ball back now.
9'   Kane on the endline. Tries a kick across goal but it's cleared and Barcelona have it before heavy pressure in the middle sees them lose it again. 
8'   Trippier and Lamela stand over it on the right. Kane and co. inside with Alderweireld arriving late to the party. It's cleared by Barcelona but nobody really has possession in the last minute or so. Just frantic.
8'   Spurs recover and now that's a foul by Messi on Trippier.
7'   Barcelona cough it up and Kane drives forward but has to go back. Spurs don't look comfortable at all on the ball and Suarez loses it to them. Barcelona pressing. Really hectic start here. Son crosses to Moura but that's cleared.
7'   Arthur out to Semedo and back to Rakitic.
6'   Barca take control now and throw it around at the back. 
5'   Trippier forward to Moura and Busquets puts him under pressure. Barcelona attack and Messi is fouled by Wanyama.
4'   Cross come in from the right and Pique heads out.
2' GOAL! Coutinho with the strike as Alba breaks down the left and he squares perfectly to the Brazilian. Coutinho had time to take a touch and fire home. Lloris comes out and gets caught out badly. 
1'   We are underway! 
    Wembley pitch is looking very strange. Lots of brown patches there.
    Two teams and the referees stand to attention. 
    And there's the Champions League anthem. 
    Teams in the tunnel as Messi appears. Greeted with a handshake from Lloris.
Spurs - Barcelona preview: Champions League
Barcelona travel to Wembley for their Group B Champions League fixture against Spurs this Wednesday night, and will be wary of a home side aiming to make amends for their opening day loss to Inter two weeks ago.
The Blaugrana will also looking to put things right after a poor run of games in LaLiga, which sees them winless in their last three and included an embarrassing defeat to bottom-placed Léganes a week ago.
But Messi and Co will head to London confident in the fact that they have lost just one of their last 11 Champions League matches against English clubs. However none of those games featured World Cup Golden Boot winner Harry Kane, whom center-backs Pique and Lenglet will no doubt be keeping a close eye on. Lenglet will likely start for the injured Umtiti, with Sergi Roberto the only other absentee for coach Ernesto Valverde.
Tottenham
Kane has finally found his goal-scoring feet after an unconvincing start to the season, scoring both goals in the 2-0 win over Huddersfield last weekend. Mauricio Pochettino will need him at his best if they are going to beat the LaLiga titleholders, considering he is without Eriksen (abdominal), Dembele (thigh) Vertonghen (hamstring) and Dele Alli (hamstring).
Spurs pulled off some impressive results at home in last year's competition, beating Borussia Dortmund and Real Madrid. And that will give Pochettino's side the belief that they capable of taking the scalp of a team of Barca's calibre.