Antoine Griezmann: "I'm happy and full of confidence"
The striker, who scored the 7,999th goal in Champions League history, underlined the great moment of form his is in: "I'm feeling fine physically and mentally".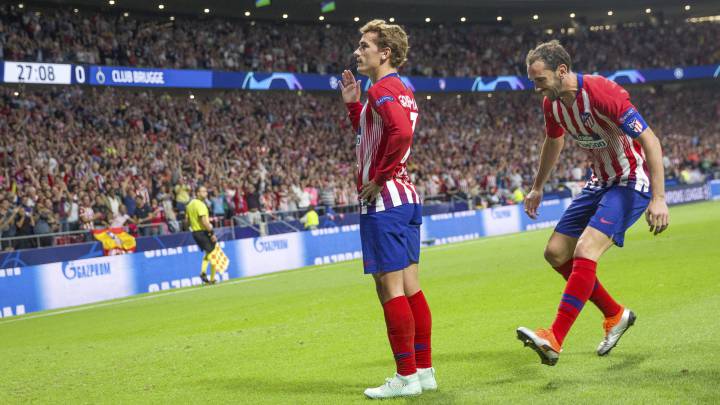 Antoine Griezmann confirmed last night that he is hitting the best form of his career. Against Club Brugge, the French striker proved just how key he is to Atlético de Madrid's game - he scored two of the team's three goals and set up the third for Koke. His second goal was first thought to be a landmark one in UEFA history: it was deemed to be the 8000th goal to have been scored inthe Champions League althought his morning, the list was reviewed and it turned out Griezmann's goal was number 7,999 in the competition...
Griezmann elated
Nevertheless, the player says he is on a high and everything's rosy. "I feel good and I'm happy out on the pitch and that helps me to make a difference", he explained. "I'm feeling great physically and psychologically, I'm full of confidence and enjoying my game and playing with my team mates".
Champions League nights like last night's is just when the Atleti ace comes into his own but he is first to admit couldn't do it without his striker partner Diego Costa. "Diego gives us depth, he opens up spacesand it's thanks to him that we are comfortable playing. These are patches which all strikes go though but we have a lot of confidence in him and he helps us a lot of this level", Griezmann added.