Joel Robles: "No keeper brings their team as many points as Jan Oblak"
Ex-Atleti keeper Joel is back in Spain after spells in the Premier League with Wigan and Everton. He talks to AS about life at Betis under Quique Setién's orders.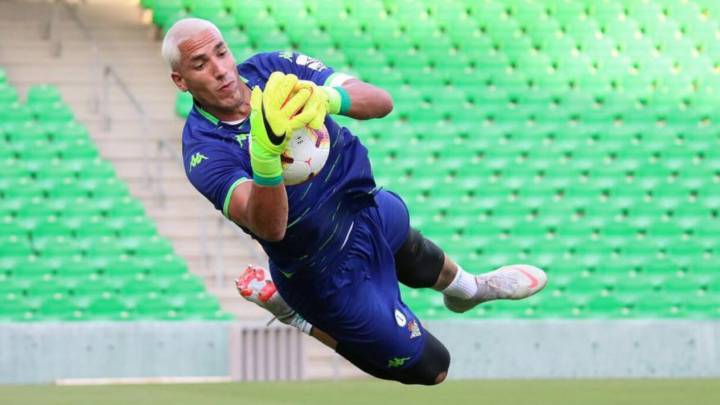 Joel Robles has spent the best part of the past decade playing abroad but he is now back in Spain after spells in the Premier League with Wigan and Everton. He sat down this week to talk to AS about life at Betis under Quique Setién's orders and meeting his old club Atlético de Madrid at the Wanda tomorrow.
You started the last two league games and were first choice for Thursay's Europa League game in Athens, tomorrow's trip to the capital will be another special occasion for you...
Of course, it's always nice to go home, it's been seven years since I left Atlético so yes, it's going to be special. We'll see what the gaffer decides to do - I hope I play. It'll be a game to enjoy, but on top of that, it is important for us to maintain the run of form we're in - we are tied on the same points as Atleti. If we want to remain in the top places then we have to treat every game as though it's a final.
Differences between English and Spanish football
After several years in the Premier League, have you noticed any changes to the goalkeeper's job back here in Spain?
There are some differences - for example, here you need to be able to deal with high balls in the box and a lot of shots from outside the area which can eaily take a deflection. A lot of goals are scored by shots striking players then being diverted in. More than anything, here you need to focus more on your aerial game because keepers are protected less in Spain inside the six-yard box and we are always being jostled and knocked.
What made you choose Betis to return to Spain?
I weighed up the options I had and Betis' was the most appealing for the style of football which Setién's teams play and it's a club which is on the way up. But main for the type of football that the team is playing under the coach which I love and the goalkeeper has a prominent role to play within that style.
Betis style
Every time Simeone and Setién meet the debate centres on each coach's style. You have played under both of them. How do they differ?
Atlético have done well with their style of play, they've won trophies and it's taken them to Champions League finals... our style of football is different, they kind of football we have faith in and enjoy playing. It's not a question of one style over another, it's about getting results and for Betis, it seems to be working.
With Betis' style, the goalkeeper needs to be able to play with his feet. How have you been getting on with that?
I wouldn't say that I am completely comfortable with it but it's an aspect which I'm working on with teh goalkeeping coaches. At other clubs, for example at Everton with Roberto Martínez I had to play a little with my feet but nowhere near as much as with Quique, never. We're persevering, it's something I have to do, you are always at risk of making mistakes but we're working hard in training to reduce those risks. It's a technique I like because it gives me more responsibility, it means you are also involved in helping the team move forward and not just the guy at the back who has to make saves.
For you, who was the best keeper in the world last season?
The keeper who surprised me the most was Oblak. Right now, no other keeper brings their team more points than Oblak does for Atleti. He is always there when they need him. I really study him and look at every aspect of his game. For players of my generation there's no one quite like Buffon and Casillas, I don't think any keeper has reached the level they got to.
Jan Oblak - the goalkeepers' keeper
Technically, what stands out about Oblak?
His blocking is very good. His positioning is faultless and he si very quick reacting to one-on-ones, he will race out to narrow the angle when it's just him versus a striker. On his line he is also very strong, despite not being the tallest keeper, but he has incredible agility and is very quick-footed and that's what allows him to react in time.
Are you still in touch with any of your old team mates at Atlético?
Yes, with Koke for example. I went to his wedding.
And Diego Costa - at least you won't have to face him tomorrow!
(Laughs). He's like a lion, we played together at Rayo and if winning the game means banging your head against the post, he'll do it. He's like a wild animal out on the pitch.
Costa's out but Griezmann's going to play and he's hitting top form. Are you a keeper that likes to study rival forwards?
I do like to have some information on all of the rival forwards although with all the stats in the world, the top players have limitless resources to draw on. In Antoine's case, it's clear that he is at the peak of his game, he's confident and comfortable.
What's the limit for this Betis side?
We have to take all of this with calm and keep working. This moment for us is about continuing to grow as a team. We have a great squad, the coach and his staff are doing a wonderful job and our people are right behind us but we cannot afford to stop to relax - if we do, we'll ruin all of the hard work we've done. We have to be aware that Betis is still in a process of development but we're heading in the right direction.