Alaves 1-0 Real Madrid: LaLiga 2018-19 match report
Manu García pounced at the far post to strike in the 95th minute as Alavés beat Real Madrid for the first time in 87 years in Mendizorrotza to leave Lopetegui in a spot of bother.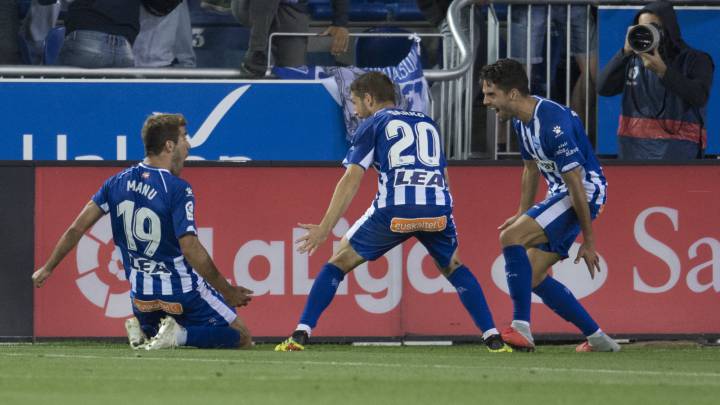 Julen Lopetegui sat ashen-faced with his head in his hands as all those around him lost his in Vitoria after Alavés hammered another nail into the Real Madrid manager's brief tenure by beating the European champions at Mendizorrotza for the first time in 87 years on Saturday.
The contrast between coaches could not have been more pronounced as Abelardo, a grin as wide as the gap between El Glorioso and the drop zone fixed on his face, celebrated with his players as World Cup, Champions League and European Championship winners all looked around in disbelief. Lopetegui, dampened from his futile exhortations on the touchline on a wet Basque evening, cannot have foreseen his acrimonious switch from the Spain national team to the Bernabéu just a few months ago panning out like this.
The statistics are damning, but that should take nothing away from a performance from the home side that served to highlight just how far from grace Madrid have fallen since triumphing in Kiev last May. Real Madrid have now failed to score a goal in 414 minutes of competitive football across four and a half games, the side's longest drought since April 1985. Incredibly, Lopetegui's side remained in second place in LaLiga despite the defeat but how long the Real coach will remain in situ is a matter for Florentino Pérez to consider on the journey back to the capital.
Manu García is the man who will not pay for a meal in Vitoria for the rest of his days after popping up at the far post to nod home in the 95th minute and Alavés were deserved winners on another evening when Real's shortcomings were laid bare by a club that consistently punches above its weight and finally landed a telling blow on a team they had not beaten anywhere, in any competition, in 18 years.
Abelardo outthought Lopetegui and his players carried out the blueprint to perfection, snapping at Madrid's heels in a high press, denying the visitors the space to play in midfield and remaining solid at the back even under Real's early onslaught.
Lopetegui's side had a few decent chances in the first half to open the scoring but found former Madrid keeper Fernando Pacheco equal to the task. Karim Benzema, Dani Ceballos and Nacho all found openings in the first 10 minutes but couldn't execute them, which has been Real's primary problem in recent weeks.
Lopetegui on thin ice after latest setback
The visitors at least temporarily resolved another by not conceding in the opening 45 minutes during which Alavés were kept at arm's length early on but it wasn't long before the all-too-familiar cracks started to show, a loose pass here, a defensive switch off there allowing the home side to gradually grow into the game with a 10-minute spell of frantic attacking. Raphael Varane headed off the line and both Jony and Wakaso should have punished lapses of concentration but Real escaped. At the other end, Alavés kept the keys to their castle firmly in their pockets and still found space there for Karim Benzema, who did not re-emerge after the break.
Mariano, the Frenchman's replacement, was a more lively and willing participant and almost fashioned a shooting chance moments after his introduction. A later effort would sum up Real's evening as Bale's excellent cross was hooked into Pacheco's gloves by the former Lyon striker.
Lopetegui sent on Marco Asensio on the hour mark, an attacking change that saw Casemiro trudge towards the bench, but the Spain forward's barren run continued in a below-par performance that failed to add the required spark. Bale always looked the most likely to break the deadlock but the Welshman, perhaps inevitably after sitting out the CSKA game as a precaution, succumbed to what looked like a muscle problem and limped from the pitch on 77 minutes, effectively carrying Real's chances with him.
From there, the game looked set for a deadlock with the visitors shorn of ideas in attack and weary legs patrolling the midfield, a situation Alavés seemed happy enough to play for as well until the final minutes when the home side, urged forward by a delirious Mendizorrotza, sniffed a famous victory. With Abelardo pleading for cool heads from a corner deep in stoppage time, two of his substitutes used theirs to seal the win. The delivery arrived at the far post, where Rubén Sobrino drew a sharp save from Thibaut Courtois. The ball could have gone anywhere, but skewed to the far post where García could hardly believe his luck and headed past the despairing lunge of Sergio Ramos to send El Glorioso to third in the league, level on points with Madrid and Barcelona, and leave Lopetegui to await what now seems an almost inevitable meeting with the Bernabéu board on Sunday morning.
Alavés vs Real Madrid live online: as it happened
90'+5' The whistle went during all that by the way. It's all over. And Lopetegui is surely on very thin ice now. Thanks for joining us!
90'+5'   Lopetegui with his head in his hands on the bench. Abelardo gleefully hugging his players and pumping his fist towards the stands. It'll be a all-nighter in Vitoria tonight!
90'+5'   The corner is swung in, Courtois makes a decent stop from Sobrino at the far post but Manu García is there to nod it home at the other! Amazing, amazing stuff.
90'+5'   Goooooooooooooooool! Goooooooooooool to Alavés! Incredible scenes! Mendizorrotza goes absolutely mental!
90'+4'   Abealrdo telling his players not to lose their heads now.
90'+4'   Jony wins a corner and this could be the last chance of the game...
90'+4'   Free kick for Alavés in midfield, which they are in no hurry to take...
90'+3'   Nacho sends in a hopeful ball from distance and Ramos and Mariano both go for it, the striker getting the eventual touch but it's out for a goal kick.
90'+1'   A Madrid attack breaks down as Modric is penalised for handball in the Alavés area.
90'+1'   Nacho has to be alert to get across and clip the ball back to Courtois with Sobrino bearing down on him.
90'   Nacho lucky not to go in the book for a shove on Calleri as frustration sets in. Five minutes added...
89'   Alavés play it long and Varane is there again to cut it out. The home side fancy this... can they find the decisive blow?
88'   Two minutes of normal time left for Real to avert what surely will become, as of tomorrow morning, a full-blown crisis.
86' Abelardo is scratching his head now as he he two players down, Maripán and Pacheco, who appears to be feeling that knee again. But it's the Chile defender who goes off while Pacheco receives treatment in his area. Martín Aguirregabiria comes on for Alavés.
85'   Kroos sums up another frustrating game for Real as he clips the ball into the area and it bounces straight out for a goal kick.
84'   Lopetegui is getting incresingly agitated on the touchline... four games without a win is not exactly the sort of form Florentino Pérez expects.
83'   Odriozola pulls out of a challenge with Jony and allows the winger a free shot at goal, which fortunately for Real he skies.
82'   Vinicius attempts a cross but it's straight to Pacheco, who is still limping a bit. Alavés have a change left if needed but surely the former Real keeper will soldier on under the circumstances.
81'   Varane does well to cut out a ball with Calleri lurking in behind. This game is still very much up for grabs!
80'   The Brazilian is quickly into the action, playing a reverse pass for Nacho who manages to swing in a cross but the ball was just over the line and it's a goal kick to Alavés.
80' And here it comes, Vinicius Junior coming on for the final 10 minutes.
80' And here is comes, Vinicius Junior replacing the Welshman for the final 10 minutes.
79'   It's on target but Pacheco is down well to smother the danger. Is Bale going to continue? Lopetegui has one more change remaining...
78'   Asensio bizarrely takes a quick throw despite Bale limping about the pitch. Surely the change has to come. Real have a free kick and it's Bale over it...
77'   Jony! The winger gets away from Odriozola and has a clear sight of goal but sends his shot just wide of Courtois' far post! That was Alavés' best chance of the game!
76'   The Welshman appears to be signalling to the bench to make a change...
75'   15 minutes on the clock now and hang about, it looks like Bale is injured!
73'   The home side get the ball rolling again from the initial offside decision against Mariano.
72' Abelardo makes his final change as Wakaso goes off to an ovation and Manu García comes on.
71'   It seems as though Pacheco will be ok to go on, which is good news for Alavés.
70'   Oh my, Mariano almost pickpockets Pacheco, who hesitates then decides to come for a long ball over the top. The Real striker is offside anyway but he clatters into the keeper and it appears Pacheco has a problem with his knee.
69'   Pacheco mops up another hopeful hit from afar and Alavés have possession again. Jony slings one in for Calleri but Courtois is up to claim it.
67'   Bale! The Welshman cuts in from the right and tees himself up but sends his shot well over the bar. He knows that if Real are not to drop more points here he might have to do it all by himself.
66' Ibai off now to make way for Rubén Sobrino as Abelardo goes for broke...
64'   Odriozola! The full back makes an overlapping run and picks up Modric's through ball and nutmegs the nearest defender but is bundled off the ball before he can get a shot away.
63'   Kroos is down after a clash with Calleri and the Germany international appears to be running out of puff a little. Lopetegui with only change left now...
62'   It looks as though Ceballos and Kroos will drop back a bit to cover the lines with Asensio slotting in on the left.
61' Asensio is on for Casemiro now... bold move from Lopetegui, removing his defensive screen at 0-0.
60'   0-0 it remains at the hour mark and the rain has started to fall in Vitoria.
Mariano! Bale does well to put in a cross at the far post and the striker can only sky it harmlessly into Pacheco's hands. It was far from an easy one and he was under pressure from Laguardia.
58'   Courtois! That may be the first save he has had to make and he had to be smart about it, palming the ball away from the onrushing Ibai.
57'   It's aimed at the penalty spot and Courtois claims easily. Real lose the ball in midfield though as Wakaso reads the clearance and it falls to Nacho to hack clear.
56'   Real are struggling to generate anything at the moment and a sterile exhange between Kroos and Nacho on the right ends up going all the way back. Odriozola does well to chase down Jony on the left and concedes a corner...
54'   Mariano almost gets on the end of a cross but Alavés are rock solid at the back again and clear the danger. Luka Modric fails to control a ball and it's out for a goal kick, which rather sums up Real's afternoon.
53' Wakaso goes in the book for a thumping challenge on Casemiro.
52'   Calleri doesn't read a ball well and it bobs off his head and out for a throw. He had Ximo ready to run onto it in space on the right there. Alavés can't afford to thumb their noses at too many opportunities like that.
51'   Odriozola puts in a cross without looking up and it falls to the Alavés defence, who also panic a little and get it clear only as far as Casemiro, who chances his arm and draws a decent save from Pacheco at his near post!
50'   Ibai! The Alavés winger almost steals in as Courtois gets in a bit of a muddle and Real hack it clear. That was a decent opportunity.
49'   Mariano! The recently introduced striker twists and turns to try and get onto his right foot but has the ball pinched off his boot at the last minute!
48'   Alavés are continuing their high press and almost catch Casemiro napping, then Nacho as well.
47'   Nacho sends in a cross but it's straight into the gloves of Pacheco and no problem for the Alavés keeper.
47'   Nacho reads a ball well to prevent Ximo getting another run at the Real back line.
46'   And we're off! 0-0 it remains in Menzizorrotza. Mariano on for Real Madrid.
The teams are coming back out for the second half. It looks as though Benzema has been hooked for Mariano...
Six hours now without a goal for Lopetegui's side, which is a remarkable statistic.
A total of seven shots in that opening half, six of them from Madrid, but the goal drought goes on...
45' And that's it! No added time whatsoever after a frantic but largely clean and well-contested half!
44'   A minute to go of normal time in Mendizorrotza as Alavés look for a decisive blow before the break but an attack breaks up on the edge of the area and Courtois gathers.
42'   Real launch a lightning break, Bale finding Benzema on the left but again the striker's final touch lets him down as he waits for support and Alavés regain posssession.
40'   Ximo concedes a thrown on the left under pressure from Nacho, but Real can't find a way through from that side either. Modric tries to tee up Benzema with a beautifully weighted ball but Pacheco is off his line like a whippet to beat the Frenchman to it.
39'   Jony with a glorious touch to get a run on Odriozola, who recovers well to thwart the Alavés winger and eventually gets a foul as the two tangle on the deck in the area.
38'   Both sides fancy their chances of taking a lead into half time here and it's making for a fascinating duel.
37'   Bale finds a yard on the right and sends in a cross but as has pretty much been the case throuhout the half, a blue and white shirt is there to thump it clear. Alavés have been excellent at the back, Real a little lesss so.
35'   Alavés try a training ground routine from a corner but it comes to nothing. The home side are really giving as good as they're getting now and Real are starting to look a little rattled as the clock ticks towards half time. 
33'   Benzema skips a couple of challenges on the edge of the area but can't find a gap to squeeze off a shot.
32'   Casemiro picks out Odriozola on the right but he fluffs his control and shins it into the stands.
31'   Corner to Real as Odriozola slings one in towards Bale but he's beaten to it by Laguardia. Nothing doing though as Alavés hold firm at the back again. 
30'   Real have now officially gone 349 minutes of competitive football without scoring a goal. At least they have managed not to concede in the first half so far.
30'   Nacho makes a charge down the right and gets into the area but his cut-back for Benzema is behind the Frenchman and Alavés hook it clear.
28'   Nacho penalised for a foul in midfield now and everybody pauses for a quick breather. It's been a barnstorming opening hour.
27'   It's straight into the wall from the Welshman though.
27' Free kick for Real on the right as Bale is clipped on the run.
26' Close! Alavés stream forward again and Varane is forced into a diving header off the line!
25'   Alavés on the attack again! Wakaso finds himself in the area and faced with Courtois but seems unsure whether to shoot or square. In the end he does neither and just plops the ball into Courtois' gloves.
23'   Real being pinned back now as Alavés grow in confidence. The visitors are forced to play it all the way back to Courtois and then the home side just simply come back at them, Ximo chasing a ball down the right and Ramos, again, getting across to deny him. The Real captai is bundled into the hoardings but both players smile and shake hands.
21'   Oh dear Odriozola...! A loose pass from the full back is almost hunted down by Jony but Ramos is across like a flash to beat the Alavés winger to it by a yard! Lopetegui will not have enjoyed that. 
20'   Ufffff! Jony almost steals in behind Real's back four, reading a hit and hope perfectly and just failing to make contact on the edge of the area with Courtois in no-man's land and the defence completely caught out!
Over 75 percent of possession for the visitors as we approach the 20-minute mark, with five shots from Real and just one so far from Alavés.
18'   A little less frantic now as Real look to build from the back. That will suit the home side, who have been run ragged in the opening 20 minutes.
16'   Ceballos is down in considerable discomfort after releasing Odriozola on the right, Wakaso getting a good chunk of the Real midfielder there after the ball had been played.
15' Kroos drops it onto the penalty spot but Alavés get it clear. It breaks to Odriozola on the right and he picks out Bale but the Welshman can't get over his header and sends it well over the bar.
14'   Bale is floored by a combination of Laguardia and Brasanac and Real have a free kick in a dangerous area on the left...
13'   Ximo Navarro is causing Real a few headaches with his direct running and wins a corner, but Varane is under it and Real clear.
12'   Still no cards though, and still no goals, but Madrid have been making all the early running.
11'   The two get involved again, Calleri having a little retaliatory dig and Ramos tripping him up for his troubles. A less lenient ref might have sent Ramos off by now. It's not unheard of.
10'   Ramos and Calleri clash in the air and both go down in a heap. Looked like an elbow from the Madrid captain there, who is walking a fine line at the moment.
9'   Odriozola skins Rubén Duarte on the right and sits one up for Benzema, who sees his header cleared off the line by Laguardia! Alavés weathering the early storm so far.
8'   Ramos in a spot of early handbags as he floors Pina. Free-kick to Alavés, but it comes to nought.
7'   Alavés manage to relieve the siege for a moment and surge forward, but Varane is there to chest it back to Courtois.
6'   Close! Kroos takes and Nacho rises to glance a header just wide of Pacheco's upright. Real pressing for an early goal.
5'   Ceballos! Bale plays the midfielder in with a lovely flick and he hits a decent shot, which Pacheco is forced to push around the post for a corner.
4'   Benzema! The Frenchman darts across goal to meet a Bale pass and connects first time, sending a left-footer into the gloves of Pacheco. It wasn't going to trouble the former Madrid man from there, it was at least a shot on target for the under-fire striker.
3'   Nacho tries to free Ceballos on the left but the Spain international has it on his right foot and sprays it straight out for an Alavés throw.
2'   Alavés are packing the midfield and trying to squeeze Real out wide, not a bad ploy in the absence of Marcelo and Carvajal.
2'   Scrappy start in Vitoria, plenty of misplaced passes and we have the first stoppage of the afternoon as Wakaso flattens Modric.
1' And we're off! Real Madrid get us underway...
The teams are in the tunnel now and we're not far off in Vitoria. The home fans are bouncing already, quite an atmosphere in the Mendizorrotza. Will they be celebrating in 90 minutes?
History does not exactly favour the home side today: it has been 87 years since Alavés beat Madrid at home. In 13 league games overall, Madrid have won 10, two have ended in a draw with that solitary win for El Glorioso, back in 1931.
And Abelardo's: Sivera, Vigaray, Sobrino, Burgui, Borja Bastón, Manu, Martín.
Here's Madrid's bench in Vitoria: Keylor Navas, Mariano, Lucas Vázquez, Llorente, Asensio, Reguilón, Vinicius.
Ceballos was the hero in this fixture last season, scoring both goals in a 2-0 victory in Mendizorrotza as his side laboured somewhat to break Alavés down. He didn't get much game time after that under Zinedine Zidane but things are looking decidedly different for the Spain international under his former under-21 mentor.

Interesting also that Lopetegui has opted for a four-man midfielder after the introduction of Ceballos turned the tide in Real's favour against Atlético. He has said that he will decide whether to play three or four in the middle on a game-by-game basis and with Isco on the road to recovery there could be some fresh issues for the Bernabéu boss in weeks to come.
So it appears we have confirmation of Lopetegui's solution to his goalkeeping problem: Thibaut Courtois starts for the sixth consecutive Liga game after Keylor Navas was between the sticks in Moscow in the Champions League.
Karim Benzema, Lopetegui's nailed-on starter, has been in the XI for every one of Real's games this season but has failed to register a shot on target in his last six appearances and is under serious scrutiny with Mariano waiting in the wings. The Frenchman has also been substituted early in his last four games and will be expected to offer a little more up front today, although the onus for goals will fall on the returning Gareth Bale.

Alavés have played Real Madrid six times since their promotion to Primera and have yet to take a point off the reigning European champions. Now is not a bad time to be playing Lopetegui's side though and a surprise cannot be ruled out in Vitoria.
As ever, we've provided a handy guide as to how and where to watch this one.
Lopetegui is under no small amount of pressure and did not give off the impression of a man completely in control of his own destiny during his pre-match press conference. Is this a final? he was asked. "Every game is a final." This may be a little more final than others and Abelardo is no tactical novice. It's a big game for the Real boss and he knows it.
Hello and welcome to AS English's live coverage as Real Madrid travel to sixth-placed Alavés seeking to bring a run of three games without a win or a goal scored to a halt in Mendizorrotza.