Spain 2-3 England match report: UEFA Nations League Group A4
England earned a famous victory in Spain thanks to three first-half goals (two from Sterling, one from Rashford). Alcácer gave La Roja hope when he came on, but Ramos' goal came too late.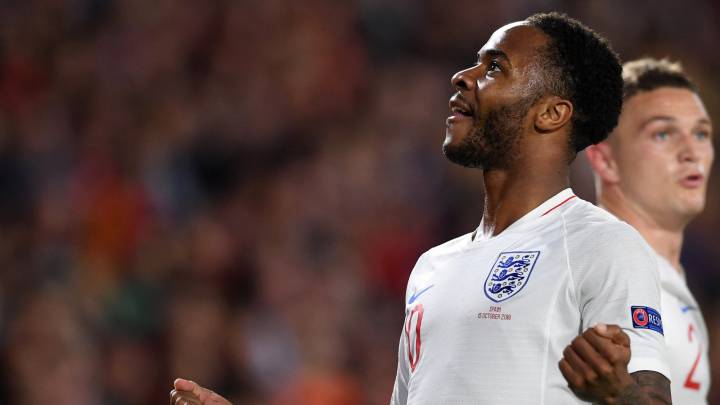 Spain 2-3 England: match report
Spain missed the chance to become the opening country to book their UEFA Nations League finals spot after England's first-half triple salvo condemned La Roja to their first competitive home defeat in 15 years on Monday night.
Sterling, Rashford strike to end England's 31-year pain in Spain
Superbly-taken goals by Raheem Sterling, Marcus Rashford and Sterling again saw the visitors race into a 3-0 half-time lead in front of a Benito Villamarín crowd who were, not without reason, utterly stunned; after all, it is the first time the Spaniards have conceded three on home turf in a competitive fixture.
And despite substitute Paco Alcácer and Sergio Ramos' second-half goals for the hosts, England held on for a famous win - their first away to Spain since 1987 - that kept their hopes of qualifying for June's finals alive.
Spain aggrieved not to get penalty at 3-1
Luis Enrique's side, who would have qualified from Group A4 with victory in Seville, rallied in the second 45 in their efforts to turn around the deficit - and, had referee Szymon Marciniak awarded a penalty at 3-1 when Jordan Pickford appeared to haul down Rodrigo Moreno, things might have turned out differently.
As it was, however, the 2010 World Cup winners could not prevent England from ending their 38-game unbeaten home run in competitive football, one that had stretched all the way back to a defeat by Greece in June 2003.
Group A4 comes down to Croatia games in November
Spain must now beat Croatia in Zagreb on 15 November to ensure they top the group ahead of Gareth Southgate's men, who host the Croats three days later.
Spain 2-3 England: as it happened
It's all over in Seville, where Spain have lost a competitive home game for the first time since 2003 and, courtesy of three first-half goals, England have beaten the Spaniards in their own backyard for the first time since 1987! 
97' Well, well, well! First Spain hit the bar, before Ramos heads in to make it 3-2! Is the comeback on? No. Szymon Marciniak blows his full-time whistle.
96'   It's all going to come down to Spain and England's final games against Croatia next month, then.


95'   Spain come again, but Pickford does well to hold on to Jonny's deflected cross without taking the ball over his own goal line in the process. Two minutes to go in Seville.
94'   Asensio cuts back a cross from the right-hand byline that finds the head of Alcácer, but he can't get the power or the direction, and the ball flies over the crossbar and drops onto the top of Pickford's netting. 
92'   Seven minutes of time added on in Seville.
90' Final change for England. Harry Winks comes off, Nathaniel Chalobah is on for his international debut.
88'   Pickford gets lucky there. Asensio gets to the byline and pulls it back towards Morata's near-post run. Pickford is there first to parry - but palms it straight at the striker. However, it bounces off the Chelsea man and out for an England goal kick. 
86' It's pinball stuff in the England box as finally Alonso (I think) turns a shot goalwards, only to see it blocked. Up the other end, Nacho is the latest man to be booked after fouling Rashford as he broke at pace.
84' Another change for England, and it's like for like: Trent Alexander-Arnold is on for Trippier for the final five minutes plus stoppage time.
81'   Thiago finds a yard or two of shooting space just outside of the England box, but skews his shot from the left wide of Pickford's near post. Over on the other flank, Asensio then tries a similar effort, which kisses the post on its way out.
77'   Alcácer wins the ball back and tries to catch Pickford out with an effort from distance. It's well directed, but is never going to trouble the England keeper overly.
77'   England switch to three at the back, Walker slotting into the centre of defence alongside Gomez and Maguire. Well, it's more like five at the back, actually. The ball falls to Alcácer in shooting space on the edge of the visitors' box, but - surprisingly, given his recent form - he doesn't arrow it straight into the top corner, but instead misses his kick. 
76' Southgate brings off Ross Barkley for Kyle Walker. 
74' Spain pop it about in front of the England defence for a good minute to 90 seconds, before Ramos' cross is cut out. Jonny then goes in late on Chilwell, and earns himself a spot in the referee's notebook.
73'   Ufff. Gomez advances out from the back and suddenly has Rashford in on goal... but the flag is up against the Manchester United striker. It was a lovely ball by Gomez, though.
72' On comes Morata in place of Rodrigo, who fairly sprints off the field. 18 minutes plus stoppage time for Spain to claw their way back.
70'   Alonso sends it over.
69'   Morata is preparing to come on. Meanwhile, Maguire gets himself a yellow card for a rash challenge on Ceballos, which gives Spain a free-kick in shooting territory. Alonso and Thiago standing over it...
68'   Maguire looks to be OK after all. It's all Spain at the moment.
66'   Spain have got the wind in their sails. Alonso plays a one-two with Alcácer before crossing low, but Pickford gathers. Maguire is down for England, and doesn't look good at all.
64' Sergio Ramos is booked for his protests.
63' Spain are absolutely seething. Pickford gets himself into a horrific tangle under pressure from Rodrigo and, with the Valencia striker seemingly in to tap in to an empty net, the keeper forces the ball out for a corner by way of some grappling which is borderline at best. The hosts are screaming for a penalty, but do not get it.
61'   Kane and Ramos are both down in a heap after colliding in an aerial challenge. The England captain appears to have come off the worst, but after a quick concussion check is given the go-ahead to continue.
59'   How long has he been on the field? 30 seconds? Spain win a corner, which the in-form striker meets at the near post and, with a deft header, directs into the far corner past Pickford's dive!
58' Goooal! Alcácer makes an immediate impact! Spain pull one back!
58'   Replays of that Sterling incident seem to suggest it was a foul by Jonny, albeit just outside the box.
57' It's a double change for Spain: Alcácer and Ceballos are both on, with Saúl and Aspas off. Ceballos' Betis past earns him a rousing reception from the Benito Villamarín as he makes his way onto the field.
55'   Sterling is appealing for a penalty tumbling in the box under Jonny's challenge, but Mr Marciniak says nope. Up the other end, Spain work the ball to Saúl in shooting territory, but after taking a touch to steady himself, he sends a low effort straight into Pickford's arms. 
54'   England keep it for a good 90 seconds or so, leading a jubilant away support to start the 'olé' chants. Just a little premature, perhaps.
52'   Aspas feeds a little ball in between the England centre-backs... but no-one in a red shirt is there. Spain are preparing a change.
50' Ufff! For a moment they were shouting 'goal' in the AS newsroom. Asensio receives just inside the box, swivels and shots towards goal, but it takes a touch of Trippier and finds the side-netting. The corner comes to nought.
48'   England get themselves into a little bit of a muddle and Saúl pounces on the loose ball to fire a volley goalwards - but over. Up the other end, Kane crosses for Sterling, but De Gea claims easily.
46'   No changes for either side, but Ceballos and Alcácer are warming up for Spain on the touchline.
Peeeep! The teams are out and we're back underway.
45' And that's half time! Having been lucky not to be three behind after the first ten minutes, England go in three up at the break after thrice picking off a home side whose attacking threat has faded majorly. Gareth Southgate's men are on track to do what no England team has managed since 1987 - namely, beat Spain in Spain!
44'   Suddenly Barkley is leading the charge as England break in numbers on a backpedalling Spain defence, but - with Kane and Sterling either side of him - the Chelsea midfielder takes too long to decide what he wants to do and has the ball taken off his toes. It runs to Sterling, who tries to clip a cross onto Kane's head at the far post, but Jonny is there to mop up.
42'   Now Alonso tries his luck from range, but it's off target. Much to the delight of the travelling support.
40'   Five minutes to half time in Seville. Can Spain get one back before the break? They win a free-kick in shooting territory, and have a chance to do just that. Asensio lines it up... but sends his strike into the wall.
38'   Barkley picks the ball back up on the edge of the box and chips it to Kane's run towards the back post, where the captain nods it down to Sterling to finish from point-blank range! 
38' It's 3-0 to England! Unbelievable!
37' Spain look like they need the half-time whistle. Ramos loses it in his own half, and Sterling lays off for Barkley, but his shot is blocked. However, England win it right back, and...
34'   Now it's Luis Enrique's turn to look decidedly troubled over on the touchline. Asensio crosses to the near post for Rodrigo, but the Valencia man can only knock it out for a goal-kick under pressure from Joe Gomez. Spain looked like they were about to score every time they came forward in the early stages, but England look a lot more assured at the back now.
29'   It's great play by Kane. He battles with Ramos to bring down a long ball, before turning and feeding a lovely little pass between two defenders and into the run of Rashford, who advances into the box and finishes low! He does have his shooting boots on today! 
29' And up England go to the other end and make it two!
 28'   Spain may be behind, but continue to dominate possession - and now Saúl gets to the byline before crossing towards Asensio at the back post. He winds up for the scissor kick... but completely misses the ball!
21'   Spain win a dangerous free-kick out on the left, and Asensio stands over it. In it goes... and Pickford claims at the second attempt, after an initial fumble. Just for a second, it looked like a red shirt was going to gobble up that loose ball.
17'   Asensio immediately looks to get Spain level, but his shot is always flying off target.
15'   They had been second best in the opening stages, but - unlike their hosts - they've taken full advantage when a chance has presented itself. Kane works it out to Rashford on the left, and he clips a lovely, inch-perfect pass into the run of Sterling on the right, where the Manchester City man's finish into the opposite top corner is absolutely clinical. Against the run of play, yes; but Spain were carved open.
15' Gooooal! England take the lead, and it's a fine goal!
10' Eric Dier is the first man into the book after flying in on Ramos - who had actually got himself into a minor muddle inside his own box, and is relieved to come away with a free-kick.
8'   Now Trippier misses his kick and lets in Asensio to run at the England goal... but the Real Madrid man's shot is tame. Another big let-off for the visitors. That's three already. Gareth Southgate looks very concerned over on the touchline, and has plenty of reason to. Spain have been well on top in these opening ten minutes; England haven't been at the races.
6'   Pickford didn't know much about that save - replays show Alonso's shot bounced back off the goalkeeper's head, with the Everton man lying prone on the turf.
5' Blimey. Somehow England aren't behind. First Trippier has to be on his mettle to halt a Jonny surge into the box, and from the resulting corner Spain work it out into the path of Thiago, who's in a great position to shoot from the edge of the box... but it's just wide! Moments later, Ramost nods a corner on towards the back post, where Alonso turns the ball goalwards and is denied by a great save from Pickford!
2'   England can only chase the ball for the first couple of minutes, before finally getting themselves a sniff of possession - and promptly giving it right back to Asensio, who almost gets Aspas in on goal.
1'   It's been bucketing it down in Seville today, but the heavens appear to have closed now.
Peeeep! Up and running in Seville.
Anthems time. 'God Save the Queen' is first - and is roundly booed by the Spain fans.
Five minutes to kick-off, out come the teams!
Our man in the middle tonight is Poland's Szymon Marciniak, who took charge of August's all-Madrid UEFA Super Cup final in Tallinn.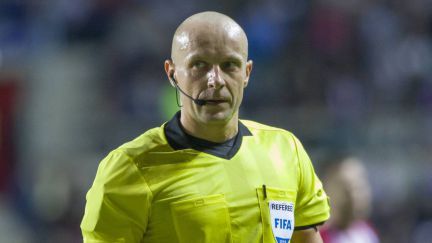 England substitutes: Walker, Butland, Alexander-Arnold, Dunk, Chalobah, Mount, Maddison, Sancho, Bettinelli
  Spain substitutes: Suso, Albiol, Ceballos, López, Koke, Alcácer, Morata, Rodrigo, Arrizabalaga, Gayá, Bartra, Azpilicueta
  "We're not quite there in the way they [Spain] keep the ball," England's captain admitted in the build-up to tonight's match. "We've got different qualities. We've got great pace in the team, great one-against-one ability, and that's what we've got to try to exploit when we play them. It will be a tough game, but these are the experiences you want to be in."
  This man, meanwhile, hasn't scored for England in his last six international appearances. Now would be a very good time for Harry Kane to break that growing duck (he said consulting his little book of stating-the-bleeding-obvious tidbits of analysis).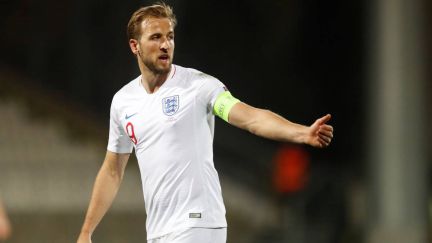 The last time England beat Spain on Spanish soil? Back in February 1987, when then-Barcelona striker Gary Lineker plundered four at the home of the Catalans' arch rivals, Real Madrid, as Bobby Robson's side ran out 4-2 friendly winners at the Bernabéu. Emilio Butragueño and Ramón Vázquez replied for the hosts.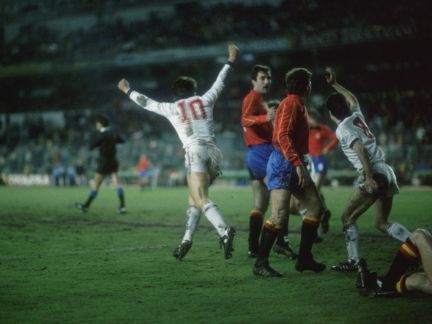 Here are the teams again, in old-school, non-tweet format: Spain XI: De Gea, Jonny, Nacho, Ramos, Alonso, Thiago, Busquets, Saúl, Asensio, Rodrigo Moreno, Aspas. England XI: Pickford, Trippier, Gomez, Maguire, Chilwell, Winks, Dier, Barkley, Sterling, Kane, Rashford.
We'll be bringing you the build-up ahead of kick-off, followed by coverage of all the action at the Estadio Benito Villamarín - but should you also wish to be in front of a TV screen for the clash in Seville, then you'd be wise to avail yourself of our useful guide on how and where to watch.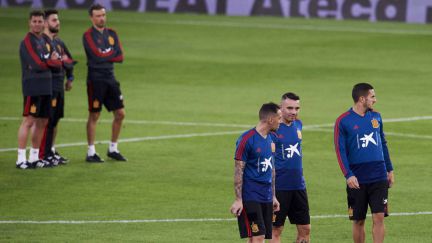 Spain vs England: Nations League preview
Spain host England in Seville tonight (20:45 CEST) looking to continue their excellent start to life under Luis Enrique, and confirm their place in the UEFA Nations League finals.
Spain
The Spaniards, who made it three wins from three under their new boss with a 4-1 friendly thumping of Wales on Thursday, can book their spot in the last four with victory over the Three Lions at the Estadio Benito Villamarín, while a draw would leave them all but through.
Spain sit top of Nations League Group A4 with six points from six after beating England 2-1 in September's section opener at Wembley and thumping Croatia 6-0 in Elche three days later.
England
Having followed up that defeat to Spain with a goalless draw at Croatia on Friday, meanwhile, Gareth Southgate's England must take all three points this evening if they are to retain any hope of reaching June's finals.
However, that requires ending a run of just over three decades without a win over Spain on Spanish soil: England haven't managed such a result since Gary Lineker scored all four in a 4-2 friendly triumph in Madrid back in February 1987.
Spain vs England: confirmed line-ups
Spain XI: De Gea, Jonny, Nacho, Ramos, Alonso, Thiago, Busquets, Saúl, Asensio, Rodrigo Moreno, Aspas
England XI: Pickford, Trippier, Gomez, Maguire, Chilwell, Winks, Dier, Barkley, Sterling, Kane, Rashford