LALIGA
Julen Lopetegui press conference ahead of Levante game
Julen Lopetegui decides to speak to the press before his training session ahead of the Levante game in LaLiga on Friday 19th October 2018.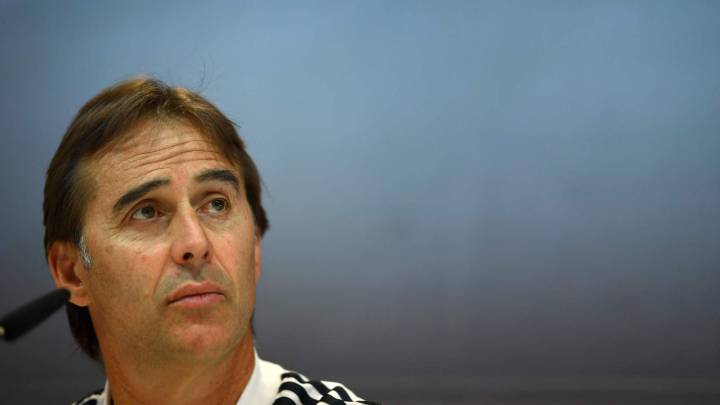 And that's it from Valdebabas as Lopetegui exits stage left. All the talking is done. Time now for Real Madrid to face Levante at the Bernabéu on Saturday.
Lopetegui press conference live online: Real Madrid vs Levante
    He also confirmed Carvajal was the only player out for the game tomorrow.
    He also says that he is impressed with how Bale has looked after himself even though he really wanted to play with Wales. The international break has actually been good for a number of their players to use it as recovery time.
    Lopetegui was asked a couple of times if he has recieved backing from the board or not and he says that he is calm and looking forward to the game without really giving any concrete evidence of being backed by the board. Although, I'm not sure what he can say in that instance.
    To summarise, Lopetegui says he isn't worried about Real Madrid not scoring and he says they just have to keep working on creating chances and the goals will come. He was very keen to point out that nothing has been won or lost for any team yet.
    That's it for the press conference. We can just go over some of the things discussed in the presser now.
    "Carvajal is the only player not available."
    That was about Benzema.
    "Physically, he has had a little injury but he has trained twice this week and we haven't seen that much of him."
    Is Carvajal the only play not fit?
    "No, they won't. We will train, and I don't think that question is really relevant."
    What is the plan? Will they stay in the hotel before the game?
    "It's true that he isn't Casemiro, physically they're different players. Kroos can play in many different positions and he has done that many times."
    Kroos says he is not a Casemiro type player?
    "He's an important player, obviously, but he had the operation and he has come back but is someone who can help of course."
    What does Isco mean for you and to the team? 
    "Plans change all the time, you need to keep changing plans and you change your plans to suit the circumstances. But that's not different to anyone. We are at the point now where there are questions marks about every team in every competition. Nothing has been decided."
    Have your plans changed?
    "I'm not worried about what other people say and what they think. I'm thinking about Levante and who to pick but taking notice of the other things doesn't help us."
    Lots of speculation about your work. You think that's part of the job or lack of respect?
    "We can't worry about the record. We just have to focus on creating chances, playing and getting the three points that can help us up the table."
    Lack of scoring, does it make players nervous?
    Lopetegui says Bale was very optimistic about not playing with Wales and he might be ready for tomorrow.
    "We will wait to see what happens in training with Bale but we are optimistic"
    "Some players have had the time over the international break to recover. We have more players back now than we did and they have recovered but we are optimistic and let's see."
    Player coming back fit, everyone seems okay? Is everyone ready? 
    "I'm focused on my work and calm. Nothing else"
    How have you been backed by the club?
    "Ah, I'm fine, with no doubts. I'm the manager of Real Madrid and it's demanding. You have to live with the ups and downs of a season and we can win everything this season. We're not focused on the next five games, just the next game"
    How are you? Pretty basic question. After the break, do you feel strong, the journalist continues.
    "No, I'm confident in the players we have and I still think we will have a very good season. We are close to hitting a peak that you have in the middle of a season"
    Both sides, Barcelo and Real Madrid dropping points, will you need to sign someone?
    "We are completely focused, as I said, on the game before. We are ambitious and there are questions asked about all team at the moment. We don't know what will happen from now until the end"
    After a run of four games without winning, do you feel backed by the club and calm and have they told you not to worry?
    "They have improved a lot, a good game and one we want to win in front of our fans"
   First questions: What kind of game do you expect tomorrow?
    They will face either Villanovense, Ebro, Melilla, Racing Santander, Cultural Leonesa or Sant Andreu.
    Lopetegui might have decided to have his press conference now in order to avoid clashing with the Copa del Rey draw. Real Madrid enter the draw today too! Here is how and where you can watch that and we will have that live for you too. 
    Lucas Vazquez said he wants more minutes yesterday and I wonder if his name will come up during the press conference. Will Lopetegui try something new and drastic against Levante? Or will he just fine tine what he has been doing previously with the Clásico on the horizon.
    Obviously, we have no news of training because it hasn't happened yet and while we're good, we're not that good! Bale did train yesterday though and Isco, Benzema and Marcelo all trained too.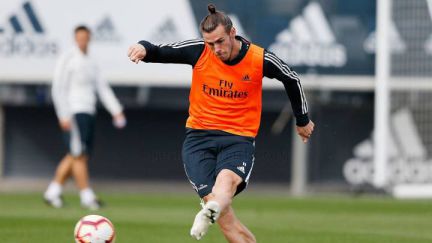 Hello and welcome to Real Madrid's press conference coverage as Julen Lopetegui decides to speak to the media before training ahead of the Levante game.
Real Madrid vs Levante: a preview of the game
Borja Mayoral can not play due to being on loan from Real Madrid.
Levante's captain, Jose Luis Morales, spoke yesterday about being on trial with Real Madrid and being rejected by them.
Bale and all the rest are back for Real Madrid with Carvajal training alone and Navas training in the gym on Thursday.