Juventus 1-1 Genoa match report: Serie A 2018-19
Bessa's solid second half header cancelled out Cristiano Ronaldo's first half strike and saw Juve drop their first points of the season.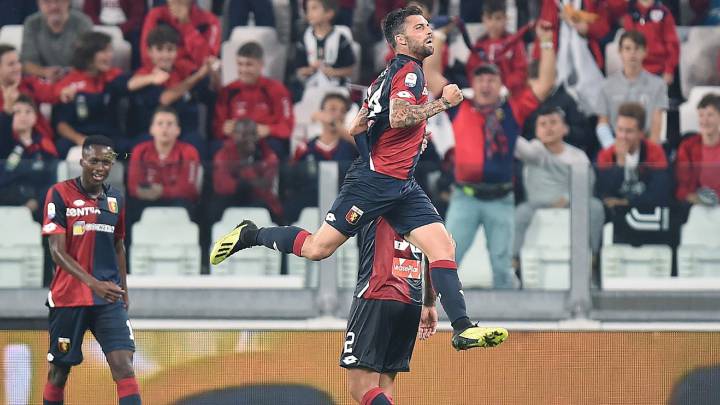 Juventus surrendered their perfect start to the season in the Allianz Stadium as Genoa secured a 1-1 draw to temporarily dent the Turin juggernaut's march towards a seventh consecutive Serie A title. With Napoli to play Udinese later on Saturday, Carlo Ancelotti's side can shave Juve's lead from six points to four with victory in the Stadio Fruili.
Cristiano Ronaldo opened the scoring with a tap-in after Genoa keeper Andrei Radu palmed a cross directly into the Portuguese's path but the Romanian, on loan from Inter Milan, would make amends several times over as he led a valiant rearguard action late on to dent Juve as the home side peppered his goal with a total of 21 attempts.
Ronaldo thought he had scored four minutes before his strike when he powered a header towards goal but the woodwork intervened and in on occasionally scrappy affair in midfield, littered with fouls and lost possession, it was Genoa who would eventually find an answer through Daniel Bessa, who thumped home a header from Christian Kouamé's cross after the Ivorian took advantage of a complete switch-off in the Juve back line to deliver from the touchline while the home side's players had turned their gaze elsewhere, assuming the ball had gone out of play.
Juve fail to break Genoa's resolve
Massimiliano Allegri turned to his enviable bench late on the introduction of Douglas Costa and Paulo Dybala almost turned the game, the Brazilian turning the Genoa defence inside out in tandem with Alex Sandro and the Argentina striker helping himself to a hatful of chances late on.
But the visitor remained resolute and managed to frustrate Juve, who despite enjoying 64 percent of the ball and eight corners – many of which were wasted - were unable to turn their superiority into three points.
Juventus 1-1 Genoa: as it happened
90'+4' The ref blows his whistle and Genoa have earned a point in the Allianz Stadium while also ending Juve's perfect start! 
90'+3'   Genoa throw deep in Juve territory and it's aimed towards the corner flag again. And that's it! 
90'+3'   Juve probing, looking for a crack in the Genoa wall, but the visitors are holding firm. Juve scream for a free kick on the edge of the area but the ref again shakes his head. 
90'+2'   Juve come streaming forward again but Costa is guided out of play and it's a goal kick to Genoa. Two minutes left... 
90'+1'   Bernardeschi turns on the after-burners and leaves it for Ronaldo on the edge of the area. He checks, knocks it onto his left and hammers a shot into the nearest defender. 
90'   Genoa goal kick and Radu in no hurry to take it. It's eventually launched forward and four minutes come up on the board. 
89' Meanwhile, Pandev finds his way into the book for time-wasting. 
89'   This time it's Rómulo who ushers the ball out against the depsairing chase of Costa, who looks at the defender as it he's torn up the very rule book there. 
88'   Pandev does the same and Genoa will happily do that on a loop until the whistle goes. 
87'   Piatek takes the ball to the corner flag and wins a precious throw for his side. 
86'   Genoa hack it clear again from Alex Sandro and it's another corner. Dybala gets an eye on goal but hits a left-footer wild and wide. The clock is ticking down for Juve and their perfect start to the season. 
84'   Juve win another corner but Genoa have everybody back now and hack it clear, not without some difficulty. An Alex Sandro ball to Costa goes straight out and Juric takes the opportunity to make another change, Kouamé making way for Pandev. No changes left for either side now. 
83'   Dybala gives the ref a long, hard stare as he's floored in midfield but the man in yellow, who has been willing to let the game flow this afternoon, says no dice. 
82' Bessa also off now for Genoa, the scorer making way for Sweden international Oscar Hiljemark. 
81' Mandzukic off now as Bernardeschi enters the fray. 
80'   Alex Sandro dances into the area and squeezes off a shot but it's again cleared for a corner. The corner is then again punched clear by the ever-vigilant Radu. 
79'   That's also cleared and Juve go back to the drawing board on the halfway line. It's a rearguard action for Genoa now, who have 10 minutes to hold on. 
78'   Mandzukic! The big Croat goes charging into the area but as so often this afternoon he has three Genoa players for company and his attempt to turn Pjanic's cross back into the danger area is out for a corner. 
77' Change for Genoa as Pereira heads off to make way for Günter. 
75'   Dybala, who has just come on, turns and shoots in the area but skews his shot wide of the far post. Juve turning the screw now and Genoa are glad to win a throw on the right. 
74'   Pjanic! Half the stadium thought was in as the Bosnian's shot went just wide, hit the hoardings and rippled the net from the wrong side of the goal from Juve's point of view. 
73'   Juve come again and the ball finds its way to Bentancur, who hits a decent shot but Criscito is there to make the block. 
71'   Juve work a training ground routine as Pjanic dinks it over the top for Ronaldo, who connects but can't get it on target with Radu bearing down. 
70' Criscito goes in the book for a wild challenge on Costa. That could quite easilt have been a red there. A full on reducer from the Genoa captain. 
69'   Ronaldo! The Portuguese goes close at the other end! This game is wide open now! 
67' It's a bizarre one as well as Kouamé chases down a ball that looked for all the world like it was going out for a corner. Juve's defence thought so and completely switched off, allowing the Ivorian to pick out the onrushing Bessa, who completely unmarked hammered home a header! 1-1! 
66'    Gooooooooooool! Gooooooooooool! Genoa equalise! 
65'   Szczesny is not amused as he is put under a bit of pressure from a Benatia back pass but manages to scurry across his goal and hoof it clear with Piatek in hot pursuit. 
64'   Wonderful technique from Ronaldo to bring a ball under control at practically head height. But he can't find a telling ball from the edge of the area on the line. 
63'   A loose ball from Bonucci should have been punished there but the ball forward to Kouamé was hit too long for even the Ivorian to chase down. Another wasted opportunity for the visitors, who occasionally need to pause before hitting the ball aimlessly long. 
61'   Genoa are continuing to press in the opposition half but Juve are very comfortable knocking it about and it's mostly wasted energy at the moment. Juric will be mulling a change around about now.  
60'   Ronaldo lofts a ball in to Mandzukic but a strong challenge from Criscito sees the Croatian bundled off the ball. 
58' Pitaek tangles with Juve's entire back four in the box and is eventually penalised for his eager approach.  Change for Juve as Douglas Costa comes on for Cuadrado. 
57'   But just as swiftly Sandro wastes a decent opportunity with runners ahead of him as he sends his attempted ball over the top straight out for a goal kick. 
55'   Corner for Genoa as Sandro races away down the left. It's very nearly turned in by Piatek as well, the striker rising to connect with a glancing header that flashes wide of Szczesny's upright. The visitors have started the second half brightly enough. 
54'   Genoa win a free kick in midfield but it's hoisted aimlessly forward and straight through to Szczesny. 
52'   Piatek! Out of nothing the Pole fashions a chance and hammers a shot towards the foot of Szczesny's near post that his international teammate does well to claw out for a corner. Excellent effort from the 23-year-old. 
51'   Ronaldo plays a one-two with Pjanic but the final ball has just a little too much on it and bobs out for a goal kick. 
49'   Nice move from Juve, led by Cancelo, who gets the ball back from Mandzukic who plays it back to Ronaldo. The Portuguese has a pop but there are too many red and black shirts in the way. 
47'   Matuidi makes a nuisance of himself, conceding a free kick, attempting to stop it being taken quickly and then chasing down Pereira to bundle it out for a throw. 
47'   Free kick to Juve as Sandro floors Cancelo. 
46'   Ronaldo feeds Alex Sandro on the overlap and he sends in a fizzing cross that Radu can't quite reach and Mandzukic is at the far post but can't turn it in. 
No changes at half time. 
46'   And we're back underway at the Allianz Stadium! 
Juve of course have a Champions League game against Manchester United to consider and Allegri will presumably look to shuffle his pack with that in mind after the break. 
Some work on the chalkboard for Juric to do at half time as he seeks a way to get on the front foot in the second half. 
45'+1' And that's the half! Juve lead, deservedly, and might have had a couple more but for the woodwork and some smart saves from Radu. As it stands, Genoa are still very much in the game but need to change their shape to bring their strikers into play if they are to make a dent in the Serie A leaders. Oscar Hiljemark is a bit more of a ball-playing midfielder and the Sweden international will probably be called on.  
45'+1'   Juve try to launch one final attack but Genoa break it up in midfield. Mandzukic is down in a heap but the ref waves play on. The Croatian smiles ruefully as he climbs back to his feet. 
45'   There won't be much added here. Yup, one minute.... 
43'   Perreira skips through on the right and tries to find Piatek. Juve clear but only as far as Romulo, who blasts a shot high into the stands. He had more time there to think about what to do but snatched at his effort and Szczesny remains untested. 
42'   Lazovic looks long and Bonucci bangs it out for a throw. Genoa look for some joy down the left and although they feed a decent cross in there is nobody there to meet it. 
40'   And there's the issue right there. Perreira gets the ball, drives forward and frantically waves his strikers into the area. But his cross is overcooked and flies over Kouamé's head. They do need to make some more incisive runs to give their midfield something to work with. 
39'   Juve are going for their 11th straight victory in all competitions and so far Genoa are willing accomplices. Not one shot on target to warm Szczesny's gloves so far. 
37'   Kouamé and Piatek have a little mix-up as the ball is hit forward, the Ivory Coast international letting it run for the Pole, who didn't realise that was his intention. 
36'   Genoa are struggling to get out of their own half and are pulled back from a potential break as Bessa is penalised for handball. 
35'   Piatek and Kouamé are cutting rather forlorn figures up top for Genoa. The midfield is sitting too deep to bring them into play and they're feeding mostly off hopeful balls out from the back now. 
34'   Ronaldo! The Portuguese finds a bit of space on the left, takes a couple of touches to steady himself and flahses a shot just wide of the post. It took a deflection and a corner is given. 
33'   A pair of fine crosses, one from each side, fly into the Genoa area but the defence is equal to both and pump them clear. 
32'   Another free kick, this time Juve's way as Perriera floors Alex Sandro. It's been a pretty scrappy 15 minutes in the Allianz Stadium. 
Just 14 touches and one shot for Piatek in the opening half hour. 
30'   Genoa rightly look to the ref as Pjanic floors Lazovic. Juve are getting a little feisty in midfield in response to Genoa's hard press.  
29' Benatia goes in the book for a challenge from behind. 
28'   Genoa are pressing hard in midfield and stoppiung Juve finding any rhythm but they are also not getting Piatek involved at the other end at all so far. 
26'   Cancelo sells Criscito a beautiful dummy and pings a cross towards Mandzukic but the big Croatian can't get to it before it's hooked clear at the far post. 
25'   It's a frantic period as both sides turn over possession like it's Pancake Day. All the action is in midfield at the moment. 
24'   A sloppy ball out from the back gives Kouamé the chance to break but Bentancur is alert to the danger and nicks it back. 
23'   Radu! The Genoa keeper makes a fine spraling save from Ronaldo, who scuffed his shot a bit but got enough on it to force the save. 
22'   But Pjanic is ok after a bit of treatment and a slug of water and signals his desire to return to the fray. Meanwhile Cuadrado gets a wallop on his ankle as Genoa start to get stuck in. 
20'   Pjanic is down in agony after Kouamé clips him but it was accidental. Allegri taking no chances though and Emre Can is sent to warm up. 
That's Ronaldo's fifth in Serie A now, nine games in. 
18' Goooooooool! Goooooooool! Ronaldo! The corner is awful but it's worked back into the area and although Radu gets a touch to the cross he only succeeds in palming the ball to the Portuguese, who says ta very much and taps in from two yards. 
17'   Ronaldo drives into the area and tries to play a pass to himself around a defender, winning a corner.  
16'   Free kick to Geno anow as Cancelo floors Lazovic. They take it short though rather than slinging one in and it's all the way back to Radu before makikng it's way up the other end to Szczesny. 
15'   Genoa now on the ball and examining their options, stroking it from side to side in search of an opening. Perreira feels he should have had a free kick there but the ref signals a Juve throw. 
14'   Ronaldo! The Portuguese batters a post with a fine header and then skews the rebound high under pressure from the visiting defence. First real chance there for the number seven to open the scoring. 
13'   Piatek goes down under a heavy challenge with Benatia but the ref waves play on. Cuadrado then goes clattering into an opponent and this time the whistle does go. Free kick to Juve. 
12'   Juve settle onto the ball and start to probe the Genoa back line. Cuadrado pops up a cross for Matuidi but it's just over the Frenchman's leap.  
10'   A lovely touch from Ronaldo sets the Portuguese up for a shot but he's already falling backwards and although he gets his left boot on it it's no trouble for Radu. 
9' Romero finds his way into the ref's naughty book for taking out Ronaldo in midfield. 
8'   Juve start to work the ball about and have Genoa on the back foot. Cuadrado sends in a cross and Radu deos well to punch clear in a sea of shirts. 
6'   The visitors nick the ball in midfield and have a three-on-four but a snatched shot when a pass was on sees the chance evaporate. 
5'   Genoa are looking lively in the early exchanges and almost work the ball to Piatek but a Juve boot is thrown at the problem and it's cleared. It seems Juric's plan is to attack and defend in numbers, which is a high-tempo approach that will need refining around the hour-mark. 
3'   Cuadrado tries his luck and clobbers a Genoa defender full in the face. At the other end Kouamé eyes an opportunity but his snap-shot is straight into Benatia. 
3'   Bentancur and Sandro, the two number 30s, get into an early tussle and that should be a fascinating battle as the game progresses. 
2'   Ronaldo is in the thick of things early on and goes down under a challenge but the ref waves his protests away. 
1'   And we're off! Juve get the ball rolling. 
Genoa boss Juric has gone with a 3-5-2, Christian Kouamé partnering Piatek in attack. 
The teams are out and the pleasantries underway. 
Just 10 minutes to go until kick-off in the Allianz Stadium, where Juve are defending one of only two perfect records across Europe's major top-flights this afternoon. 
Piatek is worth a goal every 70 minutes in Serie A this season, a stat which drops to 53 minutes across all competitions after his four-goal haul in the Coppa Italia. 
Some bookies have started giving odds on Juve winning every single one of their Serie A games this season, but Allegri isn't having any of it: "I've read that we can win every game but that's not going to happen. Too much positivity lowers your energy levels," he said ahead of the game. "Tomorrow we're up against Genoa and the last four times we've played them at home on three occasions we've beaten them 1-0 – the bare minimum. We must keep a low profile and focus on one game at a time." 
Piatek will be up against it today to extend his Serie A record to eight consecutive games: Juve have managed a clean sheet in their last six at home against Genoa. 
Hello and welcome to our live coverage of the Serie A match between Juventus and Genoa at the Allianz Stadium in Turin. Kick-off is at 18:00 CEST.