Blame for Real Madrid crisis lies with Florentino maintain fans
An overwhelming 86.42% of those who participated in the As.com poll felt that the club president is the root of the current problem at the club.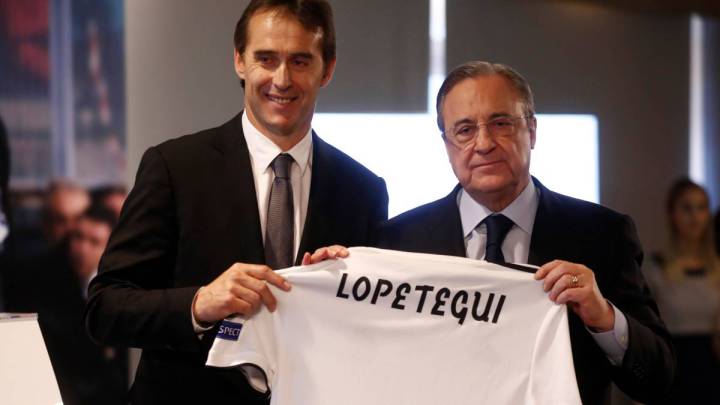 Over 80,000 online users participated in the latest As.com poll which tried to determine as to whom is behind the grave crisis unfolding at Real Madrid as "Los Blancos" fell, once again yesterday losing 1-2 at home to Levante UD.
The result was resounding with 81,107 votes being cast to the question: Who is responsible for the current crisis at Real Madrid? Two options being available: Florentino Perez or Julen Lopetegui? Almost 87% (86.42) felt club president Florentino Pérez is the culprit with just over 13% (13.58) suggesting that the Basque coach was to blame.
Weakened squad
Many of the comments by online users pointed to the weakened squad inherited by Lopetegui and felt that this was a failing of Florentino in his capacity of president-and sporting director. In recent seasons Madrid have become a selling club and many have accused Perez in the past of buying players irrespective of the tactical needs of the coach or squad.
Over the past two campaigns the likes of Morata, James, Pepe, Kovacic and Cristiano Ronaldo have left the Bernabeu. The departure of the Madeira born striker is a particular thorny issue with Cristano proving to be a goal machine over his time with the club and supporters were surprised by the a move, as a proven replacement failed to materialise despite the likes of Lewandowski, Cavani and Mauro Icardi being heavily linked with the Spanish club. Perez opting to select a 575 million euro credit to remodel the stadium as opposed to target funds on the likes of a global star such as Neymar or Mbappé has also been cited by his detractors.
It's widely known that Julen Lopetegui was not the first choice for the club and was somewhat down the pecking order behind the likes of Pochettino, Allegri and Nagelsmann. It was also reported in England that, then Chelsea boss Antonio Conte was sounded out by Real Madrid. The week ahead is critical for the Basque coach with what should be (on paper) a straightforward Champions League group game against Plzen on Tuesday ahead of Sunday's "El Clásico" with the result and performance undoubtedly having an impact on Lopetegui's future on the Real Madrid bench.