Sergio Ramos and Reguilón bury the hatchet after bust-up
The Real Madrid captain posted a message after a training ground tiff with the left back, who also replied in kind to draw a line under the incident.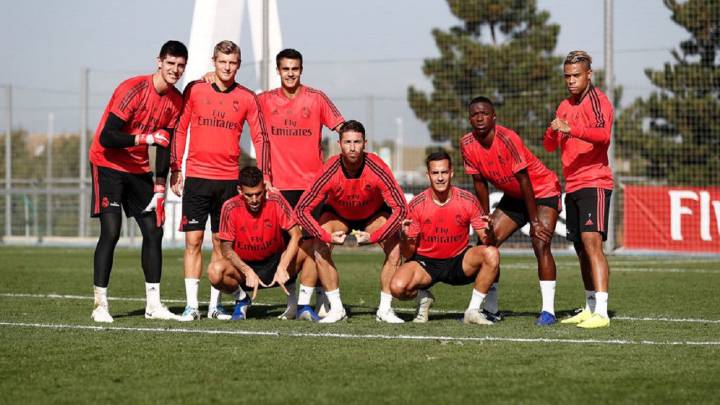 Sergio Ramos has moved to defuse a training ground argument with his teammate Sergio Reguilón ahead of Real Madrid's Champions League match against Viktoria Plzen.
The Real Madrid captain was incensed when the young left back caught him with an elbow while trying to catch a ball during Monday's training session at Valdebebas and responded by aiming a shot at Reguilón. Ramos wasn't finished there and after a little finger-wagging towards the 21-year-old he had another go with the ball and this time succeeded in hitting his target.
Immediately after the session, Ramos apologised via social media. "Although it might not seem so to people, these kind of things happen all the time, but that is not an excuse. I shouldn't have reacted in that way. We always go at it full on. Right, Regui? In the end, we win together! That's an end to it and let's go for it tomorrow."
Accompanying the message was a picture posted by Ramos with Thibaut Courtois, Toni Kroos, Dani Ceballos, Lucas Vázquez, Vinicius Junior, Mariano and Reguilón.
The academy graduate responded via the same medium moments later. "Always with my captain and my team. Let's go for the win tomorrow!"
Madrid face Plzen at the Bernabéu on Tuesday second in Group G behind CSKA Moscow and ahead of Roma in third courtesy of goal difference as Julen Lopetegui's side aim to end a run of five games without a win in all competitions.



Champions League
*Update 22 de octubre de 2018